I've been a fan of the Harmony One for some time now. It's actually my favorite off the shelf universal remote. While it's not perfect, it offers the best universal, multiple device experience I've seen to date (aside from the Bose Lifestyle T20 RF remote). Recently I stumbled upon the Harmony Link. This small module connects to your WiFi network and basically serves as an wireless IR repeater to send commands from the Harmony Link App running on your iPhone, iPad, iPod touch or Android device to your audio and video equipment. In essence with the Harmony Link, your mobile device because your touch screen universal remote that does NOT require line of sight.
Straightforward setup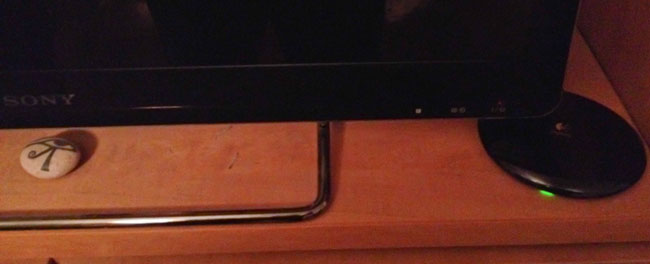 The Harmony Link comes with an AC adapter and USB cable. Dont' worry about the USB cable being short because you only need it for the initial setup and you can plug in the Harmony Link to any AC plug near your computer long enough to set it up and then relocate it near your TV when you're done. Since Harmony prides themselves on having a large database of remote codes, you merely need to collect all the Make and Model Numbers of your gear. Then you simply download the Harmony Link setup app on your Mac or PC. The 1st step is to join the Harmony Link to your WiFi network. Then walk through the setup by entering plain English to identify each device you want to control. If there is a device that you have that Logitech doesn't know about, it will prompt you to get the original remote so that you can teach the Harmony Link the commands it needs to know.
The Harmony Link App for iOS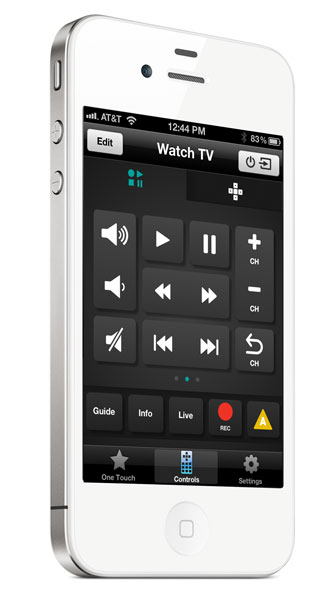 The next step is to grab the App for your mobile platform. I downloaded the Harmony Link App for iOS (see my review here). Once you have the App and your mobile device is on the same network as the Harmony Link module it will see it. Then just log in with the same user name and password that you used during the initial setup.
How does it work?
Once I got the device setup and the App installed on my iPhone 4s and iPad 2 I took the Harmony Link for a spin. I configured three "activities", "Watch TV", "Watch DVD/BD" and "Watch Apple TV" my only challenge is that my Sony Google TV has the worst input switching implementation ever. Unlike most TVs that either have a direct Input button (ie. HDMI 2) or the ones that simply go "Input Next", mine brings up an on screen menu and while that's not the end of the world, after choosing the Input you have to click "OK". This isn't a standard thing and therefore it threw my Harmony One and of course the Harmony Link for a loop. To make matters worse each time the menu comes up on screen it doesn't highlight the current input, instead it starts at the top. I was able to get it to kinda work but I need to put a call into their tech support to get the best setting. Outside of my weird Input problem on this one TV, everything else worked perfectly. I was able to easily control my Sony Google TV, TiVo Premiere XL, Sony Blu-ray player and Apple TV. When I done watching tapping a single button on my iPad or iPhone turns everything off. Since this is working via WiFi you don't have to worry about pointing your phone or tablet at your screen (great for turning off the stuff that was left on upstairs or downstairs without having to make the trip. There goes that little bit of exercise you were getting 🙂 ). Also the Harmony Link works in cabinets and has two ports for IR blasters to get to hard to see IR ports.
What could be better?
While the Harmony Link does work as advertised, there is room for improvement. The first thing is that if you have more than one mobile device or other Harmony remotes, those other remotes/mobile devices don't know that your gear is on if you started with a different remote. For example, let's say I turn everything on with my iPhone 4s and then later pick up my iPad. The iPad doesn't know what activity I'm using or which gear is on or off. It would great if each remote/device could read from the Harmony Link to see the current status/activity. Also if you've got any AV gear that uses RF instead of IR you're out of luck. Another drawback in general is that since it's using your phone or tablet this means that it's 100% touch screen and that's not a good thing because it means always having to look at your display to see the button you want to use. On the Harmony one, there are physical buttons that you can use without looking. Lastly can we kill the green LED that's always on?
The Bottom Line
I'm one step closer to having the perfect universal remote. I would actually like to see an upgraded Harmony One that allows for the button customizations of the Harmony Link App and offer WiFi connectivity. If you're in Remote Control Hell and you have a smartphone or tablet, then you should take at the Harmony Link.
You can get the Harmony Link for $99.89 here.