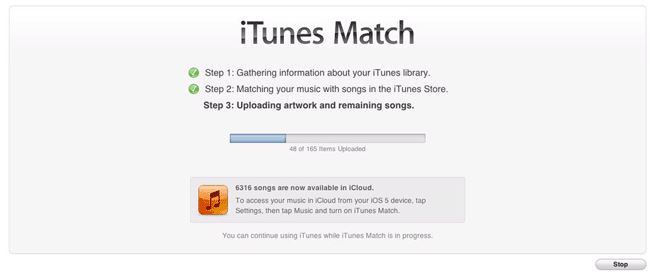 I've been an iTunes user since day one (and even SoundJam before that). I've been an iPod user since day one too. I have a decent sized *music collection (6,649 songs) with a mix of tunes ripped from my CDs, purchased from the iTunes store and purchased/downloaded from other sources such as Amazon.com. While Apple has always done a good job in allowing me to sync my music/playlists to any number of iDevices, for some reason the company never saw fit to allow automatic syncing of music between multiple computers. I've complained about this on my blog in the past as well as going with 3rd party work arounds.
The NEW iTunes Match Solves My Problems

In addition to iOS 5, iCloud and iTunes 10.5, Apple rolled out a new service called iTunes Match. iTunes Match is a paid service ($24.99/Year) and the idea behind it is that once you sign up (via iTunes 5) your music collection will be analyzed and "matched" with the music currently available on the iTunes store, whether you originally bought the music from the store or not. Tracks that are matched are then available to up to 10 of your devices (Macs, PCs, iDevices running iOS 5, or Apple TVs) via the cloud.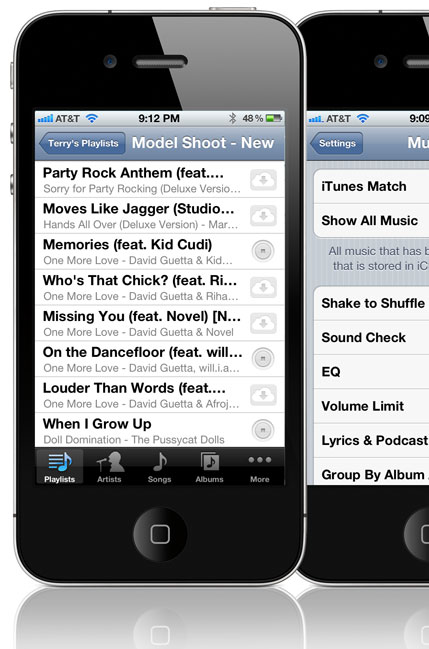 This also includes your playlists! Tracks that were not matched (in other words songs you have that aren't on the iTunes store) are then UPLOADED from your library to the iTunes cloud (iCloud). This means that ALL of your music is now available in the cloud no matter where you obtained it originally.
Problems this solves for me
Once it did the initial "match" on my dedicated iTunes media server (a dedicated iMac running iTunes 24/7). I then went to my MacBook Pro and deleted all the music from that library. Once I deleted all the songs and playlists, I turned on iTunes Match on that computer as well. After a few moments ALL of my Playlists appeared on the MacBook Pro that are on the iMac. Any song/playlist that I want to listen to can now be streamed via the cloud. Also any music/playlists that I actually want to be physically on the drive say for offline listening can be downloaded with a single click. As long as my MacBook Pro has an internet connection I have access to ALL of my music at all times. Those times that I don't have access to the internet I can still enjoy the music that I've downloaded.
On my iPhone, iPod touch and iPad – we know that these devices have limited storage. Therefore carrying around a large music collection means giving up something else. Once I turned on iTunes Match on these devices the music that was stored on them was immediately wiped and just like on my MacBook Pro, after a few moments I had access to ALL of my Playlists and All of my songs. The difference here is that any song you play is not only streamed initially but also stored so that it won't have to stream a second time. And yes you can proactively download any song(s) playlists that you know you'll want to be stored on the device for offline listening.
The Bottom Line
The benefits of iTunes Match are clear! I have access to ALL of my Music on any of my devices at all times (with an internet connection). I now use less space on my iDevices because I don't have them loaded up with music that "I may want to listen to someday". The other advantage is QUALITY! Some of my original CD Rips were at a lower bitrate. With iTunes Match you get everything at Unprotected AAC, 256Kbps (iTunes Plus) Quality. The other slick feature is that now it doesn't matter where I make organizational changes or new purchases. If I change a playlist on my MacBook Pro it's updated everywhere. If I buy a new song and add it to a playlist on my iPad, it's updated and available everywhere. This is one of those services that's worth every penny to me!
You couple iTunes Match with the new iTunes WiFi Sync for iOS (iPod touch in the car) and I'm completely in music heaven! I pull into my garage and it connects to the WiFi in my home and syncs the iPod with the latest changes.
Now let's get iTunes Match for video/movies!
*Note: If you have more than 25,000 songs in your library that you did NOT get from the iTunes store then you exceed the limit of iTunes Match. iTunes Match only works for songs, not audiobooks, videos, ringtones, podcasts, etc.