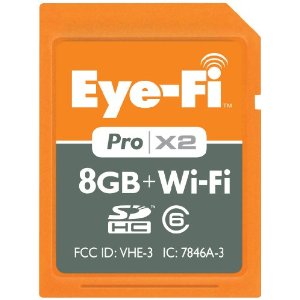 In case you haven't been following me on this story you can start with my "Shoot Tethered (wirelessly) to an iPad" from a couple of weeks ago here. Back then I decided to try out the Eye-Fi Pro X2 Card in my D7000 shooting wirelessly to an iPad 2 via my MiFi mobile hotspot and I was pleased with the overall workflow. Today Eye-Fi just announced a new card (yeah that happens in technology, deal with it!), the Eye-Fi Mobile X2 which is a cheaper card that offers Direct to iOS (iPhone, iPad, iPod touch) and Android mobile device shooting WITHOUT the need for a WiFi hotspot. Removing the WiFi hotspot requirement and going direct in an AdHoc fashion makes this solution even better. However, don't fret if you bought the Pro X2 card like I did. They are going to release a firmware update to the existing cards next week. Keep in mind that the Pro X2 card does handle RAW and Geotagging. The new card does not.
This should open up a whole new world for people that want to shoot with a decent camera and share those images even with some minor retouching/adjustments, from a tablet device directly. I'll be shooting RAW to my regular SD card in slot 1 and BASIC JPG to my Eye-Fi card in Slot 2 on my D7000. Life just got a little more fun.
If you don't have an Eye-Fi card yet, you can get the NEW Mobile X2 8GB card with the Direct Mode love built-in here.
Sorry, still not Compact Flash joy.
As soon as I have the yet to be released iOS App and an updated card you expect a review here.
Promo Video:
httpv://www.youtube.com/watch?v=zN8ZRzXLG_I