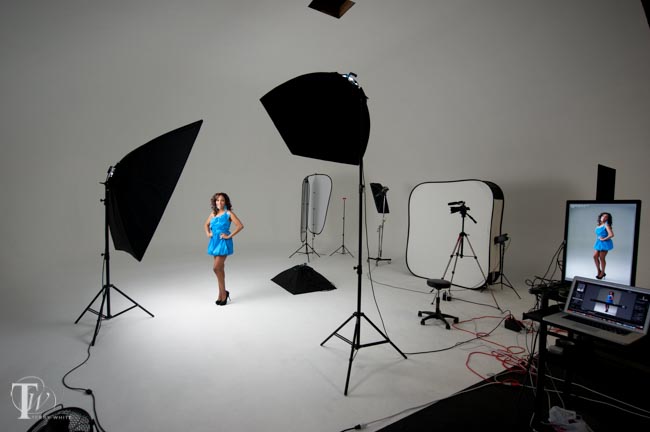 Lightroom has allowed for USB tethered capture from popular Nikon and Canon cameras for several years now. However, I can't tell you how many people have asked me about tethering directly to an iPad pretty much since the 1st shipped in 2010. Four years later, while there are several shoot to iPad solutions out there, there still isn't a way to plug your camera directly into an iPad and shoot tethered like you do with your computer and Lightroom.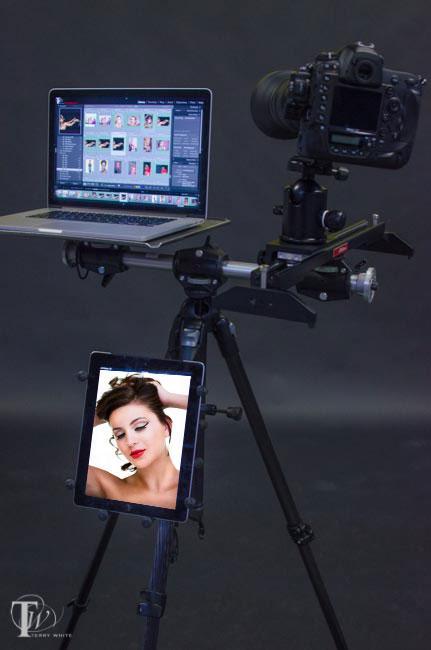 Here's what's in my Tripod Rig Setup Above
I personally use an Eye-Fi card when I'm out in the field and my iPad then becomes a nice big 10″ display to preview my shots. The Eye-Fi cards create their own ad-hoc network and therefore no hotspot is required. The images wirelessly transfer from my camera to my iPad. Now that Lightroom mobile is here, the question becomes can I shoot tethered into Lightroom mobile and the answer is yes! However, even though the answer is yes, it still involves your computer as there is still no way to connect your camera directly to your iPad via a USB cable and shoot tethered like you do with your computer. In studio I'm shooting either tethered directly to Lightroom via a USB cable, to my computer from my Nikon D4 via Ethernet or via the Nikon WT-5A Wireless Transmitter to a folder where the images are auto imported into Lightroom. There are two ways to shoot tethered to Lightroom mobile:
Before we get into the methods you're going to need Lightroom 5.5 and a Creative Cloud membership. The Creative Cloud Photography program is affordable at only $9.99/month and includes Photoshop CC, Lightroom, and unlimited syncing to Lightroom mobile.
You can download Lightroom for iPad here:
I call the first method "Selective Tethering"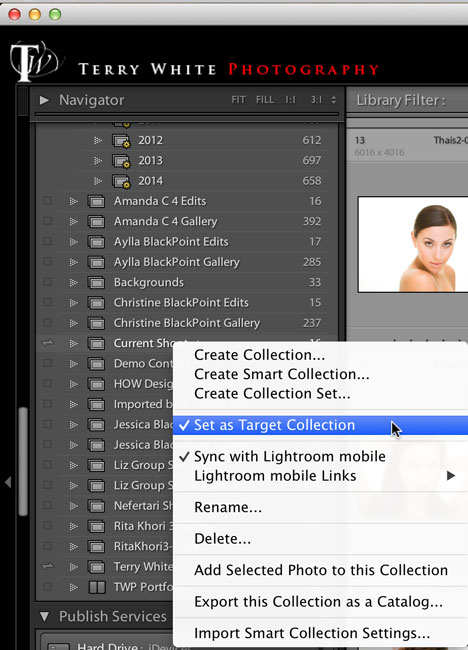 Recently Scott Kelby did a post "My First Studio Shoot Using Lightroom Mobile" during this shoot he was shooting tethered from his DSLR to his computer running Lightroom 5.5 desktop. However, he did a very clever thing. He had a collection marked to sync with Lightroom mobile and his creative director was holding his iPad. He made that collection the "target collection" (a Lightroom feature) so that as he saw images coming in from his camera that he really liked all he had to do was hit the letter "b" on his keyboard to add those images to the collection that was sync'd to Lightroom Mobile. Now the creative director could see the images on the iPad from any location and help direct the shoot, make changes to the wardrobe, etc. Since Lightroom mobile is a two-way communication between the iPad and the desktop version of Lightroom she could also flag or star rate images on the iPad and those flags and ratings would appear in Lightroom on the desktop for Scott to look at further and tweak if needed. This is an awesome way to work and it allows you to show only the BEST images to your client, director, assistant, etc. However, it does require more interaction on your part as you have to hit "b" for each image you want to be added to the collection. I had never thought of using the Target Collection in this way and it makes total sense. This got me to thinking if perhaps there was a way to automate this so that each image would just go into a collection as they come in to Lightroom via tethering? Currently Lightroom mobile doesn't support Lightroom's Smart Collections. So I began to look at 3rd party plugins….
The next method "Tethering to Lightroom mobile"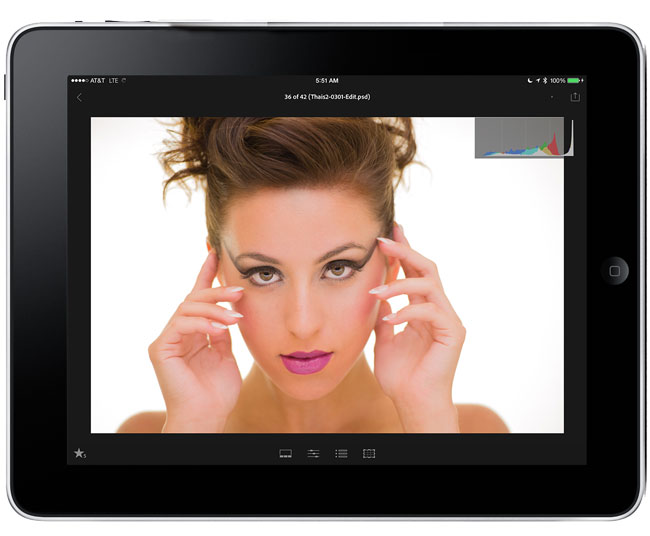 Like I said above, I wanted a way to bring in all the images I'm shooting so I wouldn't have to touch the keyboard every time I wanted an image added to the iPad/Lightroom mobile. After looking at Scott's method above this definitely has some downsides to it. As you know not every shot is good. Sometimes the strobe doesn't fire or the image is out of focus. Sometimes the model isn't ready or you capture an awkward frame. Chances are you don't want your client seeing this frames. If that's the case you're better off using the "Selective Tethering" method above. However, if it's you and say an assistant or other person on set that needs to be able to see what you're shooting via the iPad then you probably don't care as much if a few bad ones get in. As a matter of fact if it's an assistant they could be helping by "rejecting" the bad ones for you! My search for a 3rd party solution started and ended with Jeffrey Friedl's "Folder Watch" plug-in.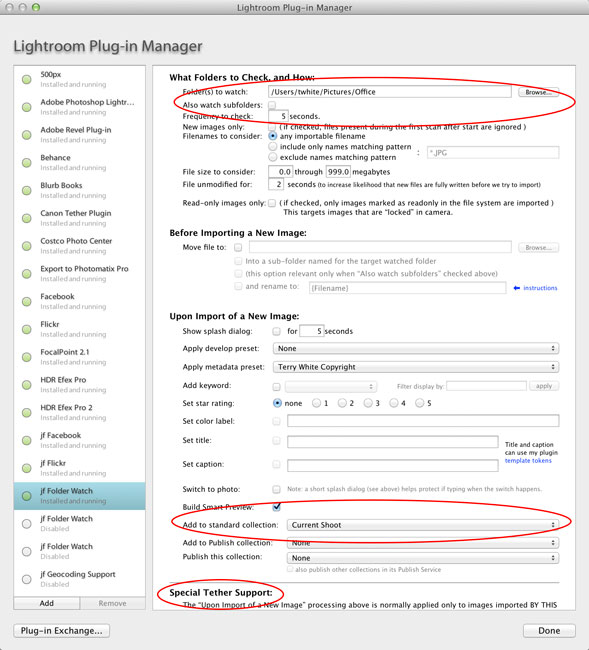 This plug-in was originally designed as a more full featured alternative to Lightroom's Auto Import (what we used before native Tethering) feature. Sadly after I downloaded it I realized it wouldn't work with Lightroom's Tether Capture feature because it needed to do the import before it could add the images to a collection.I reached out to Jeffrey and told him what I wanted it to do and guess what? He immediately added the feature for me! Now with this "donationware" plugin you can shoot tethered into Lightroom as you always do and designate a collection to add the images to as you shoot. All you do once you create the collection is sync it to Lightroom mobile.
Share with REMOTE viewers too. On ANY platform!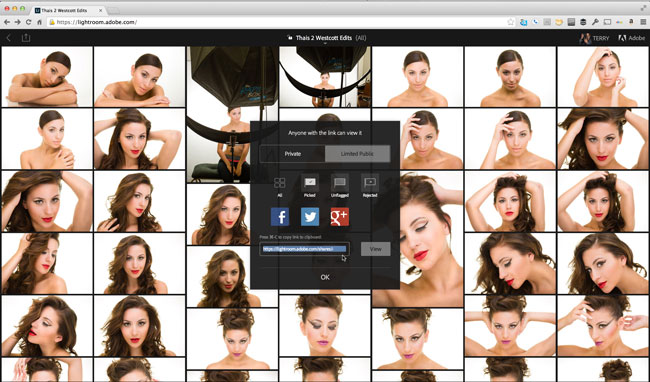 One of Lightroom mobile's best kept secrets is that it's not just for iPad and iPhone. There's also a web component. If you head to lightroom.adobe.com and sign in with your Adobe ID you can all of your Lightroom mobile collection right in a web browser. You can click on any of your collections and grab the link for it and share it with whomever you want to be able to view that collection. This means that you can have a large audience watching your shoot and they will see your new images as you take them (by hitting refresh in the browser) pretty much on ANY platform.
Lastly don't forget that Lightroom is also on iPhone now
See my video here: