It's here! I just spent the weekend with my New Apple iPad: 16GB WiFi model (I'll also review the WiFi+3G model when it ships) and wanted to give you my in-depth review. It's exciting! As a matter of fact my buddy Bruce was waiting at his office on Saturday for his iPad to be delivered and when the UPS guy got there, they started talking and the UPS guy shared with him how people were following him in their cars and begging him to give them their iPads early before getting to their homes. I can't think of too many products that cause this kind of frenzy. See my Unboxing Video here (it's different than any other iPad unboxing video you've seen 😉 ) On to the review and keep in mind that I've only had the iPad for two days, so I haven't touched every single feature yet, but here's what I've seen and touched so far…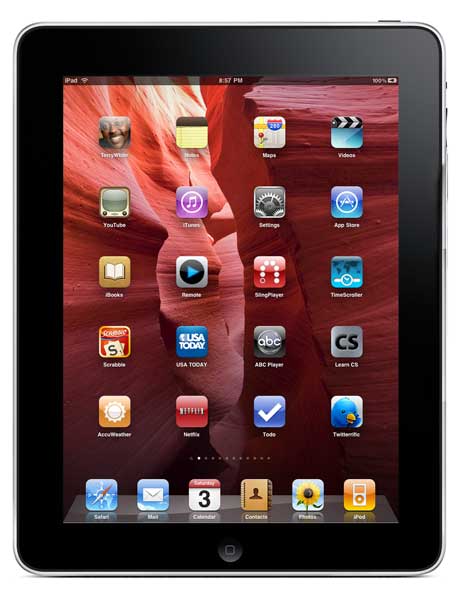 The Hardware
The iPad is another example of Apple's attention to detail. Everything from the packaging to the actual design of the device is top notch. There are just a few hardware buttons. The home button is there just like on the iPhone and iPod touch as well as hardware buttons for the volume controls on the right side, on/off switch on top, a screen/rotation lock on the right and built-in speaker on the bottom as well as headphone jack and microphone on top.
My first impression when I picked it up out of the box was "it feels heavy!" Although it's only 1.5 lbs, I was looking at it from a "hold it with one hand while reading" angle. Since it's a book reader, I would want to hold it with one hand while flipping the pages with the other. I would be easily fatigued if I had to hold it in one hand for more than a few minutes. Holding it with two hands won't be an issue and holding it with one hand as long as you have your knee or a table to rest on should be fine.
The iPad comes with a USB sync/charging cable and a wall charger.
It's FAST! The iPad is VERY RESPONSIVE. I haven't seen any lags whatsoever. Photos, Apps and everything I've tried so far have been very speedy!
Battery Life – So far so good. Keep in mind that testing for a weekend is not real-world regular use. However, I can easily see this thing going for 10 hours straight. I haven't run it all the way down yet, so I'll have to report back later on the actual battery life I get when I using it under normal conditions. Also very few will run it for 10 hours straight without a break.
Wi-Fi – The iPad takes advantage of 802.11n. So both range and network speed are GREAT! I must also remind you that this is the WiFi version and therefore will only connect to the internet via a WiFi hotspot. I know that sounds like a "duh" statement, but there seems to be a lot of confusion over the difference between the two models: WiFi and the WiFi+3G model that's coming out later this month.