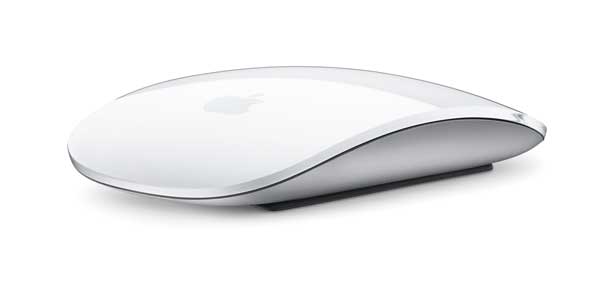 Apple recently introduced New iMacs, Mac minis and other goodies. One of those goodies was the NEW Magic Mouse. When I blogged about the new gear, I was inundated with requests to review the new mouse??? I thought wow, there is a lot of interest around this thing. Since I was upgrading to a new 27" iMac and the new iMacs come with the new Magic Mouse standard, this was a great way to get one early and play. Luckily Apple also released the drivers for non-iMacs a couple of nights ago. As with most products, there are things I like and things that could be better. The new Magic Mouse is no different. So let's get to the review you've been asking me for:
What is it?
The Magic Mouse is a Bluetooth wireless mouse with a multi-touch surface instead of the traditional multiple buttons found on all other mice. The entire surface clicks down like any other mouse, but the top of the mouse can be used for scrolling, panning and zooming using one or two fingers. Although there is only technically one big button to click, you can setup a "Right Click" (Control-Click) using the Mouse Preference to be either on the right side or the left side (for lefties). So depending on which side of the Magic Mouse you put your finger on to click will give you different results.
What I like – Pros
Let's start with the things that I like about it. It's hard not to like the sleek design! It's so flat. This makes it great for road warriors in that it will take up less space in your bag. Speaking of in your bag, you'll be happy to know that like the previous Mighty Mouse, Apple includes a physical on/off switch on the bottom. This is a MUST for any battery operated mouse that goes with me. The Magic Mouse runs 2 AA batteries and Apple claims you'll get 4 months of regular use per set. I've never had an issue with battery life on the previous model, so it's all good here. Once I downloaded the new driver for my MacBook Pro, I had no problem pairing and setting up the mouse. Typical Apple ease of use. Although some have complained that using the 2 finger gestures on the surface can cause you to accidentally move the mouse, I've no such problems. Seems to stay in place unless I want to move it. Tracking speed is good and overall it has a really good feel. I found a feature that I didn't know about until I set up the mouse and that is if you hold down the Control Key and use your finger on the surface you can utilize the Zoom feature built-in to Mac OS X. I use the zoom ALL THE TIME when I'm teaching or recording tutorials. The two finger swiping works great in Lightroom for flipping between pictures in Loupe view!
What I think could be better – Cons
Apple hasn't always designed a good mouse (man I hated this thing!):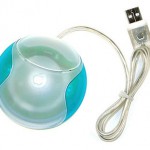 The good news is that most of my issues with the Magic Mouse are software related, not hardware related. The actual product design itself is great. First let's start with the gestures. This is a minor one, but the gestures are DIFFERENT than those on the MacBooksand MacBook Pro trackpad. For example, on the trackpad you can do 3 finger gestures. On the Magic Mouse it's either 1 or 2 finger gestures. Now this is most likely due to the fact that the Magic Mouse surface is smaller.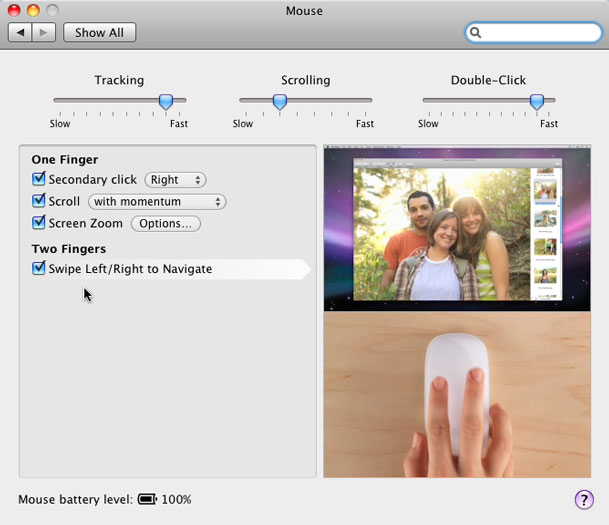 The next issue is that with the previous Mighty Mouse, there was a ball (yes, the ball was a problem after a while), and not only could you use the tiny ball to scroll around (until it stopped working or got too dirty to clean) you could also use it as a 3rd button. You could program it as a "clickable" option. On the Magic Mouse there is no middle click option or side buttons to program. This could be a problem for some that use all of their buttons in various apps. Lastly, although the surface acts like a trackpad, you can't fully use it as one to move your cursor around. If you want to move your cursor you do have to move the mouse. This would have been a nice "option" to have when you're working in a space constrained spot. However, I guess Apple figures in that case you're probably on a notebook and then you already have a trackpad.
The Bottom Line
Is it worth the $69 (retail) asking price? Well if you pin me down to one word answer then I would have to say yes. The pros outweigh the cons. However, let me tell you the rest of my answer, which is "it depends!" I'll say Yes, because I do like it and I think it IS an improvement over the last model. However, if you have a 3rd party mouse that you love, then the answer for you may be NO. Remember, you are going to have less buttons. Also mouse ergonomics are very personal to each person. It's something you're using day in and day out. So what's comfortable to me, may not be for you. I actually stopped carrying my Mighty Mouse months ago! Why? I only use a mouse when I'm on the road doing demos and even then half the time I'm on my Wacom Tablet. Since the Wacom tablet comes with a mouse and I carry an Intuos 4 Small tablet everywhere I go, I figured it's just as easy to use the Wacom mouse. Now the question is, will the Magic Mouse go in my bag and the Mighty Mouse will come out. I'm gonna have to say probably. I do like the finger scrolling over the little ball. I also LOVE the Control-one finger Zooming, which is PERFECT for doing demos and teaching. It's definitely a better mouse than what I have been using. Check out this video on how it works.
Now if they could only bring back the separate button to the trackpad I'd be much happier.
You can get the Magic Mouse here.
It requires a Bluetooth enabled Mac running Mac OS X 10.5.8 or higher. Get the driver here for your Mac. No Windows driver just yet.