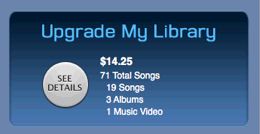 Apple not only released an update to iTunes (version 7.2) to support their new DRM Free aka iTunes Plus tracks, but they also announced updates to Apple TV. The first one was no surprise as Apple stated a while back that EMI's catalog would be available in a Digital Rights Management (DRM) free version. These new tracks cost more at $1.29, but they are also sampled at a higher 256K quality AAC format. What's nice is that iTunes will offer you the option (if you enable iTunes Plus in your account) to upgrade the songs/videos you already own from EMI's catalog to the DRM/higher quality versions for the difference in price (30¢). I did this for my 71 songs and one music video for a mere $14.25. The iTunes store is being hammered by users downloading all these tracks and my downloads timed out several times before completing. So the question is "will you pay more for DRM free tracks on iTunes?"
The next update came as a surprise!
Apple Announced a new higher capacity Apple TV model sporting a 160GB drive for $399. This was one of the biggest complaints most reviewers had with the original model, which is still available at 40GBs for $299. This update is not earth shattering by any means, however what came as a complete surprise was Apple also announced a partnership with YouTube. Soon (mid-June) you'll be able to browse the YouTube catalog directly on your Apple TV and stream videos from the popular site. When users were complaining about not having this capability, I wasn't really one of them because YouTube videos don't look that great on my computer, how crappy would they look on my high def set? Apparently this was Apple's concern too. YouTube will be re-encoding all their content in an Apple TV H264/MP4 format which should yield a higher quality look to them. When these videos are ready, you'll most likely have to do a software update on your Apple TV to add the new YouTube menu option. It's all good and I welcome this new ability.