It's a well published fact that the iPhone has a recessed headphone jack which means that most 3rd party headphones don't go all the way down in the jack because they're too fat. I expect that over time headphone manufactures will make the base of their plugs thinner. In the meantime, if you want to use your favorite headphones on the iPhone you're going to need an adapter.
I knew that Griffin Technologies was working on their adapter, but it didn't ship until recently. So like many of you I had no choice but to go with the incredibly long and awkward Belkin adapter. While I think Belkin does a pretty good job with accessories in general, I can't believe how badly their adapter is designed.

Although it look ridged, it does actually bend in the middle, but not easily and I certainly wouldn't call it flexible by any means. What's worse is that it literally sticks out like a sore thumb of your beautifully crafted iPhone. So needless to say I placed my order for the Griffin adapter as soon as I could. I got my Griffin
Headphone Adapter for iPhone
a few days ago and it looks and works much better.
Since both adapters are the same exact price, I can't think of a single reason not to go with the Griffin adapter over the Belkin one.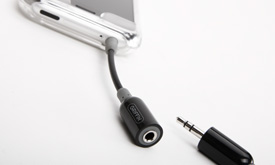 If you have an iPhone, or plan to get one, order your adapter today. $9.99 at
Griffin's site
.