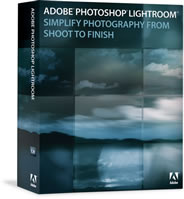 Adobe has released two important updates today. One being Adobe Photoshop Lightroom 1.2 and the other being Camera RAW 4.2 (for Photoshop CS3, Photoshop Elements 4 and 5). Lightroom 1.2 offers an array of bug fixes, but also brings new camera support on board:
Canon EOS 40D, Fuji FinePix IS-1, Olympus EVOLT E-510, Panasonic DMC-FZ18 and more. Of course the Camera RAW update also supports these cameras too.
Download the updates here.