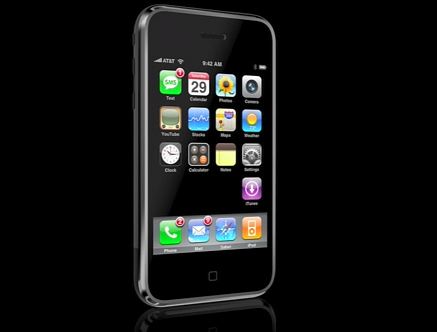 As promised Apple released a new feature update for the iPhone. The new features include:
iTunes Wi-Fi Music Store
Louder Speaker Phone and Receiver Volume
Home Button double-click to phone favorites or music controls (hey, that's a Terry White feature – see below)
Space bar double-tap shortcut to intelligently insert period and space
Mail attachments are viewable in portrait and landscape
Stocks and cities in Stocks and Weather can be reordered
Apple Bluetooth Headset battery status in the Status Bar
Support for TV Out
Preference to turn off EDGE/GPRS roaming internationally
New Passcode lock time intervals
Adjustable alert volume
These updates are very welcomed. I'm very happy that Apple implemented one of my suggestions! If you remember, I wrote an iPhone Review and has been very well received and ranks in the top five iPhone reviews on Google. In that review I said:

So I'm very happy to know that I helped the iPhone development in some small way 😉
I'm also happy that there is now a preference to turn OFF EDGE/GPRS roaming internationally. There are people who are traveling abroad and coming back home to monstrous roaming bills (some over $1,000) because their using their iPhone's data capabilities internationally without realizing the outrageously high data roaming charges that some carriers charge. To simply check your email could cost you $5. Viewing a web page or two could cost you another $5-10 without knowing it. So this should help this situation quite a bit.
There is still room for more
I'm still very happy with my iPhone, but there is still lots of room for improvement. Most of the things I want should be relatively simple fixes that can be done via software – My Wish list:
1 – Sync Notes
2 – Cut/Copy Paste system wide
3 – Email anything (besides notes, photos URLs) Contacts, maps, directions, etc.
4 – MMS
5 – Consolidated Mail in Box and easier way to jump between accounts
6 – My OWN ringtones
7 – Flash support in Safari
8 – Video and Voice Recording
9 – Color coded or Separate Calendar view
10 – Searchable Contacts
11 – To be able to assign ringtones to groups
12 – Syncing iPhone to Computer over Bluetooth
13 – Voice dialing
14 – Dial-up Networking (use the iPhone as a modem)
15 – iPhones on AT&T corporate plans
Hopefully we'll see more updates frequently to continue to add new features.
Hackers beware! It appears that the update restores the phone back to its original state from the stand point of needing to be "Activated" again (which it did automatically. No need to walk through the process manually). It doesn't remove any data including my custom Non-iTunes ringtones, but if you're not using an AT&T SIM card, you may be hosed!
Apple also posted this video on the new features…