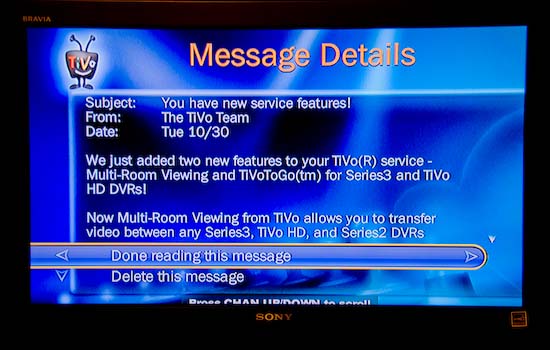 The gift that just keeps giving. I love my TiVo HD boxes. I had always been a DirecTV TiVo user and therefore missed out on all the Series 2 coolness of things like TiVo-to-Tivo transfers and TiVo-to-Go. Well I came home from a business trip to find a message waiting on my TiVo HD indicating that the long awaited software update had been applied (automatically over my Wi-Fi network) and I now have TiVo-to-Go among other nice features.
TiVo-to-Go allows you to transfer recorded shows to your Mac or PC. From there you either watch the shows, burn them to a DVD or more importantly you can convert them for playback on iPods, iPhones, Apple TV's and PSPs. This is what I was most interested in because it would be nice to take my favorite shows with me to watch on the plane or in other situations where I have time to kill.
So last night I did a couple of tests to see how it would all work. First off on the Mac, the solution is to use Toast 8 Titanium. It is the officially sanctioned software that enables TiVo-to-Go on the Mac. There are other shareware utilities out there, but since I already own Toast, I decided to start there.
Toast is the app that let's you actually burn the content to a disc, but it comes with another component called "TiVo Transfer" that you can enable during installation or after the fact from the Setup Assistant under the Help menu. TiVo Transfer sees your networked TiVo Series 2 or Series 3/HD DVRs and will allow you to transfer the recordings of your choice to your Mac (if you're a Windows user you can download TiVo Desktop). TiVo Transfer works exactly as advertised. It found both my TiVo HDs on my network and showed me a list of the current shows on the drives of each one. I could transfer the shows I wanted, to my Mac and even setup a "Auto Transfer" to automatically transfer a particular show and all of its future episodes. You might really want to do this considering how big these files can be and the time it takes to transfer them. The first show I did as a test was an episode of South Park which is 30 minutes in length and NOT HD. So it was 680MB in size on the TiVo. Not bad. It took about 15 minutes to transfer it to my iMac G5. However, an episode of The Unit which was in HD was 7.5GB and took close to 3 hours to transfer. Once this 7.5GB file was on my iMac it was still in HD format and can be watched at it's full size and resolution which is cool, because you'll get that full-screen super clear experience on your laptop provided you've got the extra space. Now of course the other option is to simply burn it to a DVD with Toast. There is a "Toast It" button right in the TiVo Transfer window which will launch Toast and add the show to your Video DVD window for burning. Toast will handle the DVD creation and encoding for DVD. In theory if you had a Blu-ray burner you'd be able to keep it in high-def and make a Blu-ray disc.
The next option is to not burn it to disc, but to "Export" it from Toast to an iPod/iPhone/Apple TV or PSP format. This is great, but there is a restriction here. You can only export at a resolution no higher than 320 pixels wide. Which is kind of a bummer since the iPhone and iPod touch have higher res screens. Also it takes time to convert the files into iPod format. However, once the conversion is done Toast automatically adds the shows to iTunes as TV shows with their complete descriptions so you'd be ready to sync with your device. The resulting size for South Park was 221.8MB and The Unit was 364MB as a 320 pixel wide iPod video.
The Bottom Line
I welcome this FREE update to a DVR that I was already enjoying. Now I have a few options to take my shows with me and as a person that is constantly on the go, this is very cool. I still wish the process were faster and it prohibits the last minute "I'm heading out the door and wouldn't it be cool to take a couple shows with me to watch?" kind of situation. However, with a little planning the night before, I could have a MacBook Pro or iPhone loaded with a couple shows ready to go. TiVo HD simply blows away the Comcast supplied DVRs.