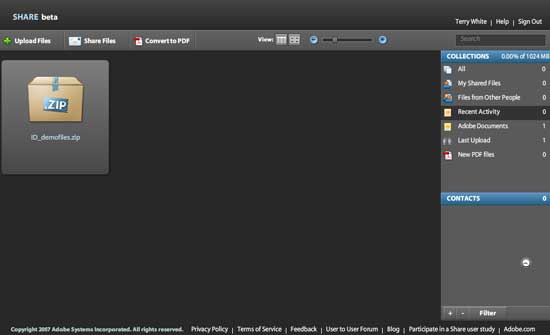 My 43MB Zip file that's too big to email as an attachment is easily shared with SHARE.
Adobe is on a roll lately with this whole public beta/FREE thing. Here's one that almost slipped through the cracks until I read about it on John Nack's blog. While Adobe Photoshop Express got all the buzz recently (that's so yesterday's news), Adobe SHARE promises to make it easy for you share large files with friends, colleagues and family – for FREE!
With Share you can:
Send documents without email attachments.
Access your documents from anywhere.
View all the documents you have shared or received in one place.
Post a link to your document on a wiki or blog.
Embed a Flash® preview of your document on any website.
Limit access to a document to a list of recipients.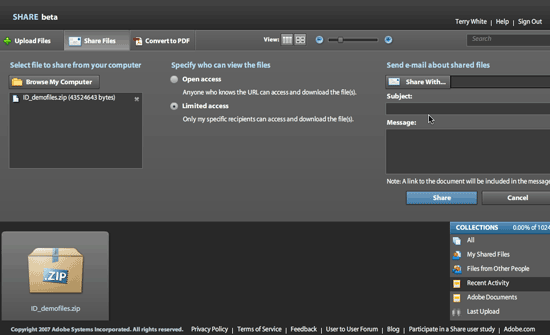 You get one gigabyte of space and you even get 5 FREE PDF conversions from your Office documents. SHARE is free so there are restrictions. For example, the Share preview is currently limited to documents, and the contents of your files may be restricted by the Share Beta Agreement. You cannot upload and share any music or video files at this time, e.g. mp3, aac, wmv, mov etc.
So if you've been looking for a slick, FREE web based service to share your larger files, head over to Adobe Labs and set up your account.