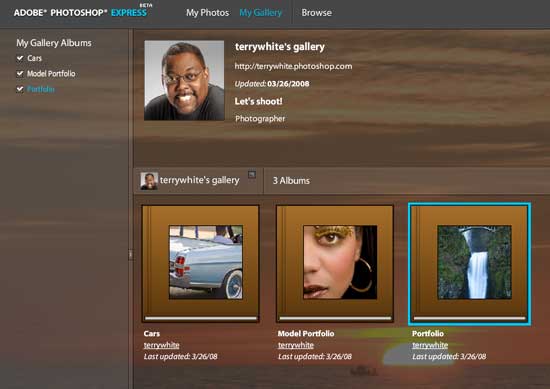 You've heard of Photoshop right? C'mon, it's now a verb! "I Photoshoped that picture." As popular as Adobe Photoshop is, believe it or not there are people out there (from what I hear) that have never used it and probably never will – gasp, I know! However, it's true. There could be a lot of reasons for this, such as people that just don't buy editing tools. Teens for example, usually don't have an extra $600-$900 lying around to pop for Photoshop CS3 or Photoshop CS3 Extended. Sure there are cheaper versions such as the industry leading Adobe Photoshop Elements, but hey – these guys won't even pay $90 for software. How do they get their MySpace images edited? Well they either Don't edit them at all (I've seen more than enough photos with red-eye out there to know this to be true) or they rely on FREE tools. "Free" you say?
That's exactly where Adobe Photoshop Express is aimed! It's a FREE service that allows you to polish, sort, store and show off your picts. It's also completely web based! You might remember last week when I turned you on to another FREE Adobe Service code named BRIO. So this is not really the first time that Adobe has given users a FREE way to do things. That's right, think of some most frequently used features of Adobe Photoshop available for use on the web anytime for FREE. Completely platform independent because it works in your web browser as long as you have the Flash 9 Player, which is also FREE. Now before my Pros get all up in a tissy, don't worry. This is not going to replace the Photoshop you've come to know and love. As a matter of fact if you're making your living doing that Photoshop thang, then you can just keep right on working the way you always did. There are no Layers here, No CMYK, No pro level filters and the list goes on. However, if you're that guy or gal that just wants to up your online cred (formally street cred) and get your MySpace and FaceBook images poppin' then you'll want to check out this free public beta!

What do I get for FREE?
Well for starters you get 2GB of storage space for your images. Once you set up your account, you'll get your URL like mine: http://terrywhite.photoshop.com (pretty cool huh?). You'll be able to access your images from any computer on the net that has a browser and Flash Player 9. You'll be able to upload, tweak/enhance your photos, put together your own Flash based web galleries and share them with your friends. You can also access your Facebook, Photobucket, and Picasa accounts directly. Once you've edited your photo you can either share it with someone or download it back to your computer for printing.

Portfolio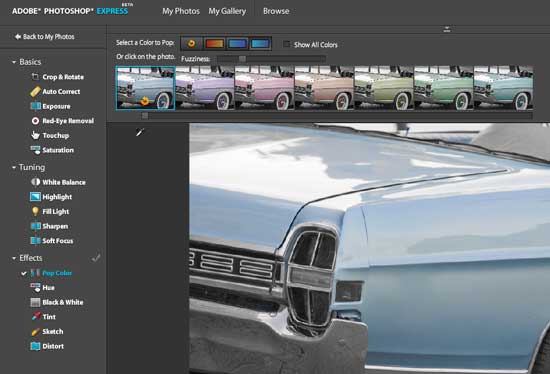 OK, I want to give it a spin. How do I get started?
Simply head over to the Photoshop Express page and sign up.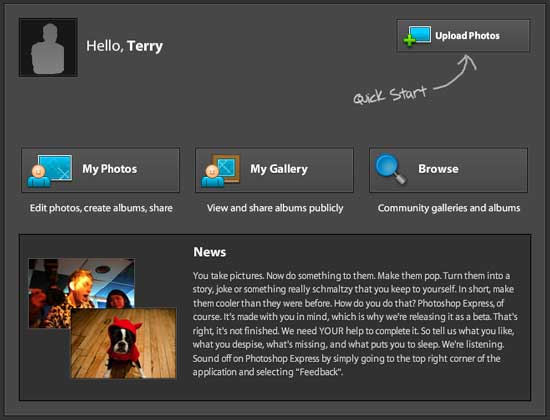 Also check out the FREE Photoshop Express Learning Center put together by our buddy Matt Kloskowski from KelbyTraining.com.