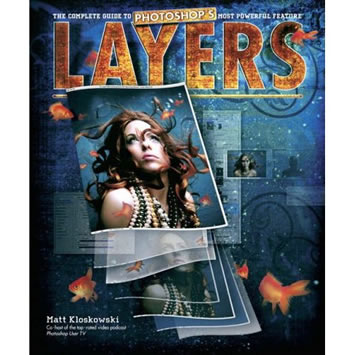 With each new version of Adobe Photoshop there are usually lots of new features. However, there is usually one feature that really stands out. Yes, believe it or not there was a time that Photoshop didn't have Layers. I actually go back that far. I first started using Photoshop (and teaching it) at version 2.5. Photoshop life was pretty tough back then (think about your parents telling you how they had to walk up hill to school for 5 miles – both ways). That's right, it wasn't until Photoshop 3.0 was released that we got Layers. It wasn't until Photoshop 4.0 until we got Adjustment Layers and yes, it wasn't until Photoshop 5.0 that we got editable text. Photoshop has come a long way! We take Layers for granted now in our Adobe apps. Layers is one of the most powerful features and because we take them for granted, we may not be getting all that we can out them.
Matt Kloskowski's New Book: Layers: The Complete Guide To Photoshop's Most Powerful Feature promises to help you get the most out your use of Layers in Photoshop. I know what you're thinking and yes I was thinking the same thing, "I already know how to use Layers. I use them all the time." I've actually had Matt's book for a couple of weeks now and it wasn't until this past weekend that I decided to take a look at it. After getting past the basics of Layers that I already knew, I found some really helpful tips and techniques that I hadn't considered before. Actually that's what makes Photoshop so dynamic. It's not so much about learning the tools and the menu commands as much as it is the infinite possibilities and combinations of using the tools together. Matt gets into some clever tips and techniques on how to use Layers in ways you may not have thought about before.
If you're a Photoshop user, whether you're a newbie or a pro, you should give this 248 page book a read. It's beautifully laid out in color with two steps per page with corresponding screen shots. Matt does a really good job of explaining his techniques in detail without going overboard (and getting all boring on ya).