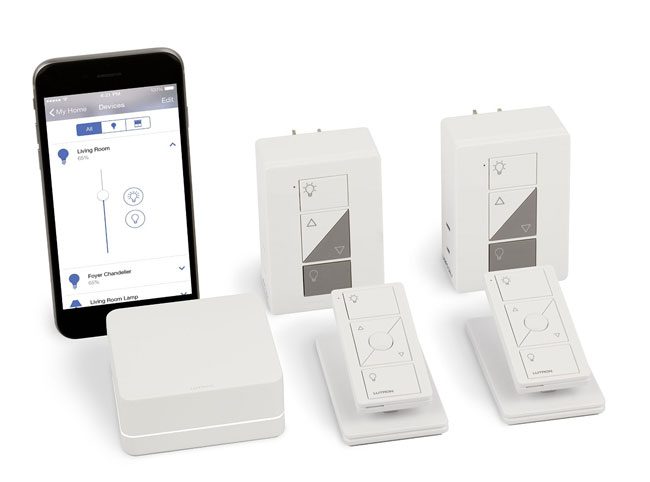 It's Day 3 of my Smart Home product review week and now it's time to talk about wireless lighting and shade controls. Once again I wanted something that would be Apple HomeKit compatible and my search led me to the Lutron Caséta system. This is not my first wireless lighting system. As a matter of fact I go all the way back to the Radio Shack X10 system (remember those?) Thankfully things have gotten a lot better in the last 25-30 years and now you not only get in-home wireless control but you also get the ability to control your lights and shades from (yep you guessed it) anywhere in the world from your smartphone.
I started with the Lutron Caseta Wireless Smart Lighting Plug-In Lamp Dimmer Kit
This is like a starter kit that gives you all the necessary pieces to get up and running and control 2-4 lamps in your home. The Lutron P-BDG-PKG2P Caseta Wireless Smart Lighting Plug-In Lamp Dimmer Kit comes with the Caseta Wireless Smart Bridge, 2 wireless plug-in lamp dimmers (each one can work 1 or 2 lamps), 2 pico remote controls, and 2 pedestals for the remotes. Unlike other units that connect directly to your WiFi network or operate over bluetooth, the Lutron Caséta Smart Bridge connects directly to your internet router/switch via a supplied ethernet cable. The bridge gets it's internet signal from your router via this wired connection and then connects to all of your Lutron Caséta modules wirelessly.
Setting up the Lutron Caséta Wireless Smart Lighting System
The setup was very simple and I didn't really have to refer to the manual more than once. You start by plugging in the Lutron Caséta Bridge to your network and powering it either with the supplied micro USB charger or an existing USB cable and charger if you already have one in place. Download their App and pair it to the Bridge. Once the Bridge is up and running then you pair each dimmer and remote to the bridge. This process takes about 10-15 seconds per device. When you pair a pico remote you can choose which dimmer modules it controls. This means that it's best to set up the pico remotes last. Since the Lutron Caséta system is HomeKit enabled that means that it can be controlled either via the app, the pico remotes or Siri on your iOS devices. As a bonus it also integrates with Amazon Echo/Alexa.
Using the Lutron Caséta
See it in action in this video I recorded:
Once the system is setup you can control any of your lights that are plugged into the modules either by the app, the pico remotes or your voice. The Siri voice control makes it feel really futuristic. It's so cool to be able to say "Hey Siri! Turn on the Family Room Lamp" from anywhere in the house or anywhere in the world. Not only can you control individual lamps, lights and shades, but you can also setup "scenes" in the app to control multiple devices with a single command, schedule or with a geo fence. The geo fence is pretty sweet as you could have lights turn on as you approach your home. Also unlike other products I looked at these don't just turn lights on/off they also provide dimming which is a big deal for me. I rarely like my lights to be on full blast.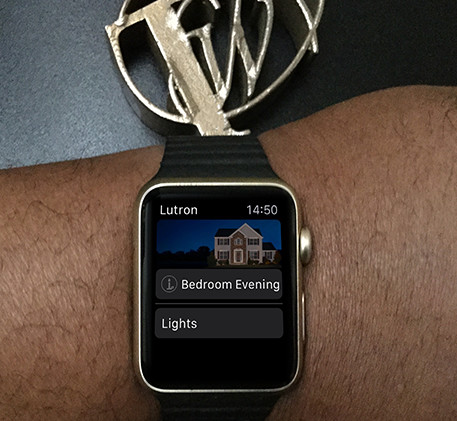 The Bottom Line
Now that I've experienced the starter kit with the 2 included lamp modules, I've already ordered a couple more lamp modules
and one wall dimmer switch
for my dinning room light. I don't have any motorized window shades, but this system is definitely making me wish that I had some.
You can get the Lutron P-BDG-PKG2P Caseta Wireless Smart Lighting Plug-In Lamp Dimmer Kit here