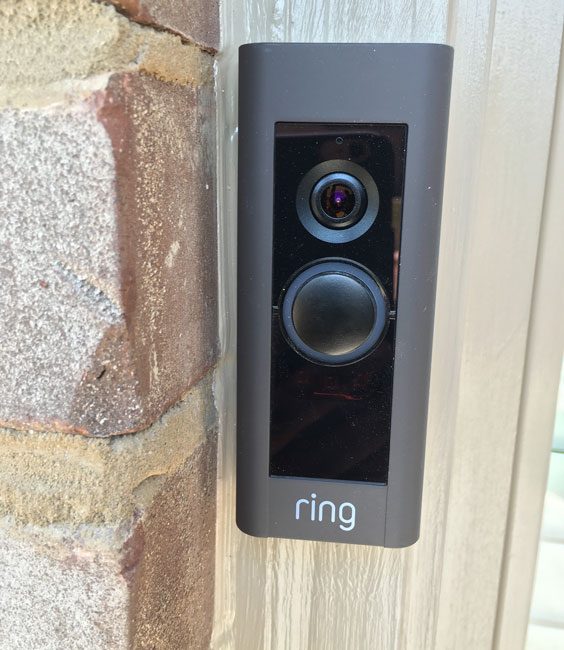 Picking up where I left off yesterday with my new smart home gadget reviews, let's talk about the Ring Video Doorbell Pro. I have always liked having a camera that can show me who is at my front door and if I have any packages sitting there? I checked with my alarm provider and while they do offer outdoor cameras, they actually suggested that I go with a Ring Video Doorbell instead. I had never heard of Ring before and when I went to check them out the reviews on Amazon weren't great. However, after reading a few of them I realized that most of the criticism was in comparing the newer "Pro" model to the standard model. I ended up going with the Pro model for a couple of reasons. For one and probably the main reason is that the Ring Video Doorbell Pro is simply not as wide as the standard version. The Pro model is a perfect fit for my doorbell area and the standard model would have been too wide. The Pro does 1080p vs. 720p and also can connect to the less crowded 5GHz Wi-Fi spectrum. Those were enough reasons to push me up to the Pro model. While the standard model can work with an existing doorbell (replace yours with this one) or no existing doorbell, the Pro only works where you have a wired doorbell.
See and Talk to Anyone At Your Door from Anywhere in the World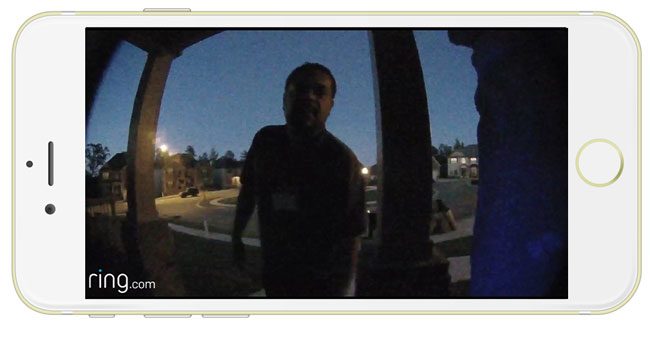 Not only does the Ring Video Doorbell have a camera in it but it also has a motion sensor, microphone and speaker. This means that you can use your iOS or Android devices to see and talk to anyone at your door from anywhere in the world. When someone presses the button you will get a push notification that if you tap on will take you straight to the App and to the LIVE view. You can tap on the Talk button and begin talking with them if you choose to. This came in handy the other night as my doorbell rang at 9:18 PM and I wasn't expecting anyone. Rather than run to the door to see who it was, I fired up the App and asked the stranger what he wanted. It turned out to be a rep from ADT (an alarm company) asking if I wanted service (their second visit)? It just seemed odd that he would be going door to door that late in the evening and I simply talked to him from my sofa and told him that I already had service (which I do and I have to get those lawn signs out there so that they can stop asking).
The Installation Was Pretty Easy
Having replaced a doorbell button before that had worn out, I knew that the wiring was pretty simple. There are only two wires and it doesn't matter which one you wire to which terminal. Therefore it's hard to get it wrong. However, in the case of the Ring Pro you need to install a second item that they include. It looks like a small power pack and it gets installed inside the box of your mechanical door bell chime. This insures that the Ring Video Doorbell Pro gets enough power to operate properly. The wiring for this is easy too, but the challenge will be finding a spot inside that box to mount the power pack to that doesn't interfere with the chimes themselves. In my case the cover doesn't fit flush against the wall anymore.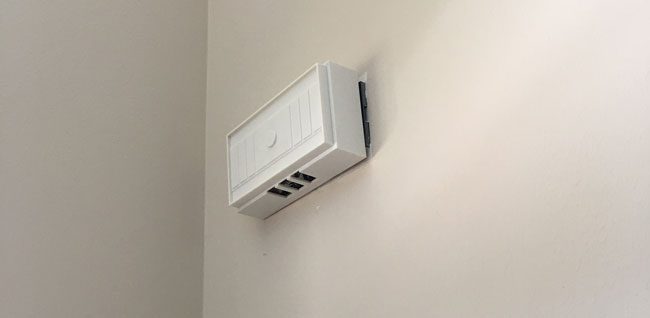 I would love to see Ring make this a little narrower. Once you get it all wired up the Ring shows up as a WiFi hotspot that you connect your smartphone to. From there you do the rest of the configuration with the Ring iOS or Android app. The only other challenge is that my current Wi-Fi hotspot is pretty far from my front door. While I intended to connect this to my 5GHz network, the only one within range was my 2.4GHz network. That won't always be the case, but you'll need to be mindful as to how far your Ring device is from your WiFi network since the actual doorbell is outside the home.
So far so good, but not perfect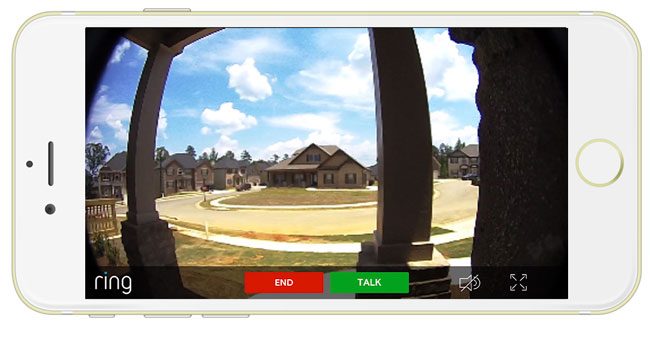 It works great! It has worked as advertised with one caveat. For me the Motion Detection feature is pretty much useless as it's very very sensitive and it gave me more false alarms than anything else. It was picking up cars that drove by as well as people on the sidewalk. While you can draw "zones" like just the porch, that didn't seem to help me in my setup. So I just turned off the motion detection feature. The other problem is that there are no controls for the camera itself. I'd love to be able to adjust exposure as my door faces East and therefore the sun is usually at the person's back.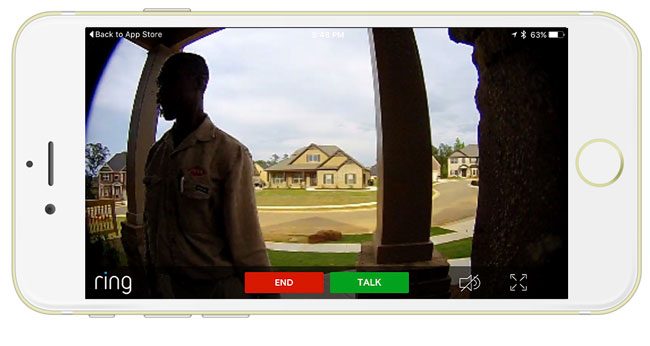 This makes it hard to see their faces because the camera is trying to expose for the bright background behind them. Outside of that, it works really well. I can usually see who it is and voice stuff has worked although I wish the speaker was a little louder. If you don't have an existing doorbell or you want to be able to hear the doorbell in another part of the house, you can get their electronic wireless chime.
There is an optional Cloud based Video Recording Service
When you buy a Ring product you get a 30 day trial for their cloud based DVR like recording feature. This means that you'll be able to go back and look at, share or download motion and ring events for up to 6 months. The price after the trial is $3/month or $30 for a year. While the price is not too bad, I don't like that if you have two or more of their devices (they also sell regular Wi-Fi cameras too
) that you don't get a break on the price. I'll probably go with it when the trial is up. It's nice to be able to have this kind of documentation in case something happens such as a break-in or vandalism. I'll likely put one of their other cameras in back of my house.
The Bottom Line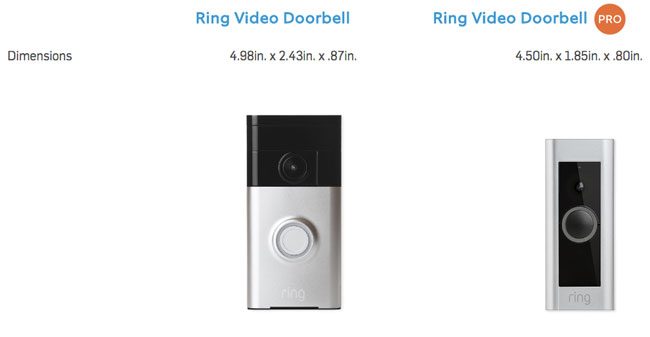 The Ring Video Doorbell Pro works well and I'm happy with it. The things I want to be fixed/enhanced can all be done via software. The hardware is pretty solid as is. I was also happy that the Pro model came with the 4 color choices of faceplates to better match your home. You can get the standard Ring Video Doorbell here. You can get the Ring Video Doorbell Pro here.