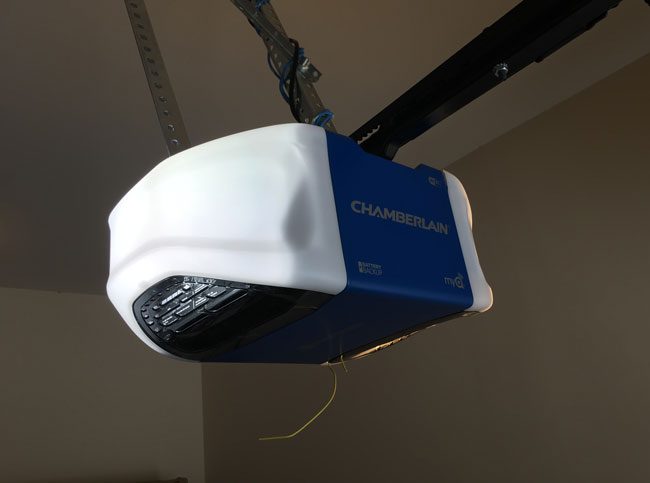 Continuing my Smart Home Product Review Week it's time to talk about the smartest garage door opener I've ever seen and it's by Chamberlain. When I moved into my new home one of the things that wasn't included was the two garage door openers I'd need. I thought this was a weird item not to include, but when I saw the price that the builder wanted to install theirs, I decided to just go get my own. This was another one of those things that I hadn't had to shop for in over 25 years. I hadn't realized how far they've come. The first option I noticed was a battery backup and I definitely wanted that. There had been times where storms had taken out the power in my studio (10′ door) and that while I could get up on a ladder and use the manual release to raise the door, it just wasn't worth it. My car remained trapped until the power came back on. Having a battery backup means that the garage door opener will still work even if the house loses power.
Chamberlain Smartphone Controlled Wi-Fi Garage Door Opener offers everything in one box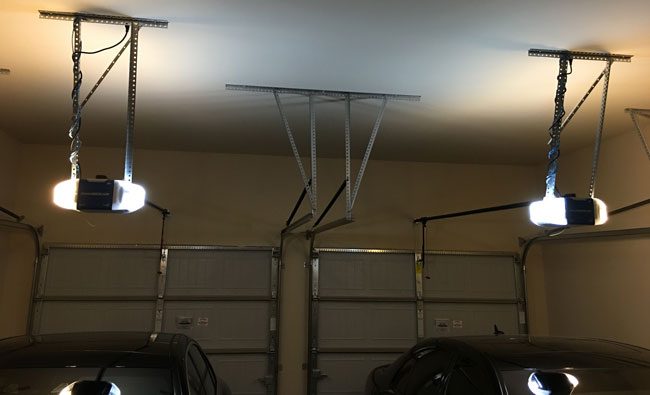 Once I stepped up to the Chamberlain model with battery backup, it also includes their MyQ WiFi smartphone control module built-in. This means that I could not only operate my garage door opener from my car, the touch pad outside, the wall controller inside the garage, but also from my smartphone (yes, anywhere in the world).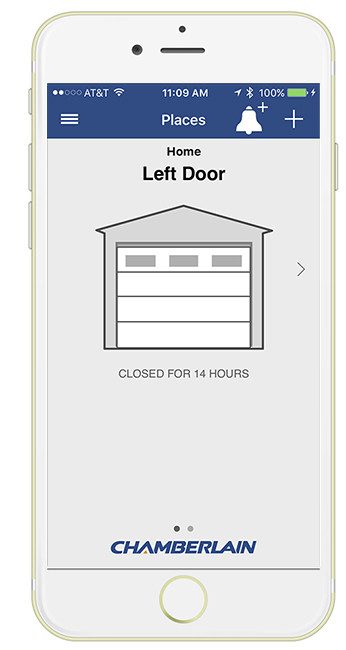 With the iPhone App I never have to wonder "did I close the garage door?" There have been times in the past where I would swing back by my house just to check. You can set it up that if the door is open for a set period of time that it automatically closes or you can simply see the status of the door at anytime from the app.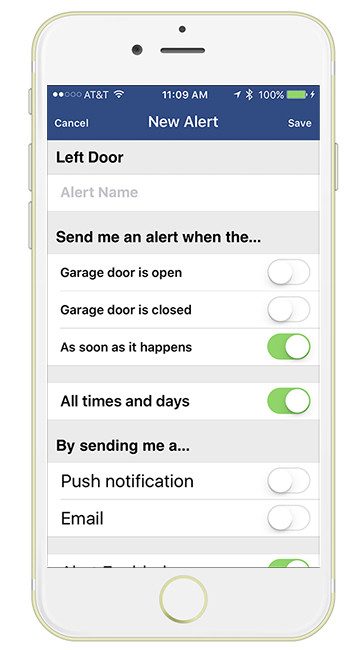 It's sooooo quiet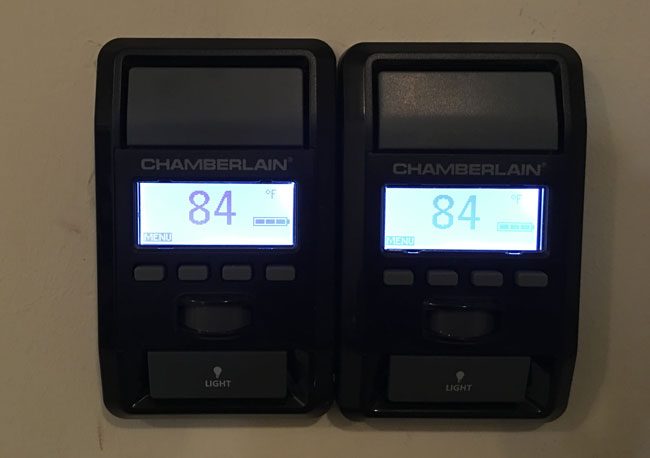 Another added benefit to this model is simply how quiet it is. I remember the first time that I tested the keypad outside to raise the door on the opposite end and it was so quiet that I didn't realize that it was opening. I thought I had put the code in incorrectly and was punching it in again when I happen to notice that the door was half way up already. Having a quiet door opener is also a benefit for those of you who have significant others or children that come in late or leave early while you're sleeping. This door opener will not likely wake you up.
No HomeKit Integration that I can see
Unfortunately this model doesn't seem to have HomeKit integration. While it would be nice to setup a geo fence that as soon as I got close enough to the house the door would automatically open, it's not that big of a deal to press the HomeLink button that's already in my car.
The Bottom Line
Garage door openers are usually something you only buy when you need one. Rarely do we think of upgrading them. However, this is one that would be worth considering to replace the one you already have. The Chamberlain
system has worked flawlessly since day one. Since my new garage has two doors, I bought two of them and they were easy to setup in the App and name affectionately "Left Door" and "Right Door". Hopefully I never have to use the battery backup, but I'm glad to know that they are there in case of a power outage.
You can get the Chamberlain WD1000WF 1-1/4 HPS Smartphone Controlled Wi-Fi Garage Door Opener with Battery Backup here
.
You can also find out more about their products here.