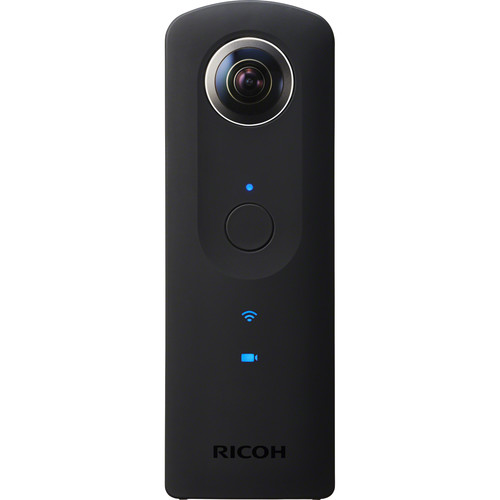 I'll be the first to say that when 360° images hit the scene I was not the least bit interested. All I saw from my friends were images like the one below. While they are somewhat interesting to look at in that style, I just didn't see myself wanting to create a bunch of those. Then the announcement came out that Facebook was now supporting 360° images NATIVELY and INTERACTIVELY.
Here's what I saw people doing with 360° cameras: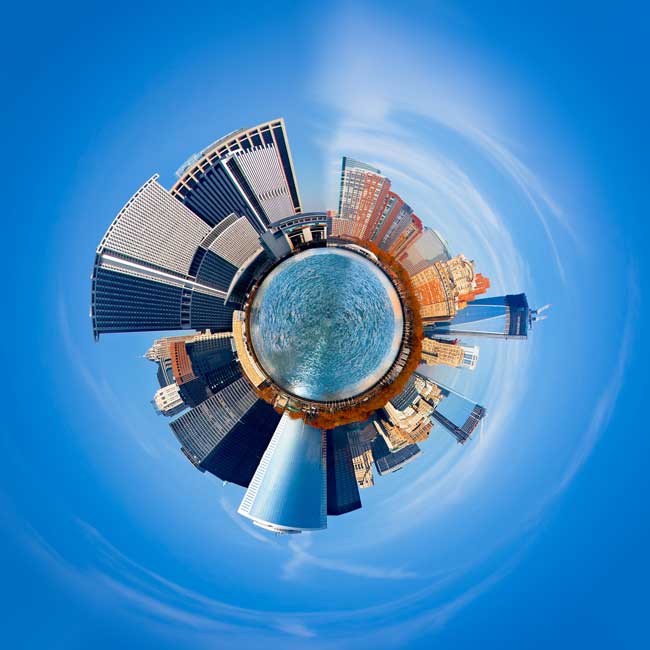 While the above effect is kinda cool from time to time, it's not an effect that I'd buy a new camera to achieve? I've seen iPhone apps that will take a pano shot and do the same thing.
However, this is what is much more interesting to me:
My new tethering setup – Spherical Image – RICOH THETA
In the above example I wanted to show a new tethering setup with a Dell display in portrait orientation. I put the Ricoh Theta S on a GREAT monopod (with a small ball head that I found) that my buddy Larry Becker turned me on to. This monopod has feet that can be pulled down so that it can stand on its own and hold small cameras like the Ricoh Theta S or a smartphone with this Arkon Mount
.
Getting out of the shot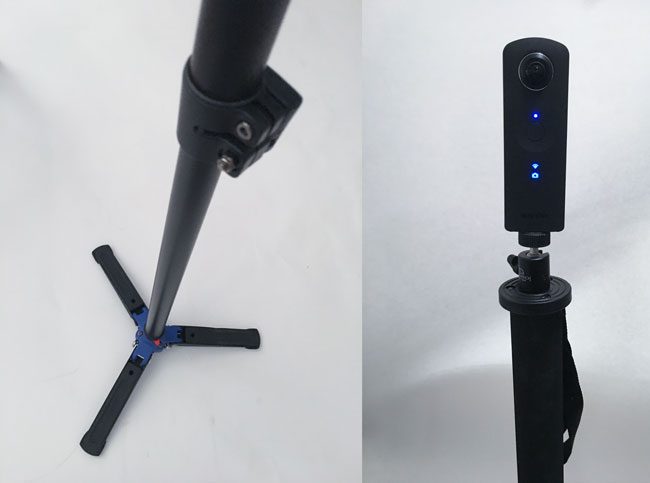 Another thing that I really didn't like about the 360° images I was seeing was that the people snapping them were at the center of the shot. After all, a 360° camera shoots a full 360° image the press of the shutter. So no matter how you hold it, you're in the shot. With the Ricoh Theta S mounted on my monopod, I could actually step out of the room or stand around the corner and using the Ricoh Theta App on my iPhone or my Apple Watch connected to the camera via its built-in WiFi connection I could snap the photo/video.
Posting to Facebook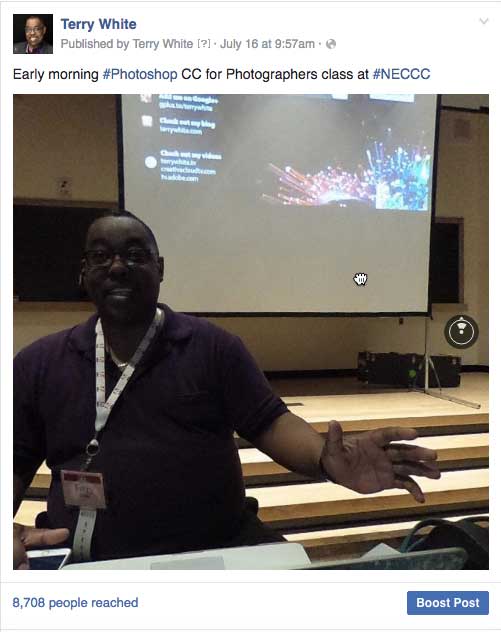 Once I snap these 360° shots with the Ricoh Theta S I can use the Ricoh Theta app to transfer them from the camera via the built-in WiFi connection to my iPhone and share them directly via the Facebook App to my Facebook Fan Page. No need to stitch them in post. They are ready to go (unless you want to retouch them first). The minute that they are posted, anyone that sees them in their timeline will be able to interact with them and not only use their finger to move around in the 360° space, but even pan their smartphone around using the built-in accelerometer to pan the scene (VERY COOL).
More about the Ricoh Theta S
The Ricoh Theta S is the only 360° camera that I've used to date, so I don't have anything to really compare it to. It has a lens on each side capable of capturing 180°. On one side there is a physical shutter button so that you can take 360° shots by pressing the button. The Theta S can also capture 360° video at 1080p or 720p and up to 25 minutes/4GB of it with sound. I did a test one, but haven't really been in a situation yet where I wanted a 360° video. There is a built-in memory of 8GB and no memory slot. This is kind of disappointing, but I guess as long as I can transfer the stills/videos to my iPhone, I'm not too worried about running out of space. The sensor captures at 14.4 MP and an Aperture of f/2. Like most small point and shoot cameras the low light captures leave little to be desired. Since there is no LCD display on the camera itself, you use the App on your smartphone/tablet as the viewfinder.
How I use the Ricoh Theta S
On set with Terry White and Scott Kelby – Spherical Image – RICOH THETA
My main use for this camera is to give my viewers a better look at the behind the scenes of my photo shoots and events that I do. In my former studio I had a dedicated camera mounted above that could capture any lighting setup I did from a overhead view. Now I can put the viewer right in the middle of the scene.
The Bottom Line
While I certainly don't reveal in the fact that I have yet one more camera for a specialized thing, there really is no other way to capture these stills and videos as effectively. The Ricoh Theta S is easy to use and the results are good. I get a seamless 360° capture at the press of a button. Facebook was one of the first social networks to take advantage of this format and as soon as others like Twitter, Instagram and Snapchat support it, I'll like this camera even more. You can get the Ricoh Theta S here.