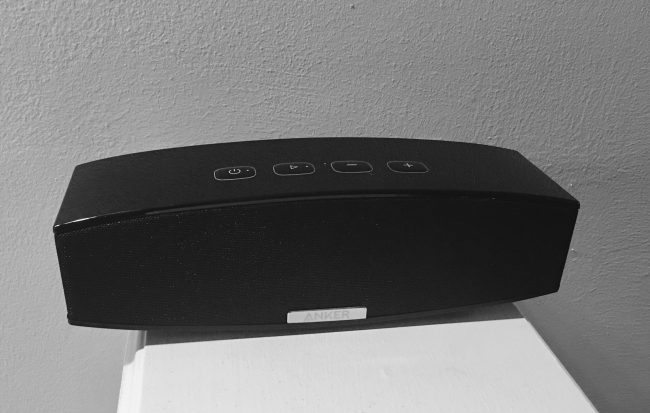 I've reviewed portable speakers here before. I usually find one that I like. It sounds pretty good. It travels well and I use it until something better comes along. However, this time I don't really need a new travel speaker as much as I just want a portable speaker that I can use at home in my office, move around from room to room, use out on the patio and yes even travel with it if needed. I have been a fan of Bose products for a long long time. I have been eyeing the Bose Soundlink Mini II as the "I'm going to get that speaker one day", next on my buy list. However, at the $199 asking price, I just never got around to buying it. My buddy Jason Levine has one and swears by it. Jason is a musician and an audiophile, so I would definitely believe in his recommendations on speakers and audio gear. I'm not an audiophile and I just want something that sounds really good. At $199 though, something always comes up that I'd rather have when I'm ready to buy.
Many of you know that I'm also a big fan of Anker products and while I have been paying attention mostly to their portable backup batteries and USB chargers, one day I noticed that they also sold something called the "Anker Premium Stereo Bluetooth Speaker." I noticed that this speaker bears a striking resemblance to the Bose speaker (many do). The one thing that was definitely different was the asking price! It's only $59.99 (here)! At $60 bucks it was definitely worth a shot. I got one, and was immediately impressed by the build quality and packaging. It didn't feel cheap. It felt every bit as good as a more expensive speaker, but the big question was "how does it sound?" I paired it with my iPhone 6s Plus and went to my iTunes app. I fell back in my chair when I heard the music and my first response was WHOA! I can feel the bass! Most portable speakers (especially in this price range) don't have a lot of bass response and while I'm not an audiophile it sounds every bit as good as the Bose speaker. Even if you're an audiophile and you tell me "Terry, the Bose speaker does sound better." My response would be, "Does it sound $140 better?" It doesn't.
It has everything I was looking for. It's a little bigger than my Jambox and works over Bluetooth, but still has an AUX in port to connect other sources. It comes with a USB cable for charging and even an audio cable to use with the AUX in port. The only thing that it doesn't come with that I wish it did was a carrying case or pouch to put it in for travel. The speaker charges via USB and is rated to give you 8 hours of music playback on a single charge. You can also just leave it plugged in if you're going to be in one spot near a USB charger (not included). It also doesn't come with a remote control, but these are omissions that I don't mind at this price. It comes in black or white and you can order one here. You have to hear it to believe it at that price.