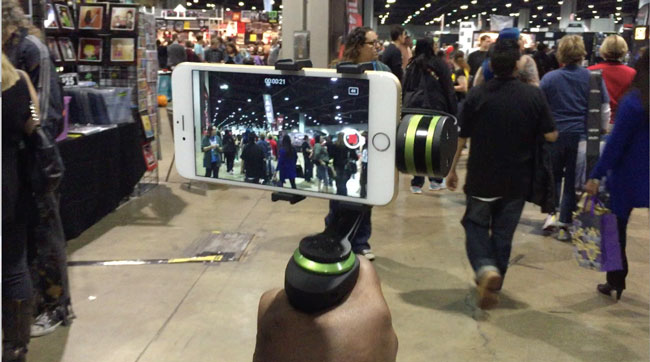 A good video has great light and good sound. A great video is short, great content, good light, good sound AND STEADY. A shaky unstabilized video may cause your viewers to stop watching for fear of getting motion sickness. While smartphones can capture great video quality these days, the small form factor is hard to hold steady if you are moving or walking. The iPhone 6s Plus can shoot stabilized video and I can stabilize it in post with Adobe Premiere Pro CC. However, if you're walking your video may be so shaky that the stabilization methods above may not be enough. That's where a gimbal comes in…
There is an explosion of drone video capture happening. These low cost drones make it easy for every day videographers to capture footage that would have either been impossible or impractical/cost prohibitive. One of the things that makes this moving video watchable is that it's stabilized with a built-in gimbal. When I fly my DJI Phantom 2 Vision+
 I'm very happy with the results. Even though the wind could be tossing it about, the 3 axis gimbal does a fantastic job. So why not have that same benefit with your smartphone video?
After some nudging from my buddy Bruce, I took another look at gimbals for smartphones. I ended up going with the LanParte 3 Axis Gimbal for Smartphones
. Rather than explain how it works, I'd rather show you:
The Bottom Line
If you're looking to record videos with your smartphone while you're walking around or if you're into live streaming such as Periscope then you'll be doing your viewers a favor with this gimbal.
You can get the LanParte 3 axis gimbal for smartphones here
.