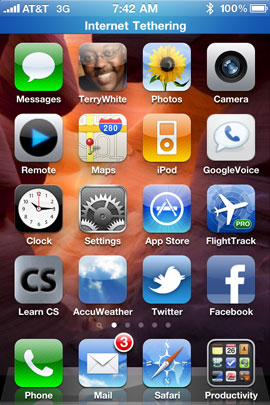 One of my main AT&T/iPhone complaints has finally been addressed. Ever since the iPhone 3G (and for some, the original iPhone) came out two years ago, I wondered why AT&T was so adamant about NOT allowing you to tether (use your iPhone as a modem/WiFi hotspot) your iPhone to your laptop and share its 3G data connection. After all they allow this with every other smart phone they sell and they even sell 3G data cards. Also no one ever expected this to be FREE. So I never really got why this was such a big deal? Granted AT&T couldn't do it alone and it would require built-in support by Apple in the iPhone OS (iOS). However, that support came in iPhone OS 3 LAST YEAR. So what took AT&T a YEAR to allow it on the iPhone for us in the US? They claim that they still needed to tweak their network to allow the influx of additional data traffic. While this may be true, the thing is since it's not FREE, not everyone is going to do it. Also it's not something you're going to be using all the time or would you?
Data Plan caps may have been the real issue
I don't doubt that AT&T needed to (and still needs to) work on "the world's fastest 3G network" to get it ready for even the slightest increase in traffic, but I suspect that an even larger issue was not wanting you to be able to pay a flat fee and have unlimited use. Even when you go with a $60/month 3G data card from AT&T there is a 5GB/month cap on it. Up until now all iPhone plans have been "UNLIMITED" data. So while the amount of 3G data that iPhone users currently consume must be HUGE, I'm sure giving users unlimited tethering would have brought this fragile network to its knees.
Do you want unlimited iPhone 3G data or do you want tethering?
I ask this because you can't have both! Not only did AT&T recently change their Data Plans for any new users, but in bringing out iPhone tethering it also requires you to be on the NEW DataPro plan. Here's how it works: If you upgraded from a previous iPhone to the iPhone 4 or you are still on an iPhone 3G/3GS, AT&T grandfathered your current "unlimited data" plan in. Yep, you can keep your "unlimited data" plan at the same price ($30/month) and have a nice day. However, if you want iPhone tethering (which requires iOS 4), then you HAVE TO switch to the NEW DataPro plan, which has a 2GB/month cap for $25/month plus pay the $20/month for tethering ($45/month total). Now that may be a good deal for the casual user. You get to tether your laptop in those situations when you're out and about and WiFi is unavailable or cost prohibitive. It will only cost you $15/month more than what you're paying now and if you're on WiFi most of the time anyway, you may never hit the 2GB cap in a month. Also it's cheaper than going with a $60/month 3G data card on top of the $30/month you're already paying for your iPhone data plan. However, if you're the video streaming, app downloading, news reading, VNC remote controlling, multitasking, data junkie that I know many of you are, this could get expensive pretty quick. Once you hit the 2GB cap in a month it will cost you $10 more per 1GB increment after that. So let's say you use 5GB in a month (which is not a stretch for many). It would cost you $75 that month for your iPhone data ($25), tethering ($20) and your 3G overage (1GBx3=$30). That's not too bad considering that it's still cheaper than a $30/month plan for iPhone unlimited data plus a $60/month plan for a 3G card. Keeping in mind that there would be no limit on the iPhone 3G data used if you kept your old plan.
How much iPhone data am I using?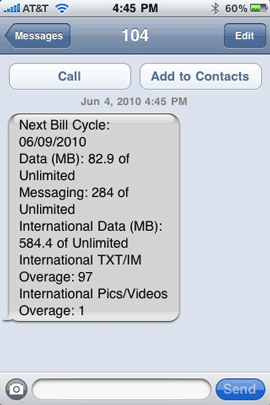 Not having to worry about it in the past, I never kept tabs on my usage. However, now that I have an iPhone 4 (new line) and the tethering option (which I may not keep. It's for testing right now), I'm going to be keeping an eye on it for sure. You can see your current usage by dialing *3282# from your iPhone and you'll receive a text message back with your current usage.
It could be better with WiFi instead of just USB/Bluetooth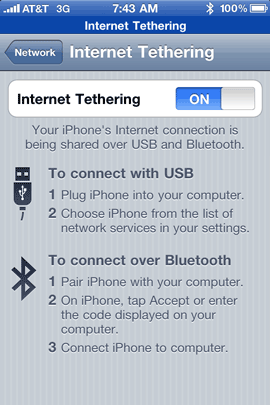 The current implementation of Tethering on the iPhone is actually kind of a step backwards. Apple built-in "tethering" into iPhone OS 3 and iOS 4 that basically turns your iPhone into a "modem". So if you have a computer that can connect to it via USB or Bluetooth you can use this connection to get on the internet. Even the word "modem" feels old. By taking this approach tethering only works on a limited number of devices, like, um computers 🙂 So even Apple's fancy new iPad WiFi model can't use this connection because Apple hasn't built in tethering support for it. One of the things I suggested two years ago was to allow the iPhone to become a WiFi hotspot (similar to a MiFi). There was even a 3rd party app called Netshare, that got pulled almost as quickly as it was released. Netshare allowed you to do this. If Apple would add a 3rd option besides USB and Bluetooth and allow the iPhone to become a WiFi hotspot, then any WiFi enabled device you owned could connect and use this connection. AT&T says "they don't care. It's up to Apple to allow the iPad to tether." So since there is now a 2GB cap, why should it matter how you use it? Why is this limited to just computers? Other, lesser phones can do this today 🙂
UPDATE: The Speed Test Results Are In
I know many of you are wondering what the speeds would be like if you did go with the Tethering option. So I just ran a quick test to do a little comparing. I ran the tests back to back against the same Chicago server at my favorite speed testing site. Before running each test I turned off the other services. For example, during the Bluetooth tethering test WiFi was OFF. I also threw in a couple of other tests so that you have other technologies to compare this to.
First up, this is my Comcast Cable service tested over WiFi using an AirPort Extreme Dual Band base station connected to the TrendNet router and New DOCIS 3 Cable Modem:

Next up is my MiFi Wireless Hotspot device with an AT&T SIM Card in it so that we get the same carrier results. Although I can connect to this via USB or WiFi, I only ran a WiFi test since I almost never use it via USB:

Now on to the iPhone 4 with AT&T Tethering. The first test is using a wireless Bluetooth connection (it's not pretty):

Lastly, this test was done with the iPhone connected/tethered via USB (I was stunned by how much faster it was than Bluetooth):

So as you can see, USB will definitely give you the best tethering performance. However, I'd still like to see a WiFi option in ADDITION to Bluetooth and USB, for multiple device sharing.
The Bottom Line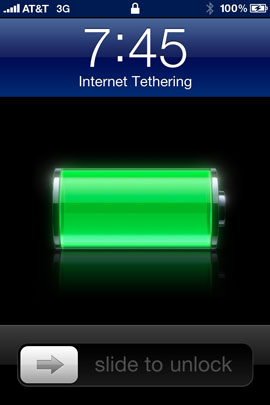 iPhone Data Tethering is LONG OVERDUE! I'm glad it's finally here and for as long as we've had to wait, it could have been better. Maybe in iOS 5 we'll see a MiFiesque type feature. For now you have an option to use tethering if you're willing to give up unlimited data and only use it with a computer. If you're a NEW AT&T customer then it's probably worth the $20/month if you think you'll use it.
It's time (past time) for Apple to open up the iPhone to other carriers here in the US. For all you Verizon loving fans out there, honestly I don't think things would be much better if the iPhone had only been on Verizon either. It's easy to say your network is great and reliable when you don't have MILLIONS of new customers all coming on at once and using up tons of data. I think this is too much for ANY ONE NETWORK. If Apple opened up to Verizon or anyone else right now it would reduce the strain on AT&T and it would make it better for everyone, most of all your customers!