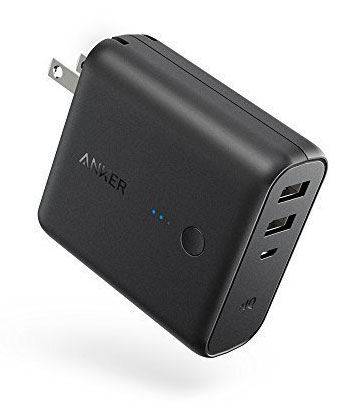 Last year I standardized on Anker for all my mobile device charging needs. Their products are top notch and so far their Lightning cables have outlasted all other brands I've tried. I've used several of their backup batteries, but this new one is a great idea! Normally you'd carry a phone charger when you travel so that you could charge your phone at night or when you're going to be in one spot for a while. You'd probably carry a backup battery too. This way you could charge your smartphone ore tablet on the go when you're not near a plug. Now imagine if you could have one portable charger that served both purposes.
The NEW Anker PowerCore Fusion 5000 replaces two things in my backpack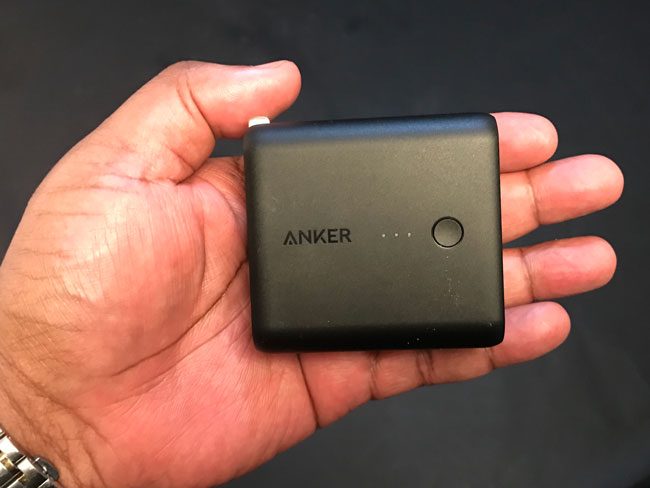 The concept is simple. It's slightly larger and much heavier than a standard charger. The added weight is because it also has a battery in it too. There are two USB ports on it so that you can charge two mobile devices at the same time. When you're a AC outlet just plug it in as you would any other charger and charge your smartphone, tablet, etc. at full speed. Having it plugged in the wall also charges the internal battery. Once the internal battery is charged you can unplug it from the wall and take it with you. You can use it on the go to charge your smartphone, tablet etc. via the internal battery.
How long does the battery last?
Of course your mileage may vary, but my first test of this 5000 mAh capacity battery yielded a full charge of my iPhone 7 Plus when the battery on my iPhone had dropped down to 16%. Once my iPhone was charged I checked the battery level of the Anker PowerCore Fusion 5000
and it was half empty. This means that I would easily get another half to full charge out of it. Being able to charge my iPhone 1.5 to 2 times is usually plenty for me. I've rarely been away from a wall outlet long enough to run my iPhone down 3 times. If I ever felt I would be away that long then I would use this battery instead
.
The PowerCore Fusion 5000 charges itself and other devices from any AC outlet (or via the built-in micro USB port). It first charges your device then recharges itself (in 2.5 hours)—ready to be taken on-the-go. Away from the wall, it'll recharge an iPhone 7 twice and other smart phones at least once.
AC Input: 100-240V~0.5A 50-60Hz
Micro USB Input: 5V=2A
USB Output (when plugged into AC): 5V=2.1A (2.1A Max Each Port)
USB Output (when not plugged into AC): 5V=3A (3A Max Each Port)
The Bottom Line
I love it anytime I can consolidate the gear that I carry. This new 2-in-1 does just that. It means that I can replace the charger in my backpack with one that can also be used as a backup battery. My only disappointment in this one is the weight (4.16 ounces). It's not a problem for my backpack, but it would be nice to be able to carry it in my pocket or jacket. Speaking of carrying a battery in your pocket, I'd be remiss if I didn't let you know about the Anker PowerCore Slim 5000
. That's my new favorite battery when I want to carry one in my pocket right along side my iPhone 7 Plus. Now back to the main subject of this review. You can get the Anker PowerCore Fusion 5000 here
.