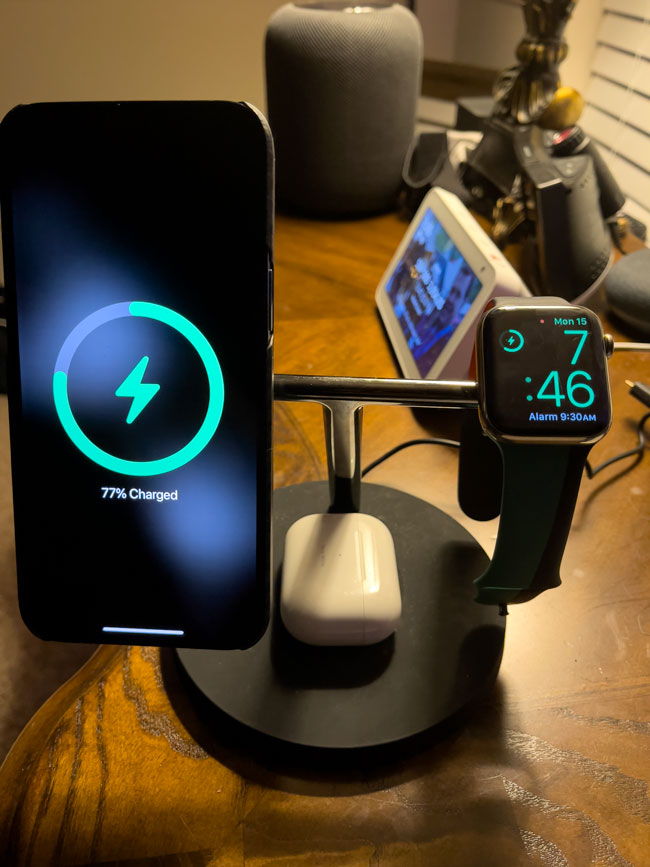 I have been on a quest to find the ultimate wireless iPhone charger for my nightstand. After upgrading to the iPhone 12 Pro Max, I added MagSafe to my list of requirements:
Has to charge an iPhone, Apple Watch, and AirPods case simultaneously
It should come with the Apple Watch charger already built-in and not require me to use my existing Apple Watch charger.
It should have one cable and one power supply
While the Apple Watch is charging it should be easy to see at night in Nightstand Mode
MagSafe Charging (if you have an iPhone 12 series)
No annoying LED status lights
The Apple Watch charger has to accommodate bands that don't open!
There are several wireless chargers out there. The problem is that most of them get the design wrong. I've gone through a few models and all but the last two I tried were complete disappointments. Again, this is mostly due to bad design. Also, it seems harder to find ones that will charge all 3 devices. Many will charge the iPhone and Apple Watch or the iPhone and AirPods case.
Continue reading

"Belkin Gets it Mostly Right with This New Wireless iPhone Charger"