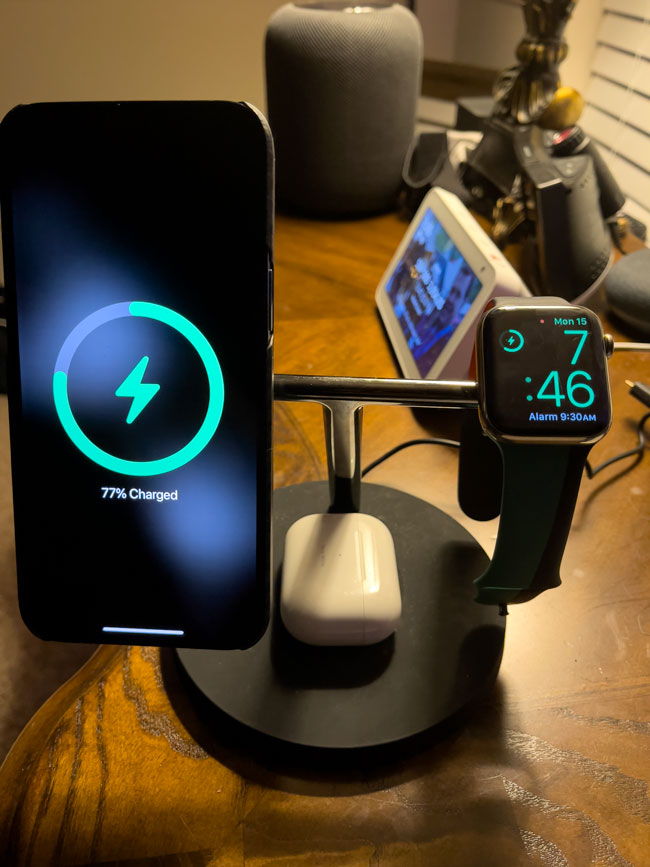 I have been on a quest to find the ultimate wireless iPhone charger for my nightstand. After upgrading to the iPhone 12 Pro Max, I added MagSafe to my list of requirements:
Has to charge an iPhone, Apple Watch, and AirPods case simultaneously
It should come with the Apple Watch charger already built-in and not require me to use my existing Apple Watch charger.
It should have one cable and one power supply
While the Apple Watch is charging it should be easy to see at night in Nightstand Mode
MagSafe Charging (if you have an iPhone 12 series)
No annoying LED status lights
The Apple Watch charger has to accommodate bands that don't open!
There are several wireless chargers out there. The problem is that most of them get the design wrong. I've gone through a few models and all but the last two I tried were complete disappointments. Again, this is mostly due to bad design. Also, it seems harder to find ones that will charge all 3 devices. Many will charge the iPhone and Apple Watch or the iPhone and AirPods case.
Belkin BOOST?CHARGE PRO 3-in-1 Wireless Charger with MagSafe gets it mostly right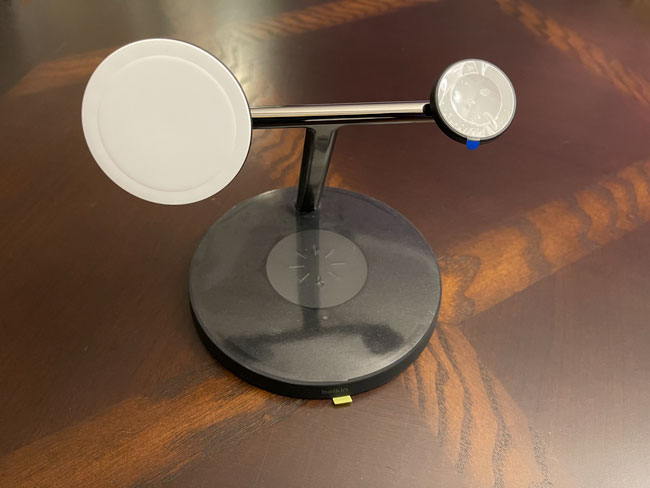 Actually, the Belkin Boost Charge Pro technically satisfies all my requirements. My complaints are minor and my biggest complaint is not Belkin's fault. Let's start with what they got right. I LOVE the look! Design is very important to me when it comes to the products I choose. Giving the fact that this is an out-in-the-open kinda piece of tech, it should look good and by far the Belkin Boost Charge Pro is the "best looking" 3-in-1 Wireless Charger I've found to date. I love the minimalistic look. I also like that your phone can be mounted vertically or horizontally. However, it was actually larger than I had hoped. I wanted to put one on my nightstand and put a second one in my suitcase for travel, but it's just too big to travel with.
What could Belkin have done better?
As I said, Belkin got this charger mostly right. However, there are a couple of tweaks I wish they had made. First off the position of the Apple Watch charger is in a good spot, but for some reason, it's tilted back a little more than necessary. This means that in order to see the time on the Watch in the middle of the night, your nightstand would need to be a little shorter than your bed so you're looking down onto it. Again, a minor thing that hasn't been an issue. Belkin designed the 3rd charging coil in the base of the unit. However, it must be pretty small. I have to put my AirPods Pro case literally right in the center of it or it will be off the coil just enough not to charge. This means each night I have to really check to make sure it's charging the case when I place it on the charger. I have to visually verify that the AirPods Pro case lights up to indicate that it's charging. Lastly, there is a white status LED light on the top of the base just in front of the AirPods case. It's just bright enough (I'm super light-sensitive while sleeping) to be annoying. A Lights Dim sticker to the rescue. Problem solved.
Yes, it's a FAST charger up to 15W and charges iPhones at full speed. The fast speed is nice to have, but for me not a big deal since I'm charging overnight anyway.
The one thing that's not Belkin's fault – It's MagSafe
The iPhone 12 line has MagSafe wireless charging built-in. This is what attracted me to this charger in the first place. I thought it would be so cool to come in at night and just set my iPhone 12 Pro Max on the MagSafe charger and it would just hold it there seemingly in mid-air. Yeah, that dream was flawed. The problem isn't with Belkin in this case. It's with Apple's implementation of MagSafe. First of all the magnets are not strong at all. The slightest bump will knock the iPhone off the charger and send it to the table/floor. It also takes a few seconds to find the center of the charger's sweet spot. I end up sliding the iPhone around for a few seconds until it "haptic feels" in place. That's REALLY DISAPPOINTING. You might as well use a charger where the iPhone just sits on the base of it. (see the end of this post for just such a charger)
The Bottom Line
If you have an iPhone 12 series phone, an Apple Watch, and wireless AirPods charging case, this charger gets it mostly right. It looks great and charges all three devices fast and I wake up to a full charge on all 3 devices every day. It looks like a product Apple would have designed. Its Achilles heel is MagSafe itself. If you're a fan of MagSafe on the iPhone 12 then look no further.
You can get the Belkin BOOST?CHARGE PRO 3-in-1 Wireless Charger with MagSafe here in Black or White
If MagSafe is not important to you or you don't have an iPhone 12 series phone, then I would highly recommend going with the charger I like just as much (if not better).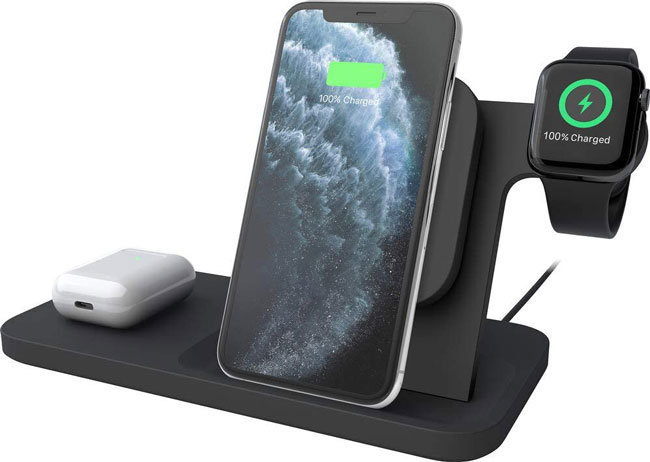 It's the Logitech powered 3-in-1 Qi wireless charging dock. It works with all phones that charge wirelessly and meets all my requirements above (with the exception of MagSafe). I would have no problem going back to the Logitech because it just works! Now that I've used the Belkin for a few weeks, the lack of MagSafe is definitely not a deal-breaker.
You can get the Logitech powered 3-in-1 Qi wireless charger here.