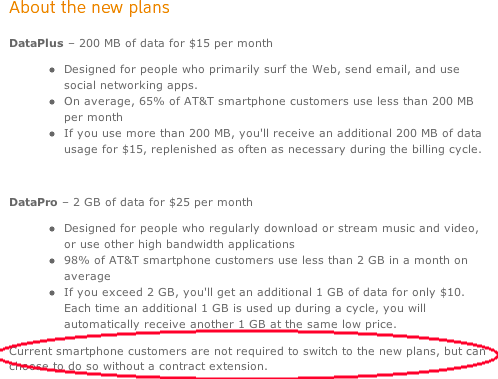 It seemed like only last week when I shared my 1st month of iPad data use with you all. I started out with the 250MB/month iPad plan knowing that I could always upgrade to the unlimited data plan if I needed to. Now it looks as if the unlimited plan is going away unless you act TODAY! Starting today, AT&T will start NEW data plans for ALL Smart phone devices (including iPad/iPhone). So if you already bought an iPad 3G and thought that you might some day want to go "UNLIMITED" for $29.99/month, then you better do it now, because starting today that plan goes away for NEW subscribers. Here's the break down:
| | | |
| --- | --- | --- |
| The OLD Plans (prior to 6/7/2010) | iPad – 250 MB/month $14.99/month | Unlimited Data Plan $29.99/month |
| The OLD iPhone Plans | iPhone 2G UNLIMITED+200 SMS Data $20/month | iPhone 3G/3GS Unlimited Data $30/month (+$5/month for 200 SMS) |
| The NEW Data Plans starting TODAY for NEW accounts (iPhones too) | DataPlus 200MB/month $15/month | DataPro 2GB/month $25/month |
| Tethering your SmartPhone (iPhone with 4.0 software) | | DataPro plan $25 + Tethering $20 = $45/month |
While the prices are technically cheaper, Unlimited goes away! 2GB's sounds like a lot and it probably is for MOST people, but if you plan to stream video on your device 2GB in a month can be eaten up pretty quickly. These new plans now make it so that you have to monitor your usage closely. Luckily if you do go over, you're not charged a per kilobyte fee. Instead you'll be able to add on another block of usage for a set price (another 200MB for $15 or if you're on the DataPro plan you get another 1GB for $10). So again if you do a lot of streaming, your bill could be quite high. I should also mention that all of these NEW plans do come with FREE access to any AT&T WiFi hotspots.
No iPad to iPhone tethering, yet – According to AT&T, they have no problem with you tethering your iPad to your iPhone to share the iPhone's data connection. However, currently the iPad doesn't support it in it's OS and Apple says that the 4.0 OS update isn't coming to the iPad until the fall. So we may have to wait til then to see if the iPad will tether to the iPhone.
See the AT&T Plan details here on their site.
How much Data have I used on my iPhone or other smartphone?
Although you can look this info up on your device, I find the most accurate way is to dial *3282# from your phone and you'll get a text message with the break down of your current usage.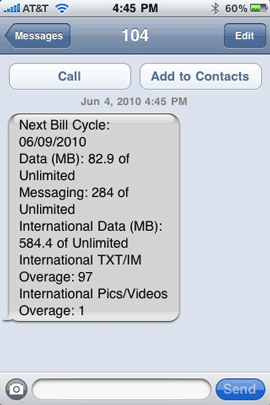 Don't think you're going to use that much data?
Maybe you won't, but here's some food for thought. If you're just doing normal surfing, email, etc. then you're probably fine. However, let's not forget that iTunes sells and rents MOVIES! The average movie size is 1.5GB. So if you rent a movie over 3G, you could quickly hit the limit of the DataPro plan and then start having to pay for additional 1GB blocks at $10 a pop before your next billing cycle. I know it's easy to say, "well don't do that. Download your movies while you're on WiFi." However, this wasn't an issue yesterday and now somehow makes the mobile platforms seem a little less fun.
What do you think of these New Plans?