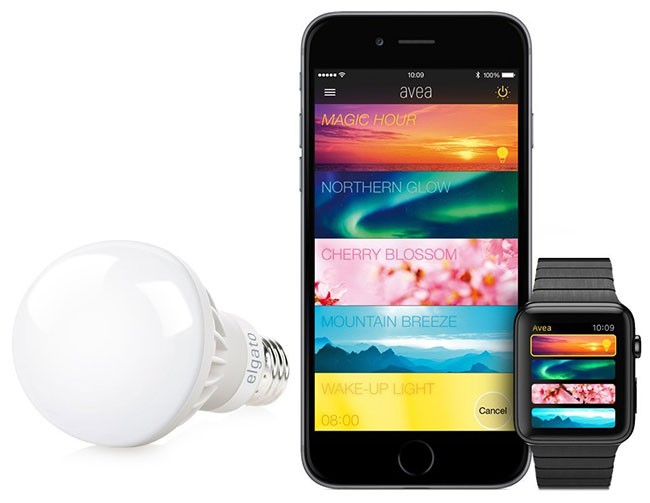 I love home automation products. My first X10 remote controlled lights date back to the early 1980's. Long before smartphones and bluetooth wireless. I always thought it was cool to be able to remote control several lights, appliances, etc. all from one control pad or timer module. I haven't looked that the advancements that closely over the years, but when the Elgato Avea came across my review desk I was excited. The Avea Dynamic Mood Light is a 7W bluetooth controlled LED lightbulb. Unlike other products on the market this one doesn't require a network connection or any other hardware to drive it other than your iPhone or iPad. Once you take it out of the box you merely screw it in to any standard light socket and set it up with the App on your iPhone. Rather than go into more detail via text, check out this video of how it works:
I was so happy with the review unit that I immediately ordered another one for another room. I was also pleasantly surprised to see and use the Apple Watch support. Being able to turn lights on and off as you walk around from your wrist adds another level of convenience and cool factor. I was also pleased to see that the lights can be controlled from either device at any time. When it comes to the iPhone vs. iPad vs. other iPhone, whoever opens the App first has control. This eliminates the pain of having to constantly unpair and pair differing mobile devices. My only two complaints are that I wish they offered a higher watt (brighter) version and that they made the app easier to control different lights than it is now. While the bulbs are plenty bright when using the "white" color setting, they colored settings/moods can be a bit dim. The App does allow you to turn on a mood for one or more lights at the same time, it seems like that control is buried another level deeper in the mood presets. I would like to see this setting moved up in the UI. My gripes are very minor. I'm very pleased with this product and will probably order more of them.
You can get the Elgato Avea on sale here.