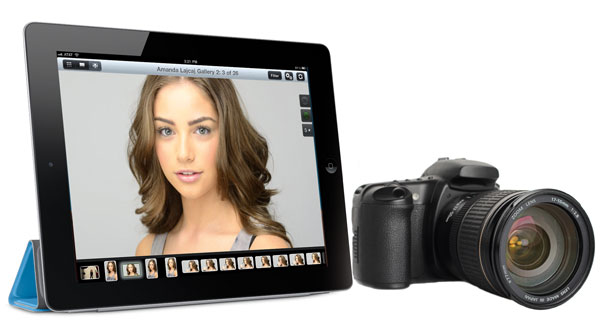 Last week when I was on The Grid, I got asked to describe how the iPad would fit into a photographer's workflow and I promised to do a post on it…
The iPad is definitely a revolutionary product that has disrupted the status quo. While I absolutely enjoy using an iPad, I don't find it to be the end all be all replacement for a desktop/laptop computer. At least not full-time. The iPad didn't replace my phone, nor did it replace my laptop. It's another device that I use when it's more convenient to use than either of the other two devices. With that said the question has been asked "How does the iPad fit in a photography workflow?" Last week my buddy Scott Kelby wrote a post about what he'd like to see in a "real Photoshop for iPad." Adobe demonstrated some Photoshop technologies for iPad at Photoshop World in Orlando. There are several image editing and image viewing Apps for the iPad. So the question becomes does the iPad fit in a Photographer's workflow and if so how?
The short answer is YES!
Here are the ways that I use my iPad in my day-to-day photography workflow:
Getting ready for the shoot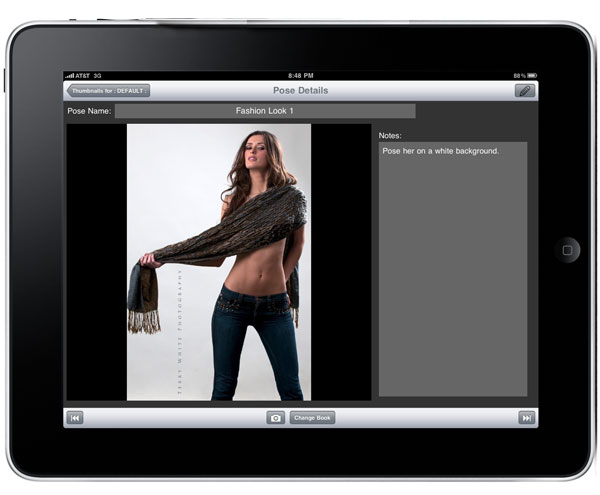 If i'm doing a model shoot, then I use the PosePad App to plan out my shoot with photos and notes to pull up right there on the spot and walk them over to the model. This is my digital shot list. This has worked extremely well even on location shoots outside the studio.
PosePad for iPad
Model and Property Releases

I stopped carrying paper releases over a year ago. There are two fantastic Apps for doing CUSTOM (yes, YOUR text) release forms for both Model and Property releases. I prefer the look and feel of the release forms in Easy Release, but I absolutely love the exhaustive number of available custom fields in the Contract Maker Pro. My recommendation: For a basic release only requiring a few fields and your custom text that looks great, go with Easy Release. If your release forms are more complicated or multiple pages go with Contract Maker Pro. Both Apps are GREAT!
Easy Release
Contract Maker Pro
Getting Images into the iPad

When you're out and on the go chances are you're going to be shooting and you'll want to do two things. You'll want to backup your images and review them. Let's start with getting them in. There are 3 popular choices. The first is Apple's own Camera Connection Kit. It works great with SD cards or via a USB cable to your camera. It will bring in your pics (JPG or RAW or both) as well as your videos. However, it will not work with Compact Flash cards. Apple turned down the power of the port via a software update and therefore card readers don't work anymore connected to the Camera Connection Kit. That brings me to a NEW option: M.i.C. has shipped a CF reader for the iPad. Lastly and probably my favorite method is to shoot wirelessly into the iPad via the Eye-Fi card.
Controlling the Camera from the iPad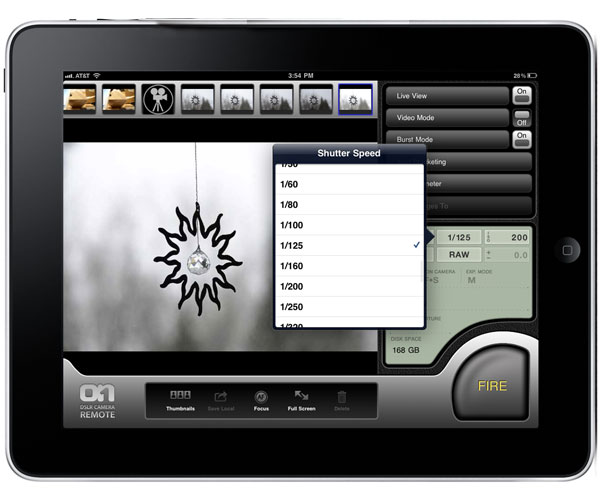 The great folks over at OnOne software have an App called DSLR Camera Remote HD (my review here). This App allows you to wirelessly control the DSLR connected to your computer via a USB cable. From the iPad you can see the Live View, change settings, fire the shutter, autofocus and get the low res versions of the shots right on the iPad for distribution and review. I would use this in a product shoot workflow where the camera is on a tripod and I'm near the product changing it's position, rotation, lighting, etc. I could control the camera, take the shots and see the results right from the set.
DSLR Camera Remote HD 
 UPDATE: It appears that this app/solution has been discontinued. Therefore checkout CamRanger instead.
Reviewing the Images

You can review the images right in the native Photos App. However, that's pretty much all you can do. There are no tagging or organizing features in the Photos App and therefore I find it pretty much useless for reviewing shots I've just taken if I want to do more than just look at them. There are two Apps that I can use to review and it really depends on what I want to do after the reviewing. I use Shuttersnitch for my wireless shooting into the iPad and it has a great way of organizing the shots, sharing them as well as star rating them. However, it doesn't have any ties to my workflow app on the desktop, which is Lightroom. Therefore, I'm very intrigued by the NEW Photosmith App. This App allows you to review images that you imported using the methods above and organize them into collections, rate them, add metadata and share them. If they add LIVE wireless import like Shuttersnitch then I'd be totally sold! Photosmith syncs the Collections wirelessly to Lightroom on the desktop.
Shuttersnitch
Photosmith
Transferring images QUICKLY between devices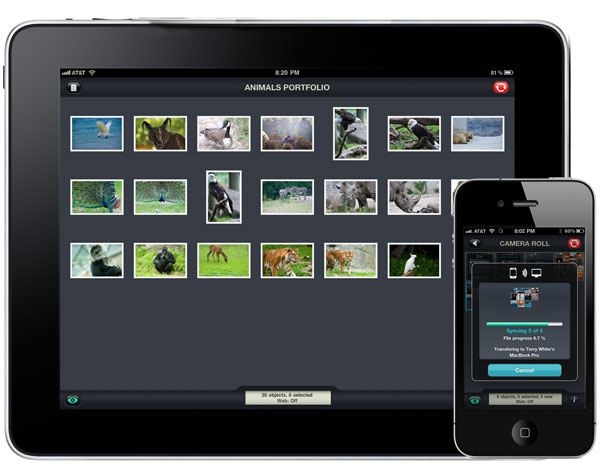 While I can certainly use Dropbox to move images back and forth, there is a FASTER and more Direct Way called Photosync. Photosync is an App for your iOS devices as well as your computer. I use this App when I'm shooting in studio to quickly get an image that I just shot with my DSLR tethered into Lightroom on my MacBook Pro and then wirelessly to the iPad for use in the Model Release Apps above.  I setup a Lightroom Export Action to do it even faster.
Photosync
Editing the Images

There are a slew of image editing and effects apps for the iPad. I use a couple of them regularly. If it's something quick, chances are I'll use Adobe Photoshop Express. If it's something more involved I'll probably use Photoshop Touch or I'll wait til I get back to my computer and use Photoshop. In either case I don't feel in any way limited by the number of choices for editing an image on my iPad and really of the entire workflow, image editing is pretty much a non-issue. Would I do a full end to end portrait retouch on my iPad? Probably not, but could I? Probably!
Adobe Photoshop Express
Photoshop Touch
Going from Lightroom to the iPad
Image Review
I remember when the iPhone came out and people were all giddy about being able to show clients pictures on their iPhones. Well think about it. The iPhone display isn't much larger than the one on the back of your camera. Yet photographers were quite happy to be able to take their pictures with them on the device and whip it out any chance they got to show off the images. The iPad is obviously a much better solution for this situation if for no other reason than it has a nice bright, sharp 10.1″ display. I would also add that I'd rater the iPad take the battery hit of having the display on for several minutes at  a time than my iPhone.
This is where it really gets interesting. The iPad is a GREAT tool for presenting and showing off images. I have my portfolios on it. While I'd still love to see some better and more direct ways of "updating" my portfolios on the iPad, there is one single App that beats all the rest. It's called Portfolio for IPad. I've tried several apps in this category and to date none of the others even come close to the feature set, user interface and ease of use of Portfolio for iPad. While there is no direct tie to Lightroom from this App (a shame), there is the ability to import from Dropbox.com (my favorite cloud service bar none). That being the case my workflow is to manage my portfolios as Collections in Lightroom and using the Hard Drive Publish Service feature of Lightroom I publish each one to a separate folder in my Dropbox folder. This way any updates I make automatically get sync'd to Dropbox and therefore are immediately available to update inside Portfolio for iPad (God I wish this App would SYNC with Dropbox instead of just doing an import. I'd be in Heaven if it did).
Portfolio for iPad also works with projectors and HDTVs even on the iPad 1.
Portfolio for iPad
UPDATE: Now I use Adobe Revel as it has a Publish Collection feature right in Lightroom
The Bottom Line
The iPad fits nicely into my photography workflow. It's not shoehorned in, it's a natural. Even if I didn't use it as a field tool for importing and reviewing, I'd absolutely use it for Model Releases and Portfolio display. I hope this answers the question of "how does the iPad fit into a photographer's workflow?"