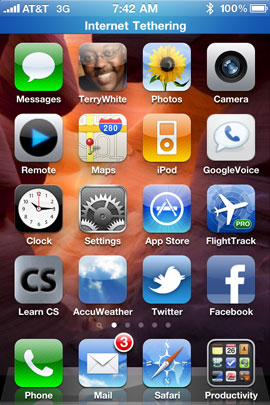 One of my main AT&T/iPhone complaints has finally been addressed. Ever since the iPhone 3G (and for some, the original iPhone) came out two years ago, I wondered why AT&T was so adamant about NOT allowing you to tether (use your iPhone as a modem/WiFi hotspot) your iPhone to your laptop and share its 3G data connection. After all they allow this with every other smart phone they sell and they even sell 3G data cards. Also no one ever expected this to be FREE. So I never really got why this was such a big deal? Granted AT&T couldn't do it alone and it would require built-in support by Apple in the iPhone OS (iOS). However, that support came in iPhone OS 3 LAST YEAR. So what took AT&T a YEAR to allow it on the iPhone for us in the US? They claim that they still needed to tweak their network to allow the influx of additional data traffic. While this may be true, the thing is since it's not FREE, not everyone is going to do it. Also it's not something you're going to be using all the time or would you?
Data Plan caps may have been the real issue
I don't doubt that AT&T needed to (and still needs to) work on "the world's fastest 3G network" to get it ready for even the slightest increase in traffic, but I suspect that an even larger issue was not wanting you to be able to pay a flat fee and have unlimited use. Even when you go with a $60/month 3G data card from AT&T there is a 5GB/month cap on it. Up until now all iPhone plans have been "UNLIMITED" data. So while the amount of 3G data that iPhone users currently consume must be HUGE, I'm sure giving users unlimited tethering would have brought this fragile network to its knees.
Do you want unlimited iPhone 3G data or do you want tethering?
Continue reading "AT&T Finally Brings Tethering to the iPhone: What you should know…"