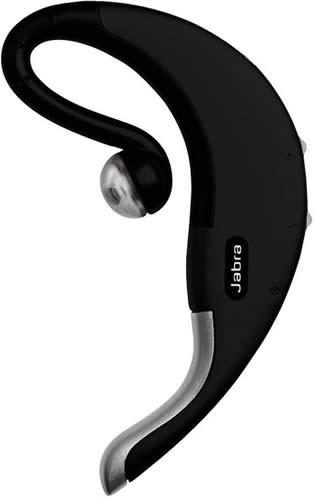 As many of you know, I've tried many different Bluetooth headsets and I keep coming back to my Jabra BT 500. So when I discovered that the Jabra had updated the BT 500 to the BT 500v, I decided to check it out.
Why I keep coming back to this particular headset?
Before I get into the BT 500v (which there isn't much to get into), I thought I'd answer the question as to why I keep coming back to this one. It's simple. It's the most comfortable headset I've tried to date. I've tried in ear and I've tried on ear. The BT 500 series is "over the ear." I wear glasses, so it doesn't help when a head set is trying to be in the same place as the rim of my glasses. Most "on ear" headsets literally cause me pain after about 30 minutes of use. I could wear the BT 500 all day. Sometimes I forget I have it on. The other kinds either hurt, don't go down in my ear far enough or feel like they're going to fall off.
OK, so what's new about the BT 500v
If you go to Jabra.com and do a compare of the BT 500 vs. the BT 500v, you'll only see one difference in the specs. The BT 500 v has a standby time of 300 hours vs. the 240 hours of the BT 500. So it has significantly longer battery life. The only other visual change is the color (Black vs. Silver).
I've seen this headset average about $80 on the web. So when I saw it listed at cellhut.com for only $50, I was cautiously curious. I decided to order it anyway. It came and I was surprised that it was the right model and new in the box. However, there was a catch. Also in the box was a universal power adapter (not in the Jabra box, but in the cardboard shipping box). So I knew something was up and sure enough it was the UK version of the headset. Since everything works the same and they did supply the UK to US power adapter, I didn't complain. Also it works with the adapter I already own for the BT 500.
Sound quality is about the same. Pairing with the iPhone was a piece of cake and it supports re-dialing the last number dialed on the iPhone with a single button press on the headset. As usual it comes with 3 different ear gel sizes, since one size doesn't fit all. My favorite headset, just got a little better! Going forward, I'd like to see Bluetooth 2.0 support (I don't know why) and noise/wind reduction features.