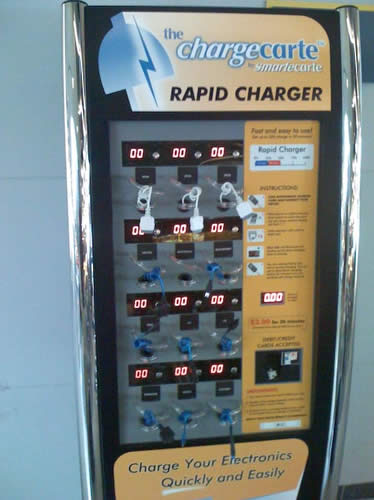 It happens to all of us at some point. You pack and you check your list and you do all the things you are supposed to do before leaving for a trip, but you forget your charger for your cell phone or iPod. I was coming home from Photoshop World in Las Vegas and I spotted this "Rapid Charger" charging station in the Las Vegas airport. What caught my eye was the various adapters just dangling there.
Just about all the major brands were covered. This is capitalism at its best! For a mere $3 you can get 30 minutes of power. My first thought was, "who would use this?" Then I remembered that yes, we do occasionally forget our chargers, because if you had your charger, you would simply find an outlet somewhere in the airport and plug in (unless that airport is Dallas/Fort Worth – they have no outlets ANYWHERE).
So the next time you're running low on juice, forgot your charger, have 30 minutes to kill, and have $3 bucks, these folks have got you covered. Also you'll have to stand there the whole time so no one walks off with your shinny device. Better bring a book or magazine too.