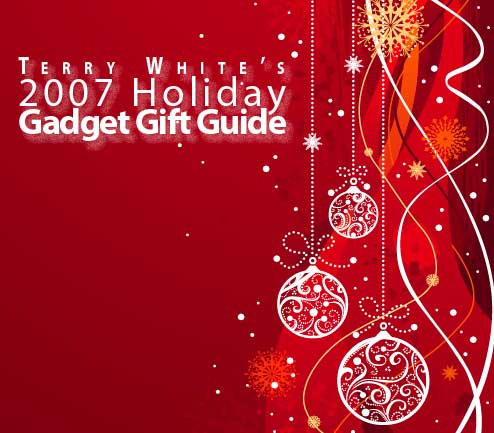 It's that time of year already! I've just completed my annual "Terry White's 2007 Holiday Gadget Gift Guide". That's right it's my guide to help you with you holiday shopping for the gadget lover (freak) on your list. The way this thing started was last year towards the holiday season all my friends started asking me and emailing about what my picks were in various categories and of course the answers were the same. So I decided to compile a list and just email it to the folks that asked. Then I followed my buddy Scott Kelby's lead and decided to formalize the process with my very own interactive PDF.
The guide is broken out by product category and lists my picks from the lowest dollar amount to the highest. So there are products in just about every price range. The guide is interactive with links to each of the products (just click on the product shot or price) on sites that I trust to make online purchases from and have dealt with in the past. Each of the products are either products that I use or products that come highly recommended by friends whose opinions I trust.
PS. As you might have guessed the entire guide was built in Adobe InDesign CS3 and Adobe Acrobat 8 Professional.