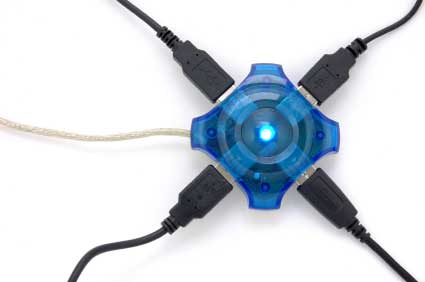 We spend a great deal of time researching our computer purchases, external hard drives, software, etc. However, when it comes to buying a USB hub, we tend to just buy the cheapest one or the one that the store happens to carry.
All USB hubs are not created equal. I've found that depending on the hub you get, you could see weird issues with your computer and not realize that it's the hub causing the issues. For example, I've got an older Power Mac G5 that refuses to stay asleep. I know that it's a USB peripheral or hub causing this issue. I haven't really had the time or energy to go through the process of testing it, plugging in one peripheral at a time. But what if it's one of the two hubs I'm using?
I've tried Targus, Staples (yes they have their own branded hubs) and Asanté. I don't swear by any of them and I'm looking for the most reliable hub out there. Who makes the BEST USB 2.0 Hub?
So my question to you is, which USB 2.0 Hubs have you had good luck with and which ones would you recommend that we stay away from?