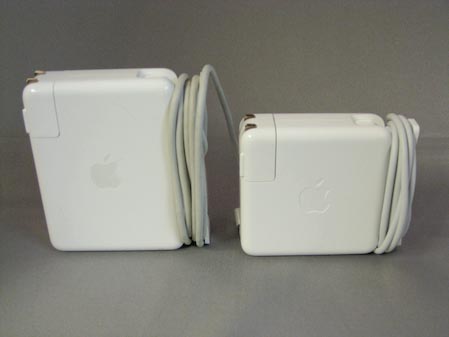 The original 85W MagSafe adapter on the left and the NEW 85W MagSafe adapter on the right.
If you have a MacBook Pro, one thing you've probably noticed is how freakin' big the AC adapter was. Apple has quietly addressed this and made a NEW 85W MagSafe Power Adapter (Part# MA938LL/A) available. I ordered mine immediately when I found out about it as my notebook bag is already heavy enough. Anything I can do to lighten the load is worth it. This new adapter is on par with the MacBook adapter which is a 60W MagSafe Power Adapter. Although the MacBook adapter will power a MacBook Pro, it doesn't provide enough juice to charge the battery. So you really want the 85W adapter if you have a MacBook Pro. The 85W adapter will work with either the MacBook Pro or MacBook.
Now if only the folks over at iGo could figure out a way to make a MagSafe tip for their universal adapters (or get Apple to license the technology to them), I'd be in heaven.