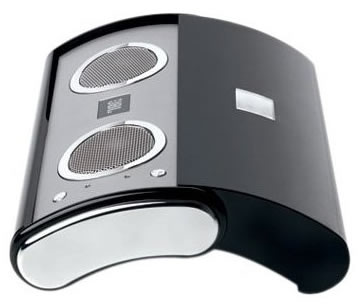 When it comes to gadgets I'm always looking for the smallest gear I can find that has the most impact or features. However, when it comes to speakers, usually smaller means sacrificing sound quality, bass and volume. Is it too much to ask to have a speaker system that's small enough to fit in my laptop bag, yet loud enough or clear enough to enjoy from across the room? JBL doesn't think so.
I was doing a seminar one day and one of my colleagues had the JBL On Tour Speaker System. I couldn't believe how small it was, yet it was delivering enough sound for a room of about 100 people to enjoy. So I made a mental note and said to myself, the next time I need to take some speakers on the road with me, I'm going to have to try these out. That day came! I took the JBL On Tour Speaker System with me to California last week. I drove it with an iPod nano and the sound was better than I expected. It was certainly loud enough and clear enough. However, I'm a fan of bass and the bass just wasn't as good as I would have hoped. Don't get me wrong, very few if any small speakers have enough bass to satisfy me, so there wasn't a whole lot of disappointment here. Other than that, this speaker system more than fit the bill for what I was looking for.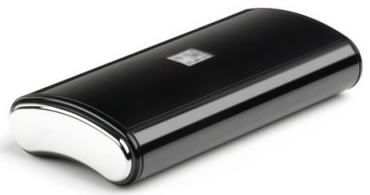 How small is small?
When you're not using the speaker, it folds down to about half the size. VERY COMPACT to say the least. Although it's not battery powered, the supplied power adapter is small enough that it fits into the sleeve with the speaker. Although I used it with an iPod, there is no iPod dock connector. So no iPod charging or line out audio. I simply connected the supplied cable to the headphone jack of the iPod nano. If you're looking for an iPod only speaker, then you should probably look elsewhere. I got this speaker because it would not only work with an iPod, but also with my laptop.
It also works on batteries. I didn't try it yet, but the On Tour works with 4 AAA batteries and is rated to play for 24 hours on a fresh set.
Dimensions Width: 7" (175mm) x Depth: 3.5" (88mm) x Height: 1.4" (35mm)
Weight 12 oz (350g)
The Bottom Line
If you need a SMALL travel speaker system for your presentations and personal enjoyment, you can't go wrong with the JBL On Tour Speaker System. Amazon has it for $53.62.