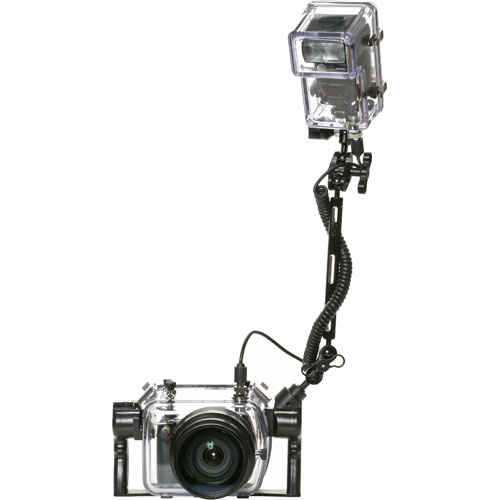 I wanted to take a more serious look at underwater photography, so I did! I LOVE WATER! I also love photography and I've always wanted to mix the two. After much research I decided to go with the Fantasea Underwater Housing for my older Nikon D70 DSLR camera. Sure I've got newer better cameras like my D300, but none that I was willing risk taking underwater for the first time (even with the included flood insurance). If I lost my D70 it wouldn't be the end of the world, but if I lost my D300 I'd cry real tears.
The first thing I found out…
Like everything else, you can spend a little or you can spend a LOT! If you've never priced underwater housings before, you'll quickly find that in most cases, they cost more than the cameras themselves. Even the older housing for the now discontinued Nikon D70 still fetches a hefty price of over $1,300. That's more than the D70 costs when it was NEW! I could have gone cheaper with the point and shoot route and I even seriously considered the Canon G9 with an underwater housing. I could have gotten both the camera and housing for less than the price of the one for the D70, but I really wanted an DSLR if I was going to be serious about this. The Fantasea housing lets you control just about every feature on the camera while it's in the housing. So there wasn't anything that I needed to control or adjust that I couldn't do while it was enclosed. They also have excellent controls for the SB800 too. The standard housing accommodates my original Nikkor 18-70mm lens.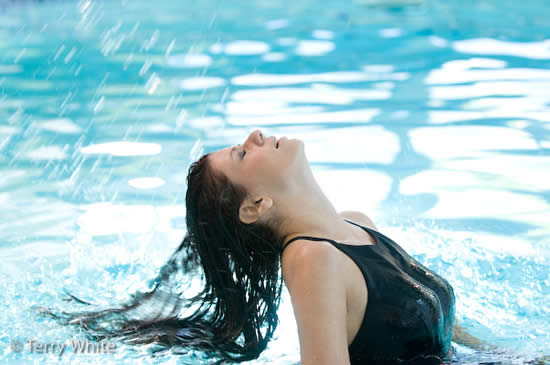 The next thing I found out…
Like most everything else in photography, lighting is the key! That's one of the things that also attracted me to the Fantasea housing. It came with an optional (included in my kit) off camera housing for the Nikon SB800 speedlight. I figured that I'm getting pretty good with the SB800 and it would be a good fit for this adventure.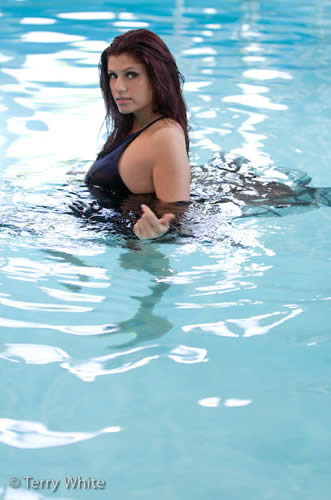 How does it work?
I did a couple of dry (actually wet) runs in my pool before bringing in my model. I quickly learned that I was going to need to buy a couple more accessories before the big day. The one thing I needed was a weight belt to allow me to more easily stay down underwater. So I made a quick trip to my local scuba shop and $300 later, I was out with two weight belts (one for me, one for the model), a snorkel and a waterproof (bright) LED spotlight.
Everything worked as expected except the connection to the SB800. For some reason, even though I could see it firing, it seemed to be off sync. In other words, the SB800 was either firing slightly before or after the shutter causing my shots to be underexposed. I poured over the settings again and again before doing a Goole search to find that someone else was having the exact same issue. He never posted a resolution for his problem. I emailed Fantasea and they offered a few tips, none of which worked. I've determined that it has something to do with the sync cable they supply. If I attach the SB800 directly to my D70, it works as expected. So I know it's not the camera, the flash or the settings. This was disappointing, but I didn't let that stop me.
I have a lot of natural light coming into my pool area. I also setup a Westcott Spiderlite TD5 and pointed it into the water (weighted down of course). Also remember the LED spotlight I bought? I used that as a continuous light. The results were good, but not perfect. I plan to continue to work on the SB800 sync issue and possibly even add a slave flash accessory to the housing to get two lights going.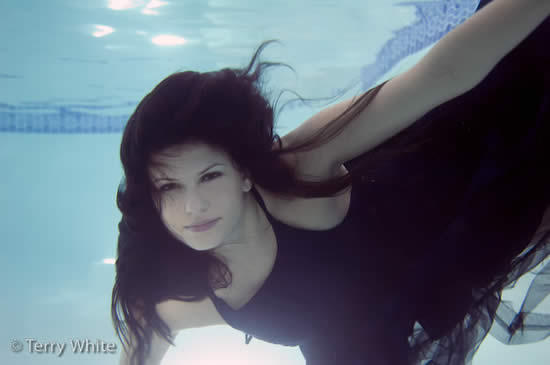 Shay underwater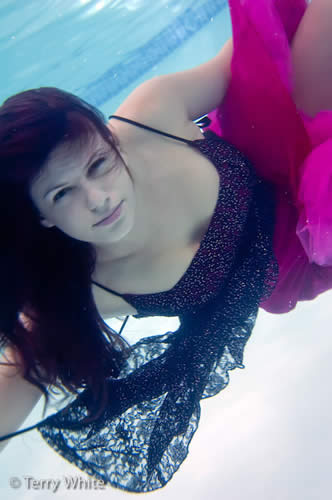 Now that I have this housing, I'll also be able to use it in conditions such as rain, waterfalls, etc. that I would never have attempted before.