When I decided to get my first Blu-ray player, the decision seemed easy. It was either go with a Sony PlayStation 3 OR a Sony stand alone Blu-ray Player. Believe it or not, it was better to go with the PlayStation 3 (PS3) for a couple of reasons. The first reason was that the PS3 (although hard to find at first) was actually cheaper! The other reason to go with the PS3 was that it was more easily firmware upgradable right over the internet via it's built-in Ethernet and Wi-Fi connections. To this day, I don't understand how you could get a full game console AND a Blu-ray player all in one that was cheaper than just a Blu-ray player by the same company. Who am I to argue? So I bought a PS3 last year and have been happy with it. Sony has upgraded it regularly and I've never had any playback issues with Blu-ray movie discs.
 
PS3 vs. the NEW BDP-S350
Recently I decided it was time to put a Blu-ray player in my bedroom. So it was time to revisit that idea of getting a PS3 vs. the NEW Sony BDP-S350 Blu-ray player. This new player has overcome all of the issues with the original BDP-S300. The BDP-S300 was notoriously SLOW at loading discs and even opening the drawer. It was also not easily upgradable and from what I understand it didn't or couldn't support the newer Blu-ray 1.1 profile, while the updates to the PS3 allowed support for 1.1. However, the game has changed now with the new BDP-S350. This new player is much much faster at loading discs and supports all the latest and greatest specs. It also has a built-in ethernet port for doing firmware upgrades (and will support BD-Live as well as Blu-ray 2.0). The price is also cheaper. This unit goes for about $399 on average. That's the same price as a PS3. Now since it's the same price, you could argue that the PS3 is still the better deal because you do get a game console too. However, there are some tradeoffs. The BDP-S350 is much smaller in size than a PS3. So if you're tight on space or want to stack it, it would be the better way to go. Also if you don't care about games at all then the PS3 wouldn't be a good choice. The next and probably the biggest reason not to go with a PS3 if your primary need is to play movies is that you won't have a standard DVD remote or the ability to use a universal remote without an additional purchase. The PS3 uses Bluetooth based controllers. So your standard infrared remotes won't work with it. Sony makes a Bluetooth based DVD remote and I've used the Nyko remote to allow me to use my Harmony One, but that adds $$ to the cost of going with the PS3. There is nothing stopping you from using the game controllers to control your movies, but it's just awkward and not intuitive. There is no play, pause or chapter advance buttons on the game controller. You'll have to remember what the "X" button does vs. the "O" button, etc.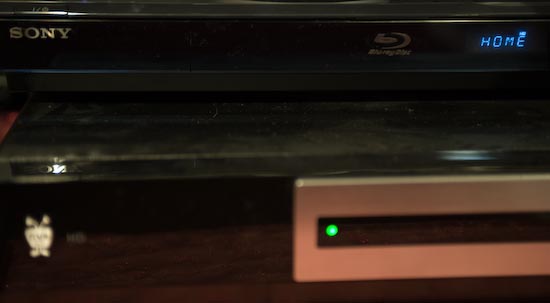 Seeing that I don't play games often and have no desire to play video games in my bedroom, I went with the BDP-S350 and I'm quite happy with it. Set up was a piece of cake using an HDMI cable (not included) right to my HDTV. Speaking of cables, I still don't understand why Sony would include a standard def Composite video cable with a Blu-ray player. To a consumer that doesn't know any better, they would use this cable (since it's in the box) and get a horrible playback experience. Why not include an HDMI cable instead? Or even NO Cable! At least then it would make the consumer get the proper cable and length for their needs. I was able to easily add it to my Harmony One universal remote setup There was a software update available the minute I plugged it in and it downloaded an installed it with no problems. As a matter of fact, I liked this new player so much and how it worked with my Harmony One remote that I bought a second one for my theater (which already has the PS3). Now the PS3 will be just for games and the BDP-350 will be for watching movies.
The BDP-S350 goes for $360.29 on Amazon. I still feel that Blu-ray will not really take off with the masses (especially in this economy) until players are well below the $199 mark. However, if you've been wanting one and your budget allows for it, this is the one to get.