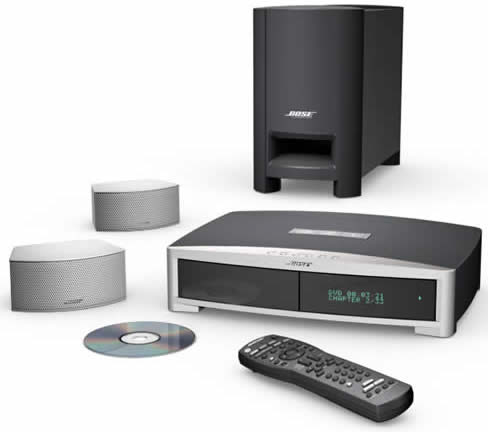 People either love or hate Bose
Let me start this by saying that I am a fan of Bose audio products. I currently have more of their gear than I care to admit. The New Bose Sounddock Portable ROCKS! However, when it comes to their home theater solutions, I'm starting to wonder "what were they thinking?" In my home theater I have a Bose Lifestyle 28 system. I bought it a few years ago off eBay. I got it new in the box for a fraction of the retail price. I've been happy with the performance and I'm thrilled by the compactness of the whole system and sound that it delivers. It was also extremely easy to setup and it's very well integrated. This particular system included a DVD player built-in. Their higher end systems also include hard drives for music storage. Again, these were all welcomed features THREE OR FOUR YEARS AGO!
Today, anyone looking to equip a home theater has one thing in mind and that's HIGH DEF! Traditionally Bose home theater solutions have focused on DVD and Component connections. Now that the format war is over, everyone that is moving forward is looking at Blu-ray and HDMI. So the question becomes, why would you introduce a new system in 2008 that doesn't have a Blu-ray player in it? That's right! I received an email advertisement from Bose about their NEW "3-2-1 GSX Series III". This system (the higher end model) has a hard drive that can store up to 200 hours of music from your CDs. It has an HDMI out port (about time) and drum roll please…A DVD player that upconverts to 1080p!!!! Huh? Um, hello! Upconverter DVD players are so 2006! While you can argue that Blu-ray is still a pricey situation and most people are still on DVD, I would agree. However, most people aren't looking to buy NEW systems that feature DVD upconverters. If you're in the market for a NEW system, you're in the market for HD. Bose has never been known for being "cheap!" This "new" system goes for $1,499 ($999 for the model without the hard drive). For that kind of coin you should expect to have the latest and greatest technologies. Obviously you could piece together a system that does include a Blu-ray player for less (and you probably should). Granted, it wouldn't be as integrated in an all-in-one easy to configure solution. So is it worth a grand for this kind of convenience? Um, based on my experience with the previous model, I'm gonna have to go with NO. For less than a thousand dollars, you can do better and have a really good sounding system that DOES do both Blu-ray AND upconverted standard def DVDs.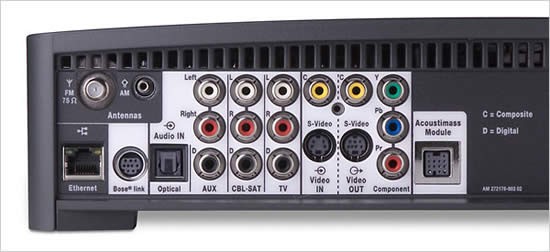 It's funny that they don't even picture the one HDMI port that they do have (probably an older picture on their site).
Note to Bose
If you want to stay in the game, then you're going to have to step up quickly and adopt the new standard. Yes, it's Blu-ray and yes it's from your competitor – Sony. Otherwise, stick to what you do best which is audio. Leave the video to the others that are doing it better. Also realize that having no HDMI "in" or Component in ports and only one optical audio in port is like having a analog TV with one channel. Even if I want to add my own Blu-ray player to this system, I wouldn't be able to as you have no HD inputs at all. You are so missing the mark with this product it's not even funny and this is coming from a fan. Imagine what the haters are saying?