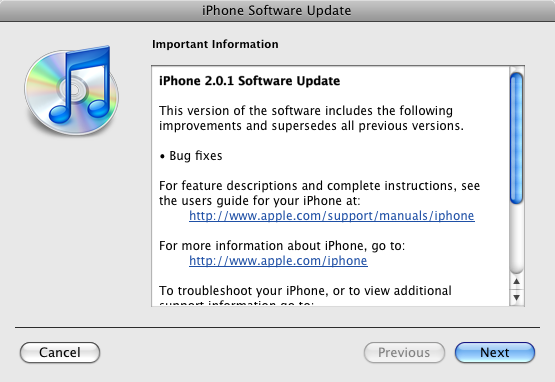 Apple released a bug fix update to the iPhone. iPhone 2.0.1 arrived today and is available for all iPhones. I was eager to install the update because I wanted to see if it resolved a few of the issues I was having. I'm happy to report that it did! One of the biggest issues I was having was sluggishness in the Contacts app. Granted I have over 1,000 contacts on my iPhone, but version 1.1.4 was much faster at handling them than 2.0 was. iPhone software 2.0.1 brings back the responsiveness that I was used to. I was also having an issue with a couple of websites that would crash Safari. Those sites are now working without issue.
So far, this update has been a great improvement from the original 2.0 update. I have not noticed any new features though.
Update
Not only did the 2.0.1 update speed things up, but my battery life has also improved quite a bit.