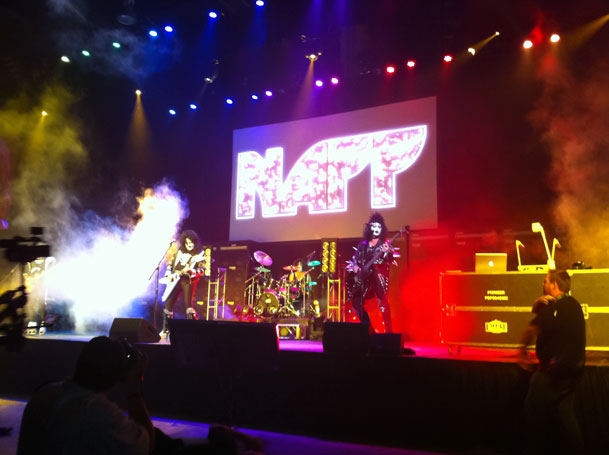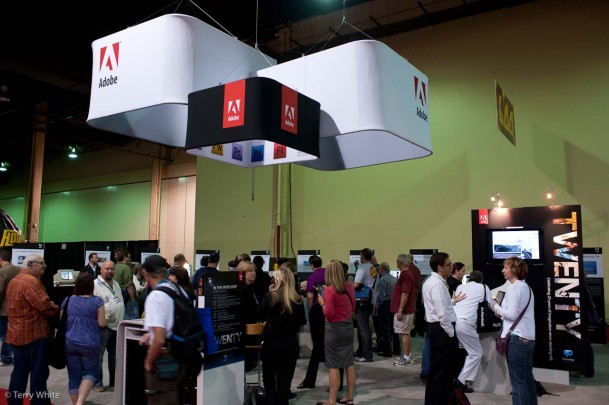 For me this was probably not only my busiest Photoshop World, but probably my best. There was a good vibe going on all week long! I not only got a chance to see some old friends, but I also got a chance to teach some new classes and do some presentations that I hadn't tried before.
Honored to be a part of the Adobe Keynote Address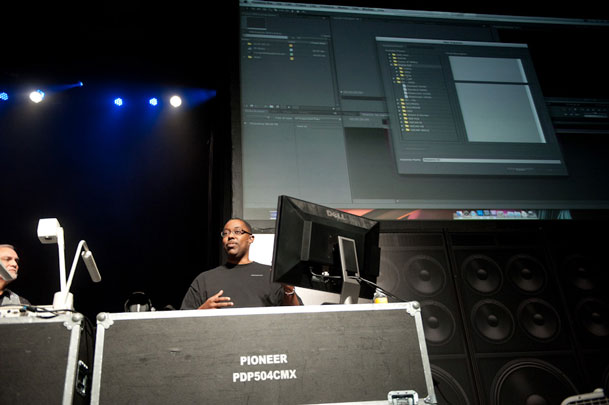 shot by Cari Gushiken
The last time I was on stage for the Photoshop World Keynote was actually the very 1st Photoshop World Keynote 1999 in Orlando FL. Back then I was the keynote speaker and oddly enough back then the big news was Adobe InDesign 1.0. Wow! A lot has changed in 10 years! This year I took the stage along side Johnny L to show a quick 5 minute demo on taking your photos and DLSR video from Adobe Photoshop Lightroom 3.2 into Adobe Premiere Pro CS5. It was great to hear so many photographers that were thinking about getting into DSLR video come up to me afterwards and say "I think I can do that".
If you missed the keynote, you can watch the replay here.
Celebrating Photoshop's 20th Anniversary In the Adobe Booth
Adobe took a totally different approach to the tradeshow floor this time. Normally our booth is the typical theater with demo stations and continuos demos of our latest wears. This time we paid tribute to the 20th Anniversary of Photoshop by setting up Macs running every version of Photoshop all the way back to version 1.0. These Macs were running the version of the Mac OS and Photoshop of their era. Users could walk up and play with the earlier versions of Photoshop to remember just how far Photoshop has come in 20 years. I started with Photoshop 2.0 and yes I can remember a time before Layers, editable type, multiple undos and installing Photoshop from floppies.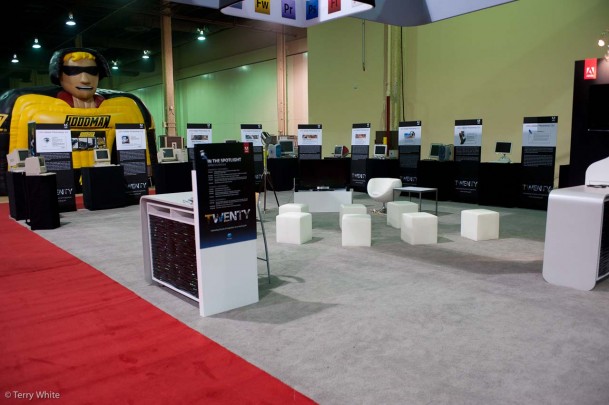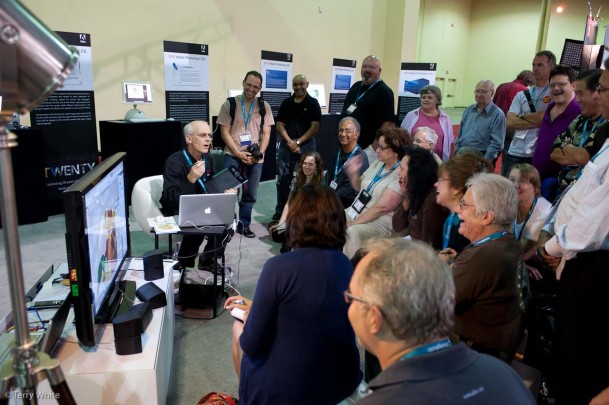 We also had "Spotlight" sessions throughout the day where Adobe Evangelists and partners showed Photoshop tips and techniques.
More Classes and Partner Presentations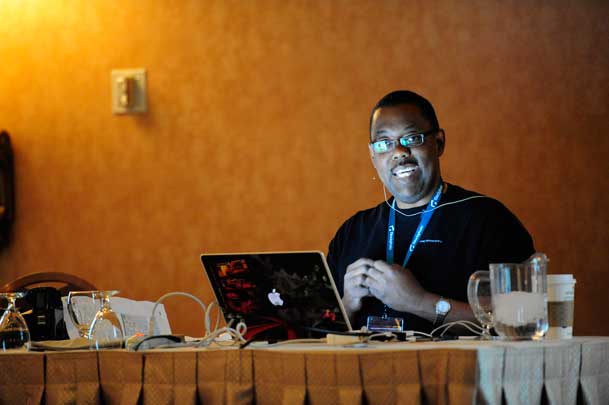 photo by Brad Moore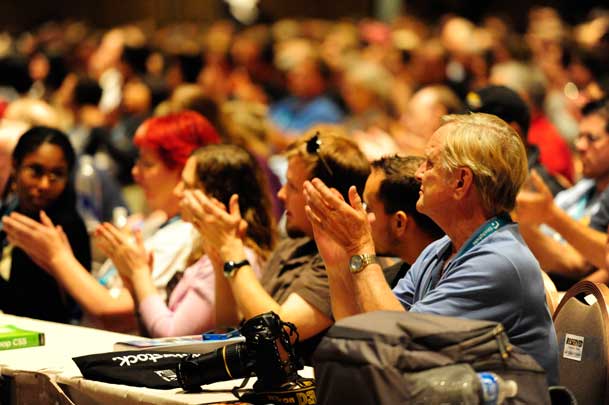 photo by Brad Moore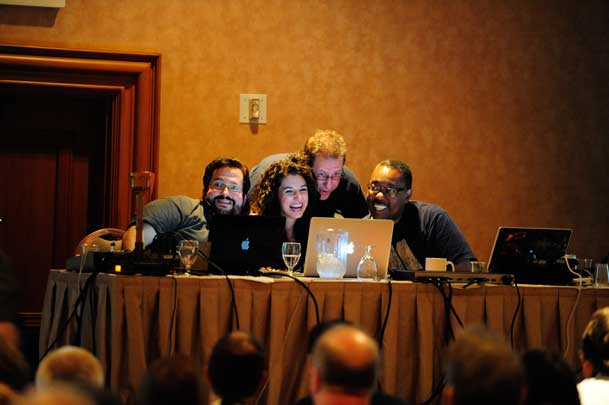 that thing we call Midnight Madness 🙂 photo by Brad Moore
I had 4 classes on the conference track instead of my usual 2. Not only did I get to do my 2 InDesign classes, but I also got to do one on Lightroom as well as a Social Media Class dealing with Facebook. Thanks goes out to all that attended my classes and the many kudos you gave me.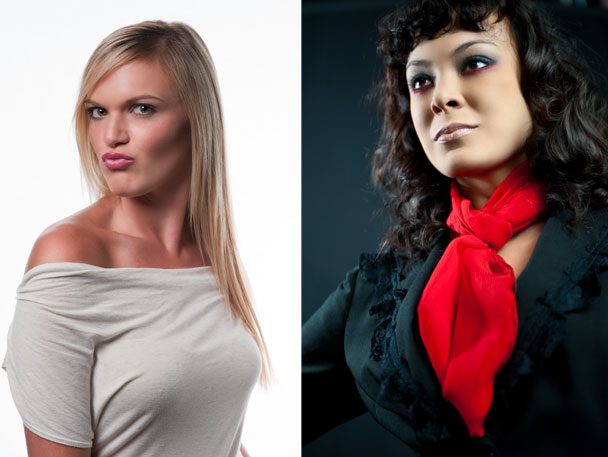 I also did a couple of lighting demos for Bogen and Westcott. Sarah K on the left lit with the Elinchrom BX-RI 500 against a Lastolite Hi-Lite background and Tala lit with the Westcott Spiderlite TD5s. Both shots taken with my Nikon D700 and 28-70mm f/2.8 lens.
Wacom also asked me to give a demo in their booth of the Intuos 4.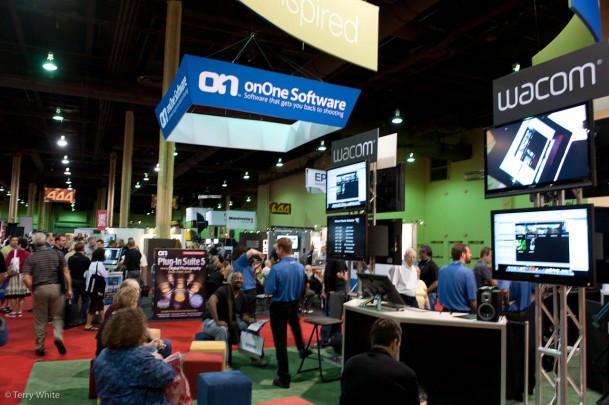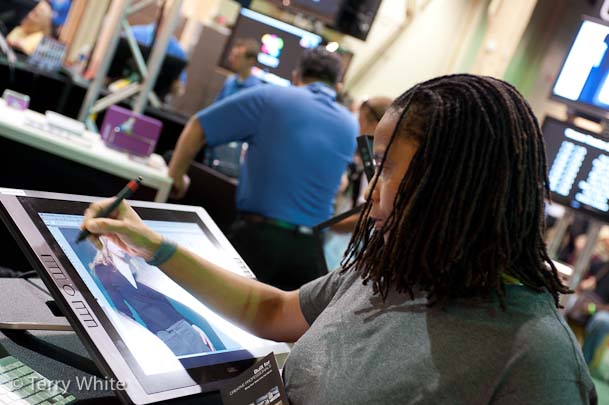 The Westcott Booth Was Over the Top!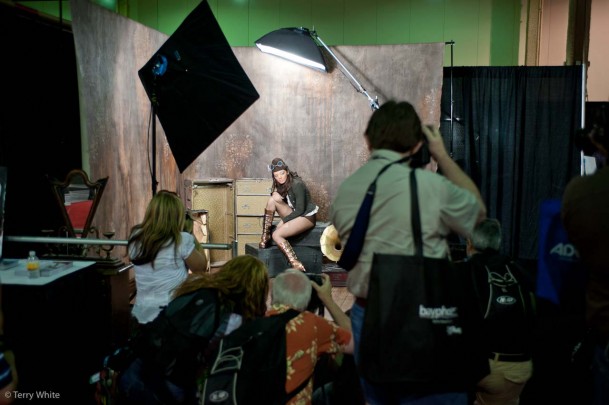 Westcott added something very cool at this show. They had their usual corporate booth with various lighting setups and equipment on hand. However, they also added a second area near the rear of the show floor with Live Shooting Bays. They had 4 bays setup so photographers could walk up and shoot the various themes and models they had for each day. I was completely blown away by how well this worked and it was the buzz of the show floor. It was one thing to have this very creative setup, but I was stunned when it changed each day. A lot went into this for sure. The real beauty of this setup was that it allowed Westcott to REALLY SHOW OFF their Spiderlite TD5 Lights. These continuous lights don't need triggers and therefore not only is it what you see is what you get, but its perfect for allow multiple photographers to shoot at the same time. Bravo to the Westcott team for pulling this off and allowing everyone the opportunity to get some creative shots!
See more of my shots here: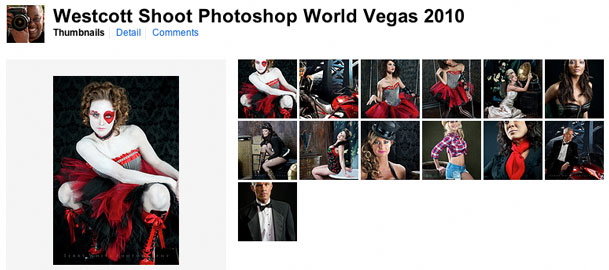 If you also did some shooting in this Gallery the guys at Westcott are offering you a shot to be featured in their next catalog. Check out the details here.
I told the Westcott guys, "you know that you can't ever come to Photoshop World again without doing this right?" they smiled 🙂
Lessons learned (again)
Don't rely on one camera battery. I figured one fully charged battery would last me the week. Normally it would have, but the Westcott Shootout took it's toll on my battery and at the end of the week I was only able to get off two shots during my Lightroom Class (tethered shoot) before it died. I have several batteries, they're small and don't weigh much. I could have easily fit two more in my bag without even noticing the added weight. Next and once again I was reminded how important it is to have comfortable shoes. I normally wear or bring sneakers, but this time I was tight on space and left them. Lastly, I brought my Nikon 28-70mm f/2.8 lens and while it's a great lens, I was really wishing I had brought my 70-200mm f/2.8 instead. It's not that much bigger and it would have been so much better for the shoots I did.
I look forward to seeing you all in Orlando for Photoshop World East 2011!