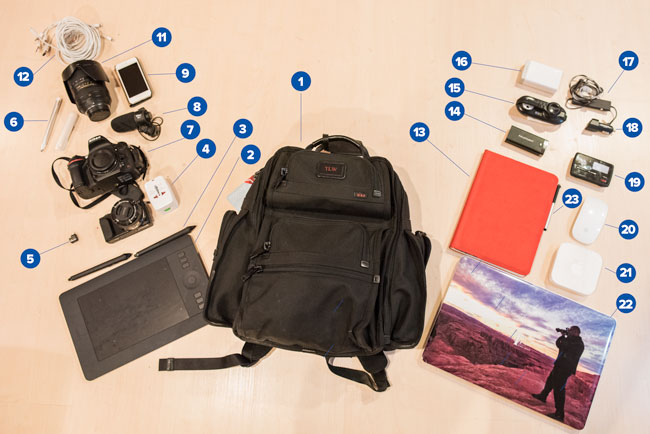 The good folks over a shotkit.com recently featured me on their site and the contents of my camera bag. You can see all the other photography gear that I use here. People are always asking what kind of gear I shoot with. On the flip side of that coin when I'm out on tour people are always asking about the gear I use on stage to do my presentations. So I thought it was time for a "What's in my bag?" update. My backpack weighs a ton. Every now and then I take everything out and try to only put back in the things that I'm using on a regular basis. That time has come again and this past weekend while everything was out I decided to photograph it and detail it here:
Let's start with the bag itself. My FAVORITE computer backpack is the Tumi Alpha T-Pass. This backpack has really held up well with the load I put on it and shows no signs of wear. I was going through backpacks about once a year before this one. While it's more expensive than I'm used to, it's been worth it thus far. Also can beat the T-Pass feature for TSA checks at the airport. It unzips in half so that you don't have to take out your laptop. Get it here.
I shoot on the road and that means I need to retouch on the road. I couldn't imagine retouching a picture in Photoshop without my Wacom Intuos Pro Small tablet. Get it here.
In addition to the regular pen that comes with the Intuos Pro I have the Wacom 6D Art Pen for drawing in Illustrator. Get it here.
My favorite international travel adapter. It covers most countries and has a smart design. Get it here.
Nikon WU-1b Wireless Mobile Adapter. This allows me to transfer images from my Nikon D600/D610 to my iPhone or iPad wirelessly. Get it here.
Adobe Ink & Slide – Pressure sensitive pen and digital ruler for drawing on the iPad. Get it here.
Nikon D600 – I travel with either my Nikon D600 DSLR or my smaller Sony NEX 3 mirrorless camera. I love them both, but the DSLR is considerably bigger and heavier. Get the Nikon D610 here. Get the Sony Alpha NEX 6 here.
Nikon ME-1 Stereo Micophone – You can't have good video without good audio. The built-in microphone just doesn't cut it. Therefore I use this one for those on the go interviews and recordings. Get it here.
iPod touch – Although I have an iPhone and an iPad. I still prefer having a dedicated device on stage to play music and to run my presentation timer app. I'm usually using the iPhone and iPad in my demos. This way I have a dedicated device to do the tasks I need. Get it here.
Oops – I left out #10. So let's move on to number 11. 🙂
Nikon 28-300mm lens. This is my main travel lens and while I do have better lenses, this one covers a nice range and it has a good quality. Perfect for travel. Get it here.
I have to charge all these devices. My main cables are the 6 foot Lightning cable by Apple – Get it here and the nice and short Lightning cable by CableJive. Get it here.
iPad Air with Logitech Ultrathin Keyboard Folio. I use my iPad Air all the time and now on stage to demo mobile apps. Get it here. I couldn't imagine not having my Logitech ultrathin Keyboard Folio. Get it here.
RavPower Battery – Sometimes my iPhone doesn't make it through a long day of heavy use without another charge. I'm not always near an outlet. This RAVpower Battery can easily charge it twice. Get it here.
I gave up fighting for additional outlets in hotel rooms and airports. Now I just bring this ultra compact 3 outlet powerstrip with me. Get it here.
Charge 5 USB Devices at Once (including 2 tablets) with this slick 40w Anker 5 port charger. Get it here.
Bose QuietComfort 20i Noise Cancelling Headphones. These need no explanation other than I gave up the full size pair for these because they do just as good of a job and take up a fraction of the space in my bag. Get them here.
If I rent a car I want to be able to charge my iPhone and possible my iPad while I drive. This car charger gives me 4.2 Amps on BOTH USB ports. Get it here.
Verizon 4G LTE Hotspot. I'm grandfathered into an unlimited data plan with AT&T on my iPhone and the only way to get the mobile hotspot feature on my phone is to give up that plan. I refuse to do that, so I have a separate hotspot to give me WiFi access in places where there is none or hotels where their internet is soooo slow that it's unusable. Get it here.
Apple Magic Mouse. It's low profile, bluetooth, has a touch pad on it for smooth scrolling and gestures. It works. Get it here.
Apple AirPort Express. I love creating my own WiFi network. This makes it easier to share a single connection on stage or in a hotel room and easily allows all my devices to talk to each other on the same subnet. Get it here.
Apple MacBook Pro 15″ Retina Display Mid 2014 – This is probably the most important item in my bag. It's my main work computer and it has enough power to handle everything I do. Get it here. The skin on top is a custom skin from Gelaskins. Make yours here.
Wacom Bamboo Stylus Pen for writing and digital signatures on mobile devices. Get it here.
Not Pictured (forgot that these items were on my desk when I cleaned out my bag)!
Forgot the external hard drive that I always carry, but wasn't in my bag at the time when I took everything out. I carry two G-Drive 1TB 7200 RPM External Thunderbolt, USB 3 Drives.
Also my favorite smartphone tripod mount.
My Hoodman USB 3.0 CF/SD Card Reader.
And my favorite cable bag to keep it all straight in my bag.