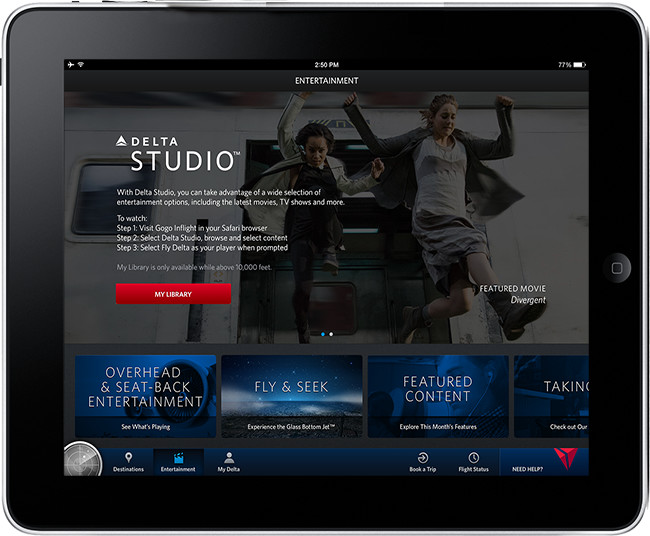 As a frequent flier (Diamond Medallion – Million Miler) on Delta I've always applauded them for their firsts in making air travel a tad bit more enjoyable. It's tough to please fliers these days because airlines tend to care more about profits these days than making the flying experience more enjoyable for its customers. However, Delta tends to come out on top when it comes to overall customer satisfaction and that's largely in part due to the fact that they invest in their planes and try to offer a bit more than the others. Delta for example has more domestic planes equipped with WiFi than any other carrier. So much so that when I'm sometimes forced to fly other carriers I feel like I've stepped back in time. One of their latest perks recently introduced is Delta Studio. The idea is simple. Using your mobile device, say an iPad you can launch the Delta App and choose various video entertainment to stream over the plane's WiFi. This content would play from the plane's on board systems rather than streaming over the relatively slow Gogo Inflight internet. Sounds simple right? It should be, but Delta (and Gogo) chose a really bazar way to make this work. I've tried it twice now and have yet to be able to watch anything!
Here's how it works currently…
You might think that you fire up the Delta App, choose a movie or tv show and watch it right? Nope. It's not that simple. If you do fire up the Delta App first it will simply tell you that you don't have anything in your library. Well OK, that kinda makes sense a little.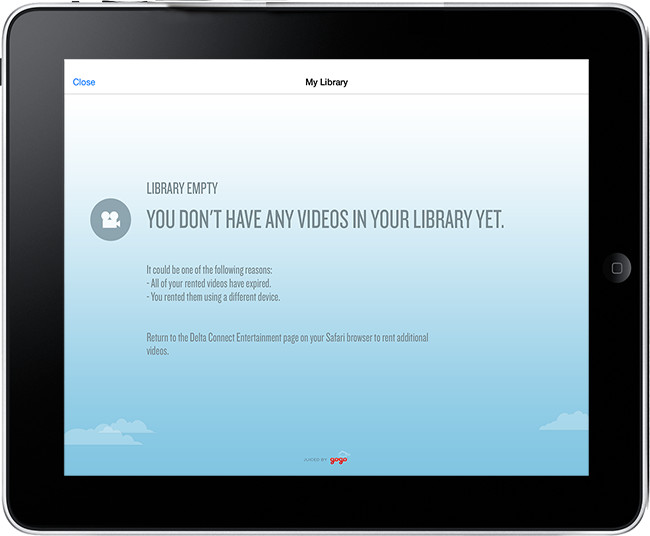 Fine, let's add something to "My Library". Here's where it starts to get strange. The Delta App tells you that you must leave the app and launch Safari to add content to your Library via the GoGo website. This one really boggles my mind. First off, Apple for years has allowed developers to build a browser (Safari) into their apps. So if the Delta App needed to go to a browser it could simply just bring up a window right in the App. No need to leave.
Nonetheless I launched Safari and navigated to the GoGo website. I signed into my account. I went to the entertainment tab and I found a movie that I wanted to watch and it was free. Awesome! I added it to my library and then tapped to watch it now. The website asked me to pick an app to watch it with and of course I picked the Delta app. It took me right back to the Delta App only to tell me that the movie was unavailable. WTF?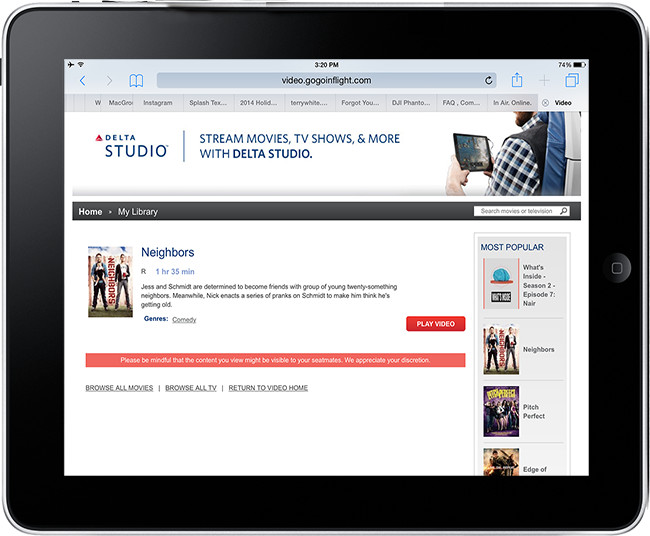 Sure, there could have been a problem with that selection. No problem, I went back to Safari and this time (silly me), I picked a movie that I had to rent. The cost was $6. I paid it and once again I tapped to watch it in the Delta app and I'm sure you've guessed by now that this movie was also unavailable and no there was no apparent way to get a refund.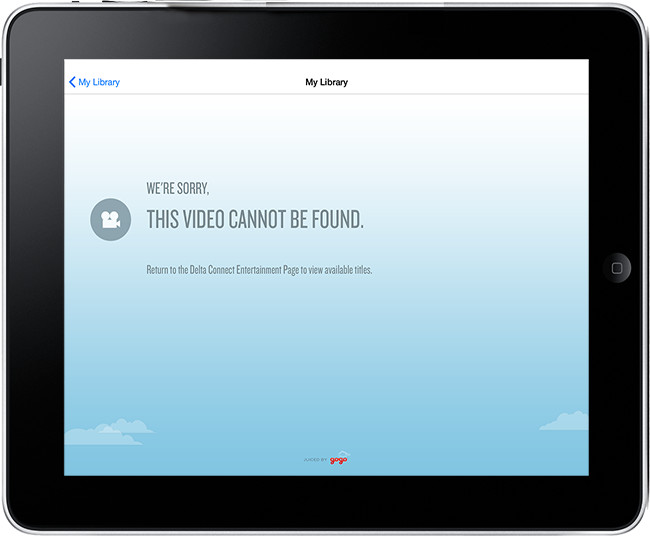 I was at a loss for words since the Gogo site knows which plane you're on when you're logged in and therefore should know what's available and what's NOT. Alas, I went back to work on my iPad and needless to say I wasn't entertained. You actually allowed me to choose a movie, pay for it, only to tell me after the fact that it's not available.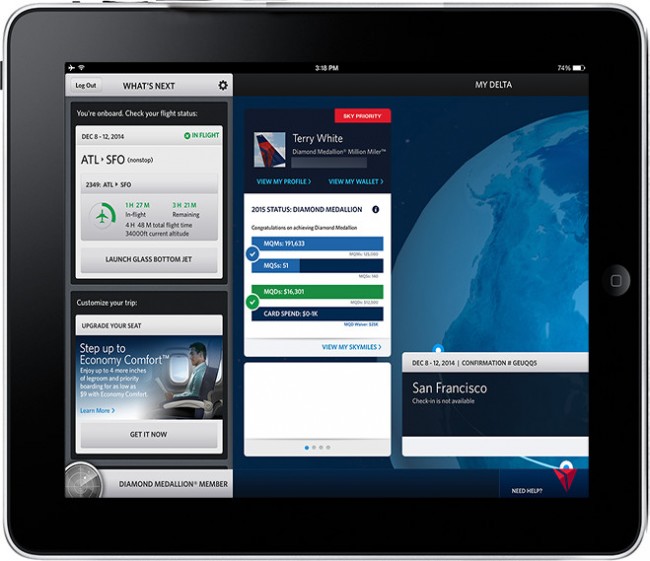 Delta and Gogo, if you're reading this, you're current implementation is screwed up at best. It appears that Gogo is collecting the money for the content and that's fine, but there is absolutely no reason that this transaction shouldn't be transparent to the user and the entire process should happen within the Delta App. I've been on two flights thus far and have yet to see any of this wonderful content. The first time was on a flight without the entertainment system and therefore there were no videos available but at least it told me that up front instead of wasting my time having me browse selections that I would never be able to actually view.
BTW: Will I ever get my $6 back?
UPDATE: Gogo reached out to me on twitter to tell me that they found my purchase and refunded it. Thanks!
The way it should be
I can't help but think about the iTunes model. If I buy/rent a movie on iTunes then it's available to me on all of my devices at any time when I have a connection. I have the ability to download the video to my device or simply stream it. If we apply this to the Delta/Gogo model then I would envision something similar. I'm a Delta customer with a "my library". I would be able to browse content and make choices up to 24 hours before my flight for streaming. Once I make my choices those files are download to the plane that I'm going to be on (with the 24 hour window before my flight). I fire up my device in the air and the content is streamed locally from the plane's servers. If someone else rents/buys the same content/movie then great. You only have to download it to the plane once and stream it to both of us saving you money. Until it's this seamless I think I'll stick to my TiVo and iTunes content downloading to my devices the night before the flight as usual.