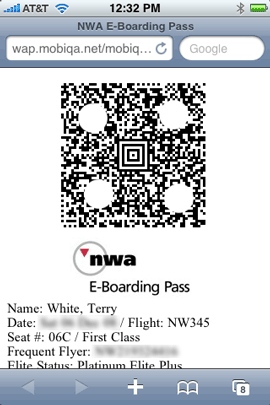 On a recent business trip I decided to give Northwest Airlines' NEW E-Boarding Pass a shot. The way this works is that if you fly out of one of the currently supported airports (like DTW), you can check in for your flight using your "approved" smartphone/cellphone and actually use your smartphone/cellphone to go through security and board the plane. No paper boarding pass required. 
I had originally planned to get to the airport in plenty of time in case this didn't work out. However, due to weather and traffic, I got to the airport 10 minutes later than I originally would have. So it had to work! I had no time for error. 
 
Here's how it works…
You can check in for your flight up to 24 hours before departure. If you use your cellphone, you can not only check in, but you can request that your boarding pass actually be sent directly to your phone. The E-Boarding Pass is sent to either an e-mail address or mobile phone number in the form of an e-mail, WAP push/link or MMS message. When you arrive to the airport, you show the screen with the 2D barcode on it and they actually have a barcode scanner right there at the TSA station.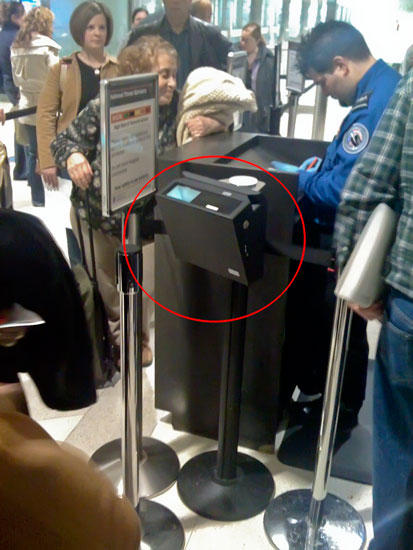 One step forward, one step backwards
Now the interesting thing was, I was wondering how they would handle the requirement for showing your boarding pass to the agent standing on the other side of the X-Ray machine. In the Detroit Metropolitan Airport, they require that you show your boarding pass twice before going to your gate. You show it before going through the X-Ray machine to the TSA agent (who typically puts a physical pen mark/initials on your paper boarding pass) and again once you're on the other side to another agent. The problem is you can't walk through the X-Ray machine with your phone in hand! When I asked the first agent about this, he said he would, get this, walk over to the other guy and let him know that I was coming through and that I had shown him my phone. I thought, "oooooookkkkkkkkkk."
After I got through the X-Ray machine (luckily no bag check this time), I told the guy that I didn't have my boarding pass because it was electronic and on my phone. He said, "I still need to see it!" I said, well we'll have to wait until my stuff comes through the X-Ray. So he holds up the other people in line until my stuff came through on the belt! I was stunned and thought, this is soooo inefficient. Clearly they haven't thought this through yet. At a minimum the second guy (if we really need this guy in the first place), should either be double-checking boarding passes before you go through the X-Ray OR at the very end of the conveyor belt. 
 
I boarded the plane
When I got to my gate, the plane was already boarding. I walked right up and showed my iPhone to the agent. She told me where to hold it so that it could be scanned and I went right onboard. Cool!
 
The Bottom Line
I love seeing advances in technology like this, but clearly this one needs a little more work. There are also some potential issues. What if your battery dies? Since the iPhone doesn't yet do MMS, you get a link via SMS to view your boarding pass in Safari. What if your web connection doesn't work at that given moment as in some cases the iPhone's Safari needs to be able to connect to the internet to be able to refresh a page. Do we really need boarding passes at all? Couldn't your ID/Passport be your boarding pass (children/minors would still need them). I'm excited about the possibilities, but right now there are some things that need to be worked out. NWA's E-Boarding Pass is currently offered on non-stop flights from Indianapolis, IN and Detroit, MI during check-in on nwa.com. If you are departing from IND or DTW you must be checking in as a single passenger on a Northwest operated non-stop flight within the United States.