How big is your garage door opener?
If you're using the garage door opener that came with your unit, chances are it's too big! Granted they have come down in size and the average is probably the size of a deck of cards. However, you can actually have one that is much much smaller! Luckily my cars have integrated openers built-in, however my daughter's car does not. So rather than give her the original remote that came with the garage, I decided to find her a smaller one and one that could actually go on her keychain.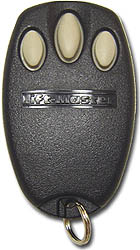 My search lead me to this Liftmaster 970LM. Now of course I had to find one that was compatible with my existing system and as you would expect there is an online store called Click Away Remotes that sells all kinds of replacement remotes. I got mine through Amazon (which shipped from Click Away Remotes) at a lower price than buying direct. The remote works great and goes right on your keychain. This also provides an extra layer of security because you're not leaving your remote in your car to be a temptation to thieves. If you're currently leaving your remote in your car, you might want to reconsider that. In these tough times home invasions are on the rise. If a thief breaks into your car and figures out where you live, the remote would allow them easy access to your house (or at least the valuables in your garage). 
Setup was simple. I trained it using the original remote in less than 5 minutes. Great price, great solution!