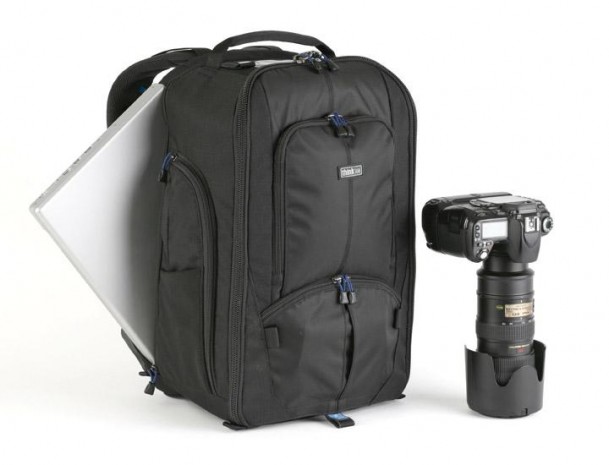 While planing my trip to Egypt I figured I'd be carrying a little more camera gear than usual to capture this amazing location and while I love my Kata backpack it just wasn't big enough for this trip. My need was to have a backpack that would carry two camera bodies, all the lenses I wanted, my Wacom Intuos 4 Small Tablet, accessories and oh yeah my MacBook Pro 15" and my iPad. I HATE checking luggage and I would never check my gear anyway. However, if I can carry one bag of gear (my smaller personal item that must fit under the seat in front of me) and the larger bag for clothes (going in the overhead bin, wheels inward) then I'm a happy guy. Having been totally satisfied with my larger ThinkTank Airport International 2.0 Roller bag I decided to look to ThinkTank for a backpack this time. I ordered the Streetwalker HardDrive Backpack and when it arrived I was a little freaked out at how long it was. Sizewise it was perfect in that it could hold everything I wanted to take on my trip. However, I just wasn't sure if it would fit under the seat of a domestic flight. I took the chance and headed out with the bag figuring worse case scenario would be that I would check my clothes/suitcase.
It fits!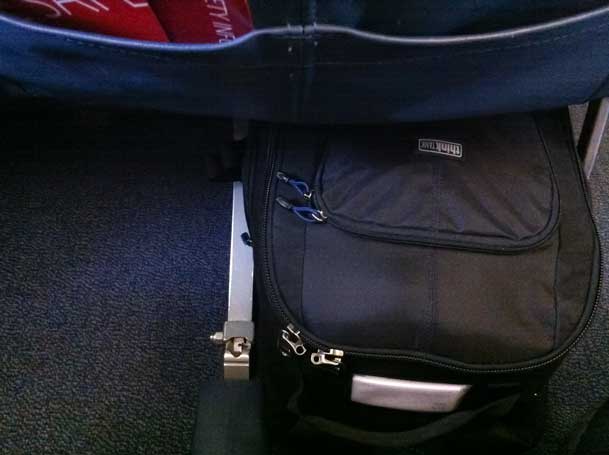 I had no problem fitting it under the seat. As a matter of fact it even fit in that skinny area under the seat that my normal laptop bag never fits in. I was also able to fit the MacBook Pro and iPad in the laptop area. However, had it been an inch longer the flight attendants may have complained of it being a potential tripping hazard. Although this backpack can accommodate a tripod on the front I didn't push my luck 🙂
What's in it this week?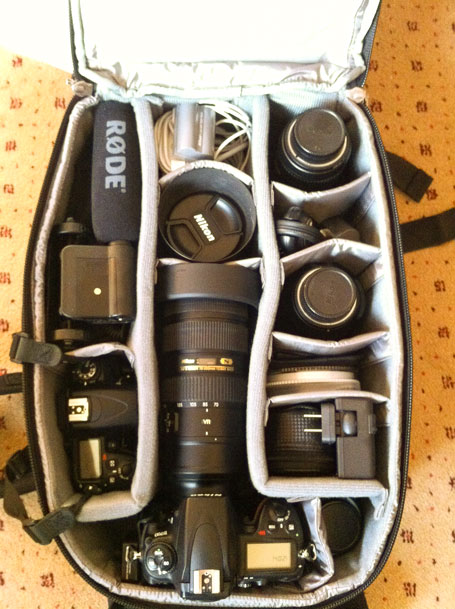 I brought along a few goodies for the trip 🙂
Nikon D700, MB-D10, & 2 extra batteries
Nikon D7000 & charger <- thanks B&H Photo for delivering it in time! Gabe you rock!
Nikon 85mm f/1.4 lens (the old one)
Nikon branded Lens Pen (no it's not special because it has a Nikon logo on it 🙂 )
3 filters (UV, Neutral Density and Polarizer)
MacBook Pro Core i7 15" laptop & power supply
iPad Wi-Fi+3G
Droid 2 (yes I still use an iPhone 4 too 🙂 )
Yes I can still lift it and wear it comfortably on my back.
How would I redesign it?
No product is perfect for all users. Although I'm really digging this bag I would make a couple of changes in the next version (again to fit my needs). First off tablets (both computer and graphics) are becoming more and more popular. The outside pocket on the front would be perfect for an iPad if it were just a little wider and deeper. Although the main camera compartment zippers can be secured with a lock (optional), the computer area doesn't have any security features at all. Granted I'm traveling with more valuable photography gear this time than computer gear (and I never let it out of my sight anyway), but that doesn't mean that my computer gear isn't valuable and crucial to my trip.
The Bottom Line
If you need a well made backpack that can hold quite a bit of camera gear AND your laptop, look no further. The ThinkTank Streetwalker (the name sounds so…) HardDrive is available here for $179.
P.S. many of you are waiting for my 1st impressions/review of the Nikon D7000. In a word it's AWESOME! More later, but here's my first shot taken last night after walking into my hotel room in the dark at ISO 6400. I'm doing the happy dance with this camera! It's everything I wanted it to be. More later as I have more shooting to do 🙂