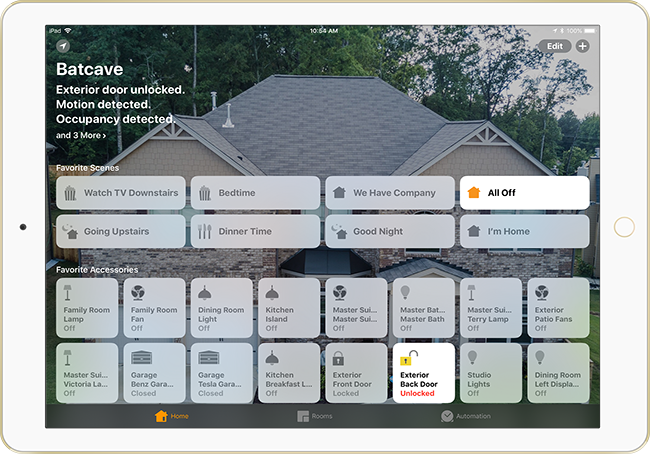 I'm a huge fan of automation in general especially when it comes to smart home stuff. My new home was built two years ago in May 2016. I got the chance to start with a clean slate and put in all the smart home tech that I wanted pretty much from day one. Sadly the builder wasn't really into smart homes (aside from running ethernet drops) yet so I had to do it all after the house was completed. When people think smart homes one of the first things that comes to mind is lighting and that is pretty much where I started too, but it didn't stop there. Since most of the things in a smart home are controlled via your mobile devices I also wanted to make sure that most if not all things I did worked with Apple's HomeKit since I'm an iOS user.
1. My Lighting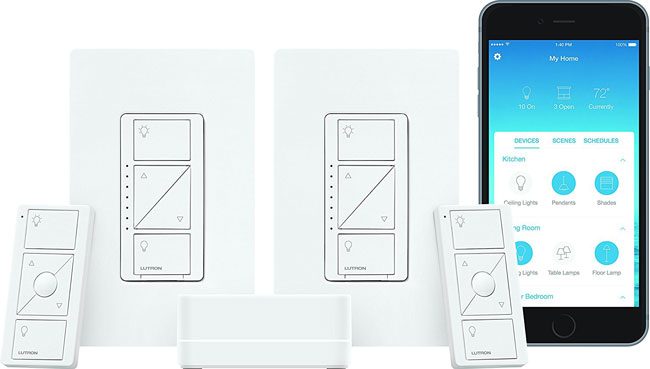 Go big or go home! I had previously experimented with smart bulbs for existing light fixtures and they definitely offer some cool features like being able to actually change the color of the lights. However, the thing I didn't like about them is that they almost exclusively have to be controlled by your mobile device. If someone flips the switch on the wall by accident, then the light is OFF until someone flips the physical switch back on again. I wanted lights that could be controlled by the switches on the wall AND via mobile devices and smart speakers. My search lead me to the Lutron Caséta system. You buy a starter pack that includes the "hub" and either two wall switches or two lamp modules. The Caséta hub plugs into your router/network via ethernet and communicates with each of the wall switches or lamp modules wirelessly via RF. The hub is limited to 50 devices and believe it or not I maxed it out over a few months time. My electrician was making regular visits here as I added more and more swtiches. Almost all of my wall switches are Caséta switches for lights and ceiling fans and I also have several lamp modules in rooms that also have (you guessed it ) lamps. Since there is a limit of 50 Caséta devices there is no need to put them in closets or other less frequently used places.
Lutron Caséta works with it's own App, HomeKit, Amazon Echo and Google Home smart speakers. It works from inside the home or remotely from anywhere in the world.
Get a Lutron Caséta with two dimmer switches here
.
Get a Lutron Caséta with two lamp modules here
.
After buying either one of the above starter sets you simply add as many light switches, lamp modules or pico remotes (up to 50) as you want/need.
See my original Caséta review here.
2. My Garage Door Openers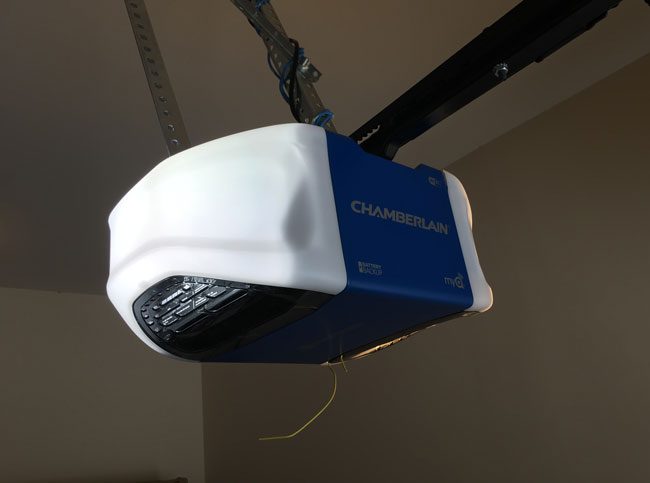 When the house was built I was kinda shocked that they didn't include garage door openers for the attached two car garage. When I asked my agent she basically said you're better off buying your own because they would just sell me two at double the price. She was right they wanted to charge me twice the price of a standard opener. I'm actually glad that it worked out that way because it gave me the chance to go out and get better, smarter ones. I knew that I wanted ones that could be connected and controlled via WiFi, but more importantly I wanted ones that had backup batteries built-in so that they would still function in the event of a power outage. My search led me to Chamberlain. I bought two of these openers and life was good. They have worked flawlessly from day one. However, last year they even got better! Chamberlain introduced a HomeKit compatible module that would control both my openers. Now I can open them via the button on the wall in the garage, the included wireless remotes, Homelink compatible cars, my iPhone via their app or the iOS Home app, and even Siri on my iPhone or Apple Watch. I have a HomeKit automation setup to automatically close the garage doors after the last person has left the house (geofence). I no longer have to wonder "did I close the garage door?"
Chamberlain works with it's own App, HomeKit and Homelink (the openers built-in newer cars).
Here's the Chamberlain Opener that I got
. Here's the HomeKit enabled MyQ Bridge.
See my original Chamberlain review here.
3. My Cameras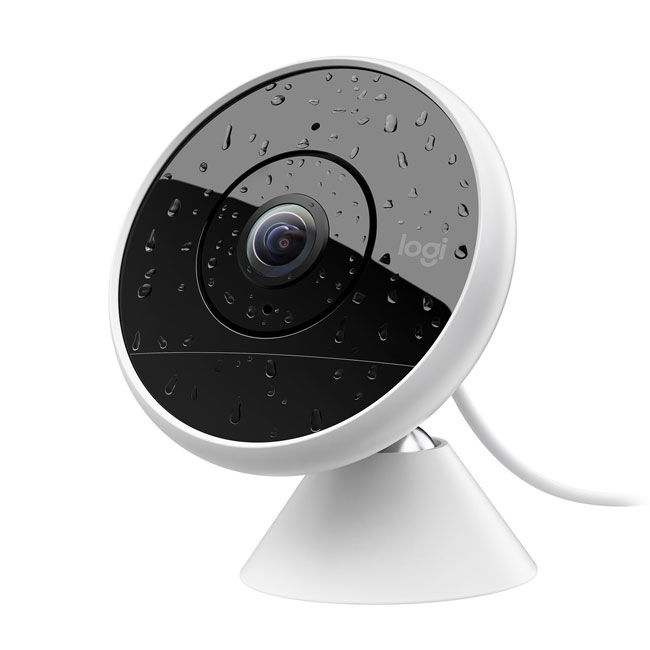 When it comes to security I love being able to actually see all around my home whether I'm home or not. I actually have security cameras from three different vendors because they all offer different feature sets and I haven't found one that does it all just yet (although Logitech is pretty darn close).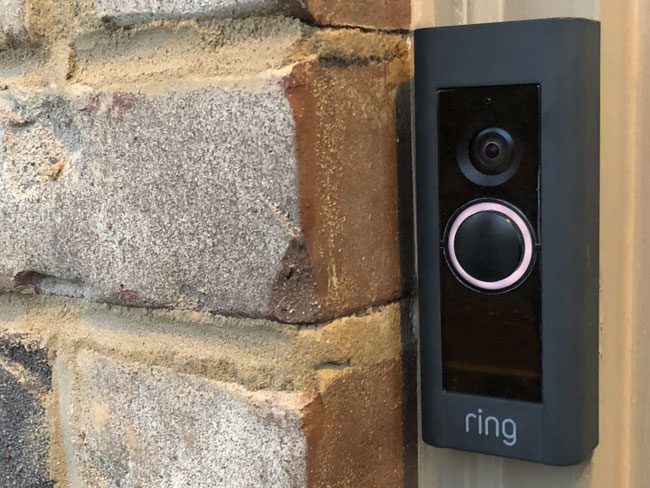 I started with a Ring Pro doorbell
 (See my original Ring Pro review here). Ring has been the gold standard when it comes to doorbell cameras and they offer a few different models depending on your needs and budget. Today I'd be tempted by the hot new Nest Doorbell. However, as cool as it may sound it has virtually no chance of supporting HomeKit. While that wouldn't be the end of the world and I really do like the features o the Nest Doorbell, Ring has reiterated their pledge to HomeKit. Not to mention the features of the Nest doorbell don't make me want to replace what I already have working. Even if you don't have a Ring you should still download their App and check the reports that people post in YOUR neighborhood. You'll also get a $10 credit towards a Ring product. Get the app here.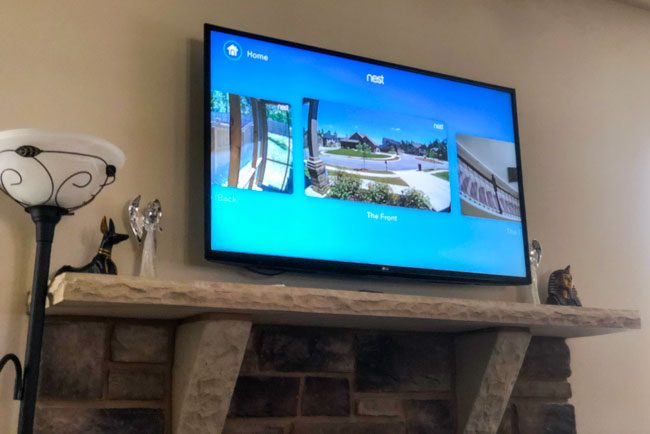 Speaking of Nest I do however, have the Nest Outdoor Cams
. I have a couple of these out back because they offer great video quality and of course they are weather proof. What's funny is that Nest DOES have an Apple TV App. This allows me to monitor all my Nest cams (indoor and outdoor) from one screen on any of my TVs. Great for keeping an eye on the puppy when she's outside.
Back to Ring – Since I had power outlets out back, adding Nest Outdoor Cams was easy. However, in the front of my house I don't have power outlets where I'd like them. This meant finding a camera that doesn't need to be plugged in. The first one I went with was the Ring Stickup Cam
. I added the Ring solar panel
to it so that I never have to take it down and charge it. This has worked out OK. The reason I say OK, is that Ring Cams are slow to go to Live View. In other words if you got a motion alert and brought up the camera to see it in action, it could take several seconds before the camera shows you an image. By then the action may be gone. Luckily though it does still record these events so you can go back and replay it after the fact. Last year I added the newer Ring Spotlight Cam
with a Ring Solar Panel
to see the front in the other direction and while this one is higher resolution and works a little faster, neither camera is as fast as the Nest cams.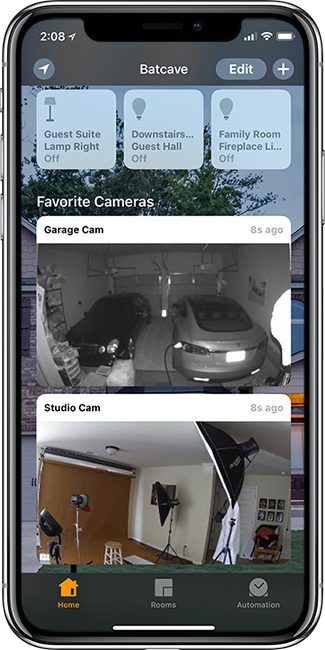 That brings me to the Logicircle
– Logitech has cameras too. Their cameras don't require a subscription (there is one that's optional) and best of all they work with HomeKit and appear in the Home App. These cameras are weather proofed, but do require USB power. They show an image the fastest and right in the Home App. I'm about to install a third one on my patio. If they offered a solar option I'd have no problem replacing the Ring Cams with these!
Camera Summary – All of the cameras above work as advertised. All of them offer cloud subscriptions. The cloud subscription is so that the video is streamed and recorded to the cloud where it can be viewed days later. Since none of these devices store the footage locally you'd want a cloud subscription if you ever needed to see something after the fact. The Nest subscriptions are the most expensive. The Ring and Logitech subscriptions are MUCH more reasonable. All cameras that are designed to work outside should have battery/solar options as it's not always easy to run power to the same place that you'd want to mount a camera. Ring keeps saying that the Ring Pro will gain HomeKit support. I keep waiting. The Logicircle is easily becoming my favorite overall camera!
4. My Thermostats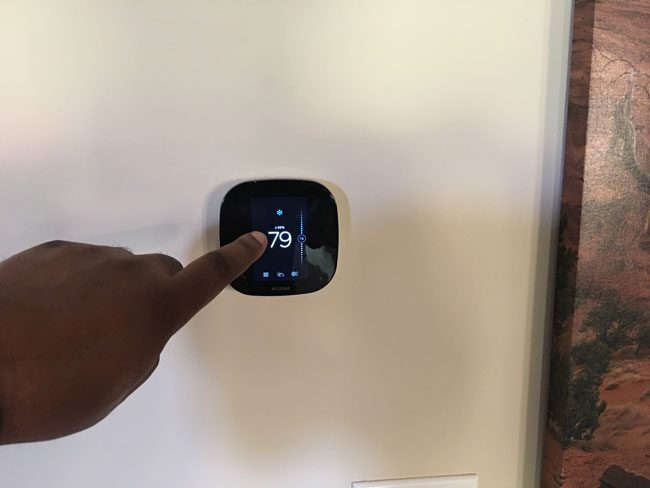 On day one I swapped out the thermostats that the builder supplied (don't even remember the brand) with Ecobee 3
's. I had long been eyeing the Google Nest, but it dawned on me that Nest will likely NEVER be HomeKit compatible as they are competitors to iOS. When I looked around my search led me to Ecobee which actually worked out better anyway. Ecobee is not only HomeKit compatible out of the box, but it also had something at the time that Nest didn't offer. They included an additional room sensor. As you know the temperature in your home is controlled wherever the thermostat is located. So if that room is hot, the air conditioner kicks on and blasts cold air in the rooms that may not need it. Same goes for heat. Ecobee took a different approach by allowing you to put sensors in each room that you may occupy and average the temperature between them. Also if the sensors don't detect any motion/occupancy then it knows to not bother calculating the average for those rooms. At night when I'm sleeping I only care about the temperature of the master bedroom. Ecobee has me covered by letting set up comfort settings based on particular sensors for particular times of day. Each night the bedrooms are at the perfect temperature despite what's going on in the rest of the house.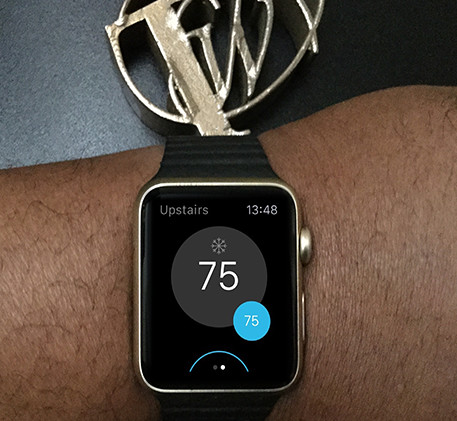 Ecobee 3
works with its own App, HomeKit, Amazon Echo and Google Home smart speakers. The NEW Ecobee 4
actually includes an Amazon Echo built right in.
You can add additional sensors
to the rooms that matter.
See my original Ecobee 3 review here.
5. My Door Locks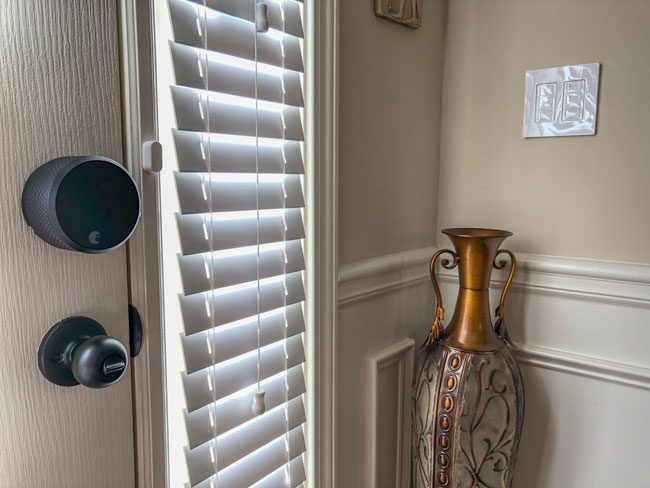 It took a while to convince myself to get smart door locks. I didn't really have security concerns. After all a physical key lock is easier to pick/get into than a digital lock. No, my problem was justifying the purchase. I almost never leave or enter through my front door. We use the garage 100% of the time. I don't think I've used my front door to enter since day one. With that said we use the back door multiple times a day to go out on the patio, let the dog out, etc. Where the smart lock really shines is locking the door automatically, with a scene or when we leave the area.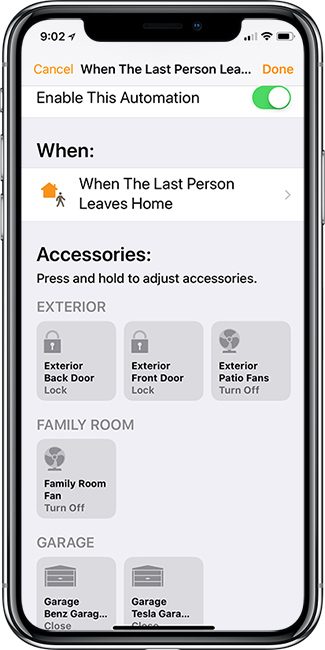 Yep, sometimes that door has been left unlocked for hours. My new August Smart Lock Pro fixed that problem. I went with the August Smart Lock Pro simply because I love the design. Instead of having to replace the entire lock, re-key or install a keypad, the August Smart Lock Pro simply replaces the knob on that you turn to lock the door on the inside of the house. Everything outside remains the same. Same key, same appearance. Nothing changes outside. Except now you don't really need the key anymore. Your smartphone becomes a key. Your Apple Watch becomes a key. As with all my products above the doors can be locked or unlocked from inside the home, outside the home or anywhere in the world. The latest 3rd generation includes a door sensor to also let you know if the door is actually open and not closed. This is more important that it sounds. Without this sensor you could be remotely locking a door that is standing wide open. I only bought one to try it out. I was skeptical if it would really work well. It worked so well that I immediately ordered a second one for the front door. In that same HomeKit scene that I setup to close the garage doors when the last person leaves the home/area, it also locks both doors. Although August allows you to automatically unlock a door when you get near it, I don't have this feature enabled as I just don't need it to work that way.
Yes you can ask Alexa to "Ask August to lock the back door." She will respond with "the back door is closed and locked". If you want to ask Alexa to unlock a door, you can do it but for added security you'll need to recite a pin that you setup in advance. This will stop a stranger from standing outside near your window and yelling at Alexa to unlock the door.
The August Smart Lock Pro has two AA batteries inside. They supposedly last for about a year. You will be alerted when they start to run low and the next question that people ask is what do you do in case of an emergency or when you don't have your phone handy? Just turn the knob manually (the whole thing rotates by hand too). If all else fails your key still works and you can turn the knob from the inside as you always did. That's why I really like this lock.
August Smart Lock Pro
works with its own App, HomeKit and Amazon Echo smart speakers.
An Apple TV helps!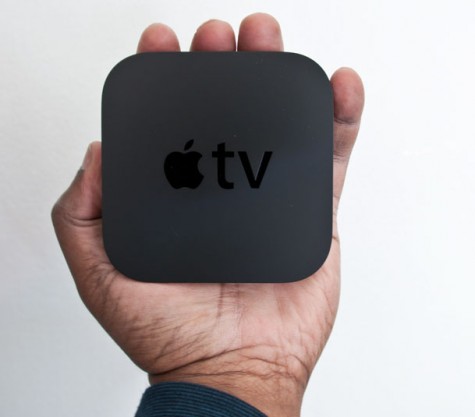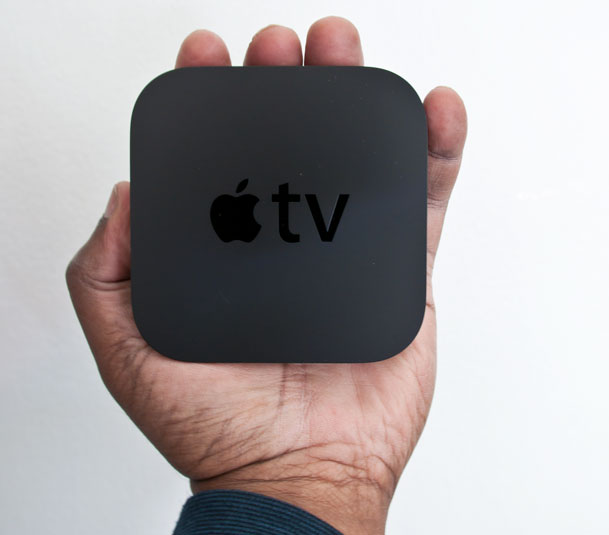 Apple requires a device to be on and connected to your network to allow HomeKit devices to be controlled from outside the home. Your choices are an Apple TV or an iOS device like an iPad. This was easy for me as I already had Apple TVs. There's nothing really to do here. As long as you have at least one Apple TV connected to your network either via ethernet or WiFi it will act as a hub for your HomeKit devices. If you do decide to use an iPad then you'll have to configure it as hub in your HomeKit settings. Some devices have their own ways of working remotely. For example, the Lutron Caséta has its own hub. That hub allows you to control your lights remotely from outside the home. Same goes for the August Smart Lock Pro. It comes with a small WiFi module that connects to your WiFi network and bluetooth to the lock. This allows your locks to be controlled from outside the home.
Get an Apple TV here or Apple TV 4K here.
Of course I also have smart speakers
I have both Amazon Echos (Dot
, Echo
, Show
and Spot
). I also have a Google Home. Both solutions are good. I find myself using Alexa a lot more. Although there are times where Google can answer questions that Alexa can't. I don't own an Apple HomePod. While I'm sure the sound is AMAZING, the price for what it does is just too much for me to buy it. If Apple made a $99 version that didn't have the amazing speaker I'd consider it. I already have a whole house music system that I love.
The Bottom Line – I love my smart home
I get a lot of joy out my smart home gadgets and I love the automation features of scenes. Giving one command to control a bunch of things is awesome. I'm not done! There are still more smart home things I'd love to add. I think the next thing will be an in-ground sprinkler system. Not ground breaking (pardon the pun) by any means, but a nice thing to be able to control as part of my existing setup. I'd also love to have some smart shades that open when the sun comes up and close at sunset. More to come…