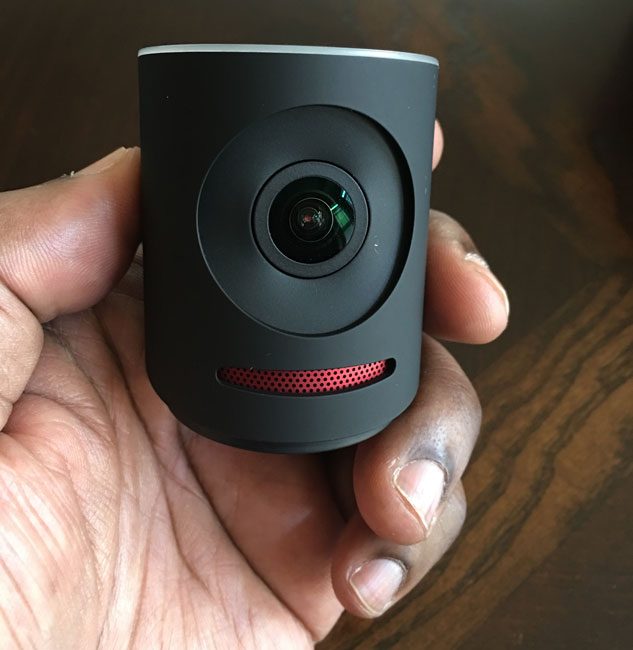 I pre-ordered the Mevo back on January 5th, 2016 – the first day I heard about it. There was no denying the versatility of a 4K camera capable of doing in-app switching between different HD quadrants of it's wide angle 4K 150° field of view all while Live Streaming.  Although the camera was originally touted to only work with Livestream.com (a paid live streaming site), I knew that other streaming services would come on board. The camera was delayed from it's original target of shipping in April and finally arrived this week (4 months late – I won't complain since I got a sweet pre-order price). The good news is that out of the box the camera supports Live Streaming not only to livestream.com, but also Facebook! While I and many others expected Twitter to jump on board with Periscope support, Facebook provides an API (application programmer interface) for their Facebook Live platform that allows developers like Mevo to write support for Facebook Live right in their app. I'm sure others will come on board over time, but having Facebook Live at this point is great for me.
How does the Mevo work?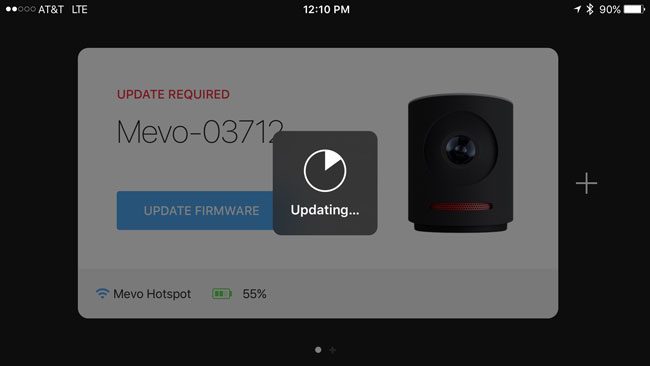 The Mevo has a 4K camera built-in with a built-in microphone as well. It also has a microSD card slot for storing your broadcasts for later re-purposing. There is a micro-USB port on the back for power/charging. You connect to the Mevo via WiFi. It has it's own built-in WiFi hotspot so that you can use it in places where there is no WiFi connection. You use your iPhone (no Android support at this point) to connect to the Mevo's hotspot and then launch the App to control it and start your stream. The first time I connected the App told me that the camera needed to do a firmware update. Once the firmware update was complete then I could see the live view from the camera right in the App.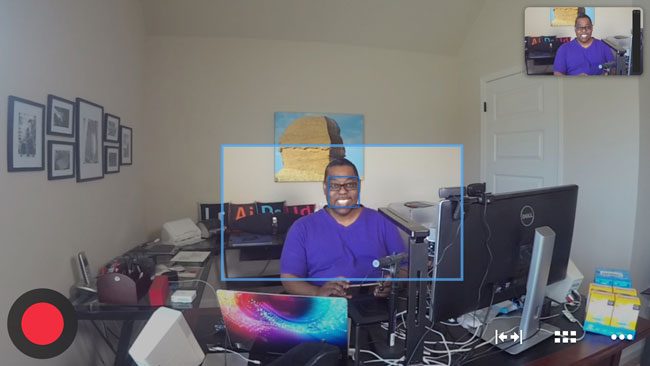 You can view it here on Facebook if the above video is not working.
To start a stream, just tap the red button in the lower left and you'll be prompted to choose either Livestream or Facebook Live. I choose Facebook and then logged in with my Facebook user name and password. Once I authorized the App I could then choose to stream to either my personal profile or any of the Facebook Pages or Groups that I manage. It's very cool that this app also supports streaming to Facebook Groups. I'll be using it this weekend at a family reunion to Live Stream to our private FB group. As you can see in the image above the wide angle 4K video shows the entire room. However, the rectangle framed around me is what people can see. It has automatic face tracking so that the camera automatically stays focused and pans around to continue to video/stream the people in the room. You can either tap or drag the rectangle to pan to any other area that you wish to show.
The only accessories that ship with it is a USB cable for power, USB wall charger, 16GB microSD card, microSD to SD adapter and a mount so that you can attach the Mevo to a tripod/monopod. This is my favorite monopod and small ball head
to use for small cameras like this when I'm out and about.
See it in action:
Here's the first Facebook Live Stream that I did yesterday with the Mevo to my Facebook fan page.
For a first time the stream went very well. I liked being able to see the comments pop-up right in the app on my iPhone. The auto follow feature can be a little too much at times as it seems to zoom/pan excessively, but for the most part it works. You can also turn that feature off as I did a few minutes into the stream. The thing I had to keep remember not to do was to tap the screen to dismiss a setting screen. Tapping the screen switches the stream to that area of the room.
After the stream is over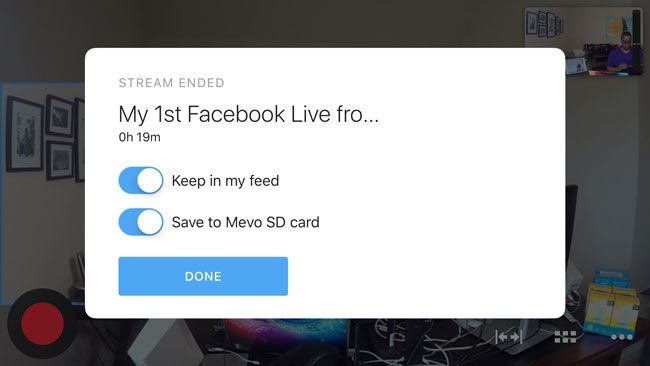 Once you end the stream you'll be presented with the option to save it to save it to the microSD card in the Mevo. You also have the option of just using the Mevo to record your event without going Live.
What about Audio?
The Mevo has a built-in microphone to capture the audio of the subject that you're pointing at. I also discovered during my FB Live stream that you have the option of switching audio from the Mevo microphone to the iPhone microphone. This is a nice feature if the iPhone will be near your subject because you can use an external microphone like this one. I could have sworn that I heard one of the Mevo reps say that there would be options to connect external audio to the Mevo, but that does seem to be the case at this point. If you want to use external audio you can use a number of different ways by connecting that external audio to your iPhone.
Are there any other accessories?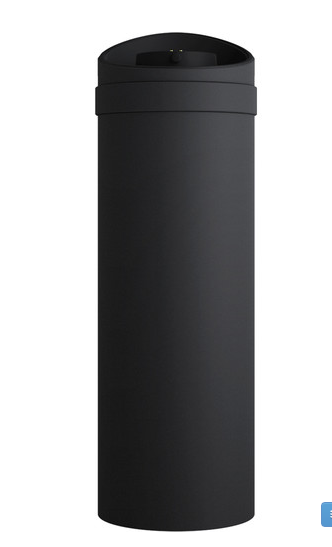 There is one more accessory that is available for pre-order (shipping at the end of August 2016) and it's called the Mevo Boost. This optional accessory provides the Mevo:
a built-in 12,000 mAh battery providing up to 10 hours of streaming
an Ethernet port for a more stable connection/stream
Rainproof to allow streaming outside in rain or shine
You can pre-order the Mevo Boost here.
The Bottom Line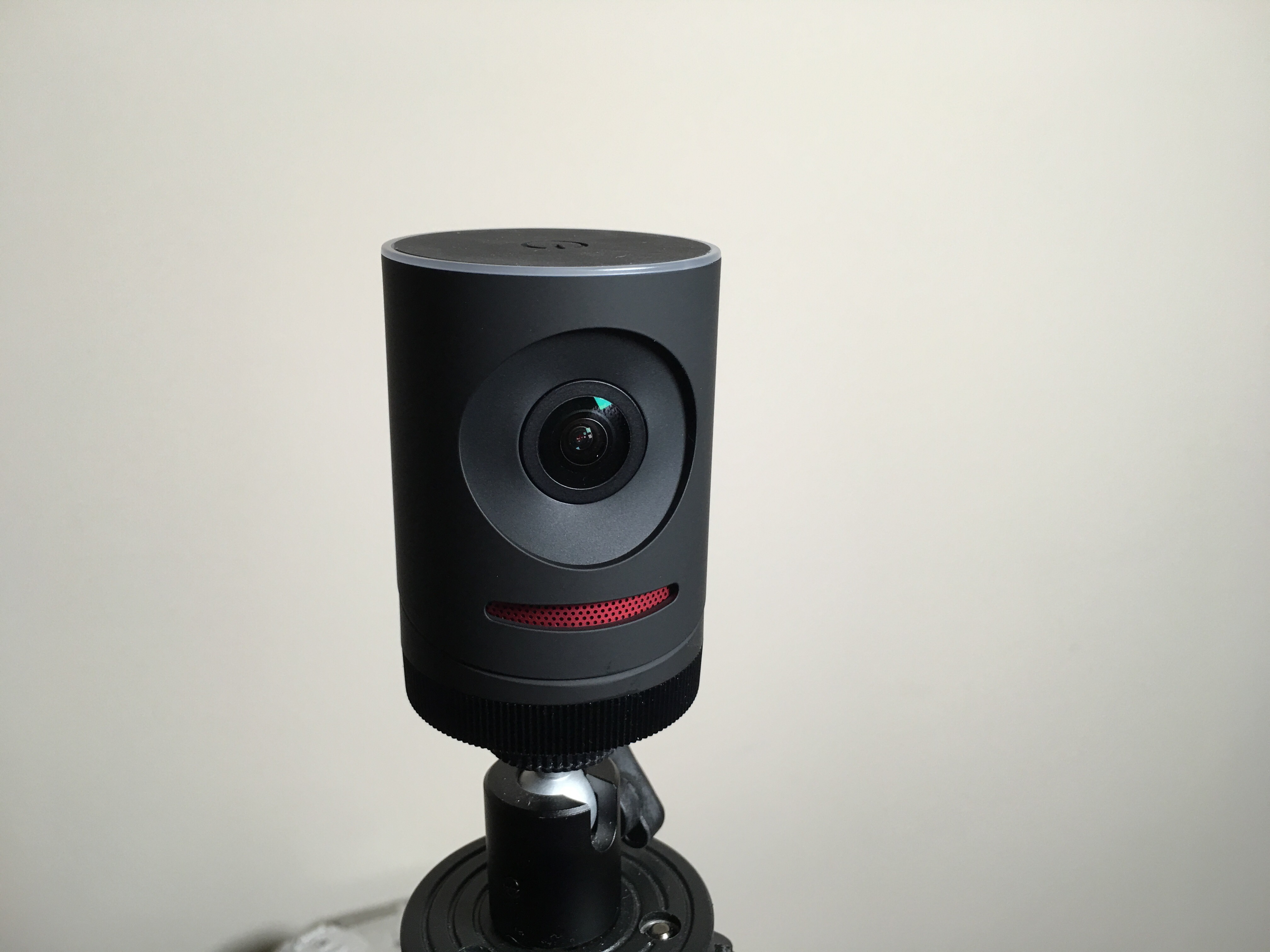 The Mevo is a solid device. It works as advertised and I can see it as a must have to live stream events. The only thing really keeping it from being more useful is support from other streaming platforms or applications. I'd love to see it supported by Wirecast as an IP camera. That way I could use it to stream to YouTube or Twitch. I also imagine that Twitter will be very interested in making it work with Periscope.
You can get the Mevo in black or white here.