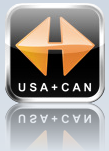 Attention Shoppers! I just wanted to remind you that today (August 31, 2009) is the last day to save $30 on the Navigon Turn-by-Turn GPS app for the iPhone. Today it's $69.99. After today the price goes up to $99.99 (according to Navigon). The Navigon GPS App is available here from the App Store.
UPDATE: The Navigon app did go up, but only to $89.99. I guess they still want to be cheaper than TomTom.
You can see my Navigon App Review here. Also here is my Tom Tom App Review in case you missed it. Also the Vent Mount that I use to mount my iPhone 3GS is reviewed here.
A Nice Comparison of 4 GPS Apps for the iPhone
I thought Mike over at Insanely Great Mac did a nice job in telling you about his likes and dislikes comparing the 4 most popular GPS apps (AT&T, Navigon, Tom Tom and G-Map) for the iPhone. See his video comparison below: