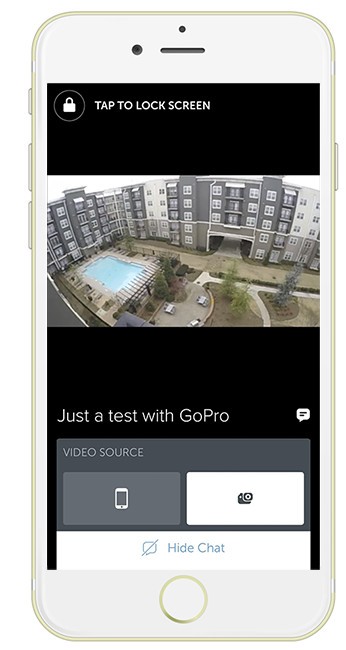 If you're into Live Streaming (if not you should think about it), then you've heard of Twitter's mobile App called Periscope. Periscope launched last March 2015 and already has over 25 million users. That's huge! Until yesterday you could only broadcast using the camera on an iOS or Android device. For the casual scope (broadcast) that's fine, but if you wanted to show something big or with a lot of action, your smart device's camera may not always be best. We hoped that Periscope would open the doors to other cameras and it has started…
GoPro and Periscope is here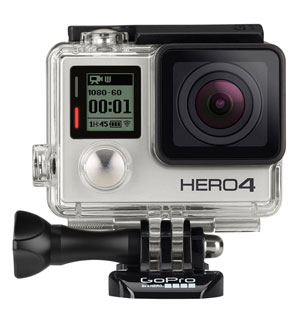 What I hope to be just the beginning of 3rd party camera support, yesterday we got the ability to broadcast with GoPro Hero 4
cameras. Now you can switch between your iPhone front facing, rear cameras or to the GoPro Hero 4 wirelessly.
The setup is pretty straight forward:
Follow me on Periscope here. Wait that's not a requirement, but why not?
After doing the initial setup of your GoPro you'll connect to it via WiFi from your iPhone/iPad. The GoPro creates a WiFi hotspot.
Now go to the updated Periscope App, key in your title and start the broadcast
You can toggle between both iOS cameras and the GoPro.
A little bit of a shaky start.
There are a few bugs in this version of Periscope. When switching back and forth between the GoPro and iPhone some viewers are losing sound. In many cases the only way to get the sound back for them is to leave the broadcast and come back in. Also sometimes for the broadcaster there is a delay in starting the broadcast with GoPro. Periscope is aware of these bugs and is already working on a patch.
Yes I already have a feature request for both GoPro and Periscope
Bugs aside, there are two issues with this setup and one is with GoPro and the other is with Periscope. In order to live stream with your GoPro Hero 4, you need to connect to it via WiFi. This means that in order to do the broadcast you need to be on 4G/Cellular Data. Many people broadcast on wifi today as to not eat up their data plans and for me the main reason for using WiFi is because the connection is usually a LOT BETTER. This could be solved if GoPro enables the option for the Hero 4 (or Hero 5 if it's a hardware thing) to be able to connect to a wireless network instead of just creating one. Many devices offer this option so that you can put both the iPhone and gadget on the same network and connect to them that way. This would enable us to broadcast on Periscope via WiFi or 4G. The second and biggest feature request is around audio. Yes there's a bug in this version for audio switching, but even if it worked perfectly without dropping sound, there's a bigger issue. When you switch to the GoPro, your viewers hear the sound coming from the GoPro. While this is desired in some situations, I'd actually like the option and default for the broadcast to continue to use the iPhone's microphone (internal or external). There's an obvious difference in audio quality and this also defeats the purpose of mounting your GoPro further away from you while you talk to your audience. Some even used "flying a drone" as how they would use this feature, but what good is that if while the drone is flying no one could hear you talking anymore?
There's already a version of the TW Broadcaster for this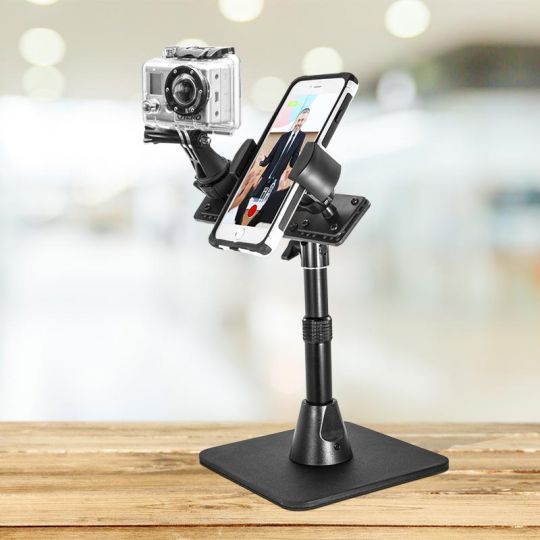 The good folks over at Arkon mounts already have a ton of GoPro, smartphone and tablet mounts, but this one was designed for this feature even before this was a feature. Thanks Mikey!
You can get a discount at arkon.com on any of their products with the discount code: twhite
You can check out the rest of my gear recommendations for Live Mobile Broadcasting here.
The Bottom Line
GoPro and Periscope just made using Periscope much more interesting. Now that Periscope has opened up to using another device as the camera, I'm hoping that we see a wide range of devices supported. Ultimately I'd love to see Periscope take the approach that YouTube, Twitch.tv and many others have taken when it comes to live streaming. Those platforms got out of the way and let users stream from different apps on the desktop and mobile devices. Imagine how much better Periscope would be if they concentrated on the platform and left the streaming apps and devices to others? The basic Periscope app is enough as long as 3rd parties could offer MORE. Time will tell, but it's exciting none the less.