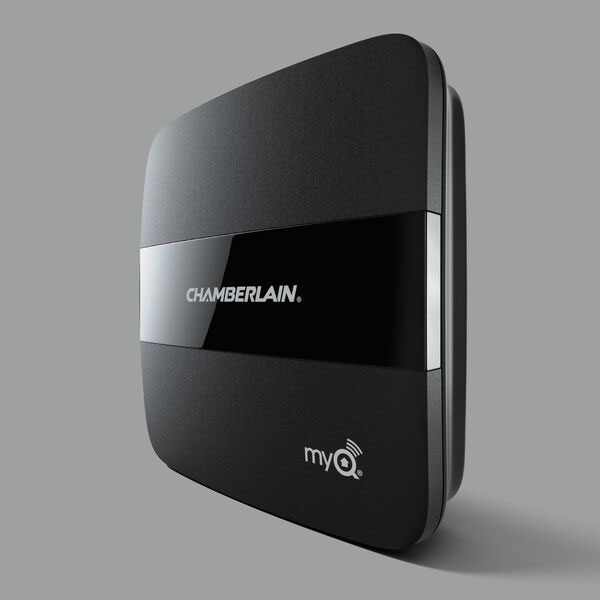 When I had my house built last year the one thing that I was excited about was being able to take advantage of all the cool smarthome options out there. When it came time to buy garage door openers the main thing I wanted was ones with a battery backup. I wanted to be able to still open my garage door in the event of a power outage. When I looked I was pleasantly surprised to find the Chamberlain model that not only had a battery backup, but it was also WiFi and smartphone enabled. Chamberlain has their own app "MyQ" and it works fine, but it's yet another single purpose app. It would have been nice to be able to also control my openers in the Apple iOS Home app. They kept promising that HomeKit compatibility was coming and they were even featured on the slides in Apple's keynote address on more than one occasion.
Well it's been a little over a year since I bought my openers.
Chamberlain Keeps their Promise and Delivers a HomeKit Solution

You might be asking how hard can it be? We're just talking about implementing a protocol? It's a little more to it than that. You not only need the software in your device, but your device has to be secured by encryption in a very specific way. If you think about it, when it comes to smarthome devices you want them to be VERY SECURE. When it comes to things like smart door locks and garage door openers, you want them to be VERY VERY VERY VERY VERY SECURE! With that said, Chamberlain built a whole new device.
They built and shipped the NEW MyQ Home Bridge
It's this device that serves as the middleman between your garage door opener and your WiFi network. This new device has the necessary encryption to make it secure enough to bear the HomeKit label.
See it in action here:
What comes with it?
The box was smaller than expected. There's really not much included. You get the MyQ Home Bridge, a power adapter, a mounting bracket with screws/anchors and minimal documentation in the form of a quick start guide.
How easy is it to setup?
Before I ordered it I went in search of the manual to see how it worked? All I could find was the same quick start guide that comes with it. The first question I had was "would one MyQ Home Bridge be enough to control multiple garage door openers?" or would I have to buy a separate bridge for each opener. I placed the order for one at the introductory price of $49.99 (regular price will be $69.99 at some point in the future and that date has not been announced). Before it arrived I got an email response back that yes in fact I would only need the one MyQ Home Bridge to operate multiple garage door openers. When it arrived late yesterday and I opened it up I was happy that it was smaller than I thought it would be, but still a little disappointed that there wasn't more than two pages of instructions. Don't get me wrong. The instructions are ok if everything works ok, but they don't walk you through the steps so you know what promps to expect next. Also the videos that the guide refers to on the site (as of the writing of this post) don't exist yet. Nevertheless, I felt confident enough to just try it. I plugged it in and it did show up in the MyQ app for setup.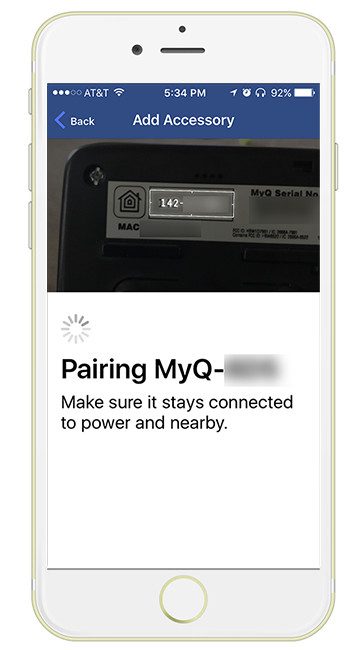 The setup started out pretty easily (once I switched from my 5GHz wifi network to my 2.4GHz wifi network), and one of the first steps was to pair it with HomeKit. Cool! However, it was after this step that things got funky. It wouldn't go past this step without failing. In other words once it pairs with HomeKit you would then continue on to the setup to add your garage door openers to it. It took multiple tries to get past this. Each time I had to remove it from HomeKit in the Home app and reset the bridge back to factory defaults. Finally I changed one part of the setup. I was adding this to a room called "Garage" instead of the default room called "Default". I finally just accepted the defaults knowing that I'd be able to change them later and the installation continued. The tech support folks (nice woman) were clueless. This device is so new that they just don't have any support info in their database for the reps to use yet. I was solving the install problems on my own while she was reading things to me on the phone. After I got it setup the next step was to wipe the existing wifi info from my existing openers. That's because from here on out the openers would connect to the MyQ Home Bridge instead of my router. The rest of the setup was pretty straight forward.
HomeKit and the Home app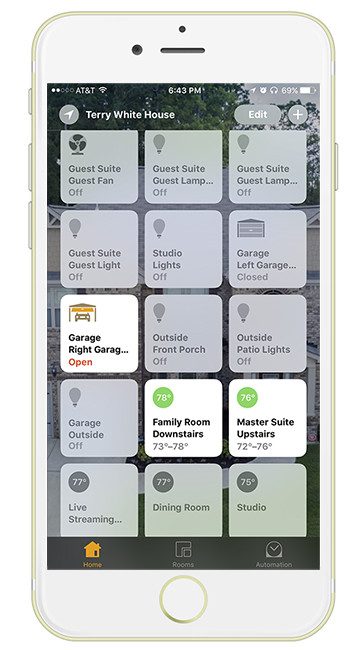 I really like using the Home app to control my smarthome. It's just easier to go to one app and control everything instead of having to go to each individual manufacturer's app. Now that I have the MyQ Home Bridge I can open, close or check the status of my garage doors in the same Home app that I use to control my lights, fans, AC and heat. Now I can tap to open or close as well as ask Siri to open or close my garage doors. I can just look to see if a door is open or closed from anywhere in the world. How many times have you driven away only to think "did I close the garage?" I can also put my garage door openers in "scenes" that control multiple devices at once. A scene called "I'm home" could turn on specific lights, adjust the temperature of the house and open the garage door and unlock other smart locks in the house. This can also be controlled via your location (geofence). So without touching your phone as you near your home all of this can kick into action.
The Bottom Line
While I've only had the Chamberlain MyQ Home Bridge for less than one day, I already love it. I'm also looking forward to Apple's release of iOS 11 which will make HomeKit better over all.
You can check out the Chamberlain WiFi enabled garage door opener that I use here.
You can check out the MyQ Home Bridge here.