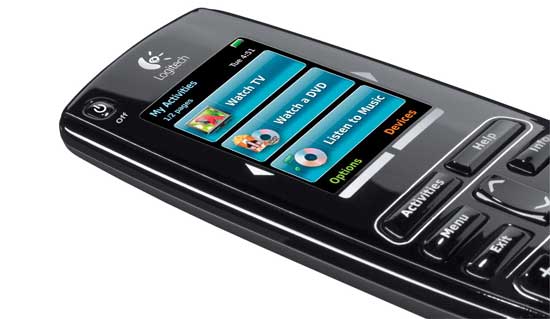 I've been pretty content over the years with my Sony RM-AV3000 universal remote. However, a couple of my buddies have been really going on and on about the Logitech Harmony One Universal Remote. So I decided to give the Harmony another try. This is not my first Harmony remote. I had one of the earlier models and I just didn't like it. It wasn't very forgiving if anyone turned on or off a device by hand. It just seemed like it was more work than it was worth. This remote is much improved over the earlier models in several ways.
How do you set it up?
I've always dreamed of a remote that would be 2/3rds touch screen and 1/3rd physical buttons and the touch screen would actually look exactly like the original remote for the device you're trying to control. Think of an iPhone like experience as a remote. This way no matter how many devices you bought or got rid of, your remote would never be outdated. The Harmony One is the next closest thing to my dream remote. There is a small touch screen at the top of the device with the rest being physical buttons for common things like volume up/down, channel changing and things like Play, Pause, Stop, etc. The buttons are uniquely shaped which makes it easy to operate it without having to look at it. It also feels much better in my hand compared to the rather large footprint of the Sony remote.
The Harmony One comes with the remote, charging cradle, Lithium Ion rechargeable battery, USB cable, setup guide and software CD. That's right, you configure this remote from your computer which downloads the latest and greatest device profiles from the internet. This offers a huge advantage over other remotes that make you enter codes or learn every function manually.
The setup is quite simple actually. You start by just listing the make and model of each of your devices. In my home theater setup, I wanted this remote to control my Epson HD projector, TiVo HD, Apple TV, Sony PS3, Bose Lifestyle 28 sound system and my Lutron Maestro Lighting Control. The Harmony One is IR only and doesn't control RF or Bluetooth devices. So in theory that would rule out the Bose which is RF based and the PS3 which is Bluetooth based. However, the Bose systems now include an IR receiver just so you can use universal remotes. I also solved the PS3 problem (so that I can watch Blu-ray and DVD movies) with the Nyko Playstation 3 BluWave Remote which adds IR remote capability to the PS3 via a USB dongle. This is child's play for the Harmony One because Logitech has the device information on over 5,000 different consumer electronic devices.
In theory after you input your devices all you would have to do is then configure your "Activities" such as "Watch My TV" or "Watch a Movie". Activities are designed to be one button macros that automatically turn on the right components and switch to the right inputs. Although the Harmony One software seemed to know about all my devices, there were still several issues that I had to fix manually. For example, my projector just didn't come on. I had to whip out the original remote and manually program the power buttons using the "Learn IR Command." Also it seemed that no matter what, it insisted on switching the input from HDMI to PC on my projector. I finally had to setup a NEW button called "HDMI1" and then I mapped my activities to use that input. Once I did that all was fine.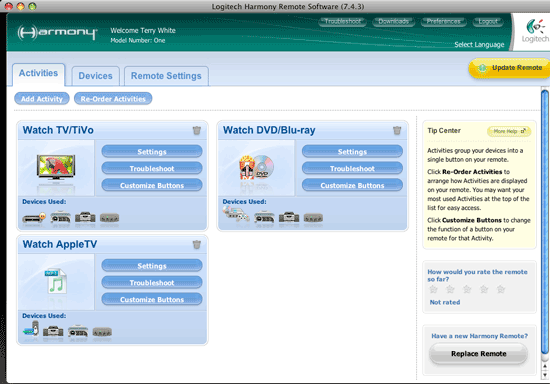 My three activities are "Watch TV/TiVo", "Watch DVD/Blu-ray" and "Watch Apple TV". The only one that worked first time with no modifications necessary was Watch Apple TV. I found it odd that the Harmony One software warned me that the PS3 couldn't be controlled via IR and offered the Nyko remote as a solution, but didn't offer to set it up that way since I already had one. I just set it up manually.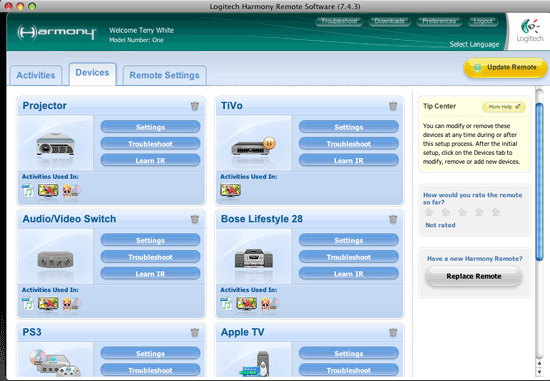 Switching sources
Although my projector stays on HDMI 100% of the time, I use an Octava HDMI and Optical 4 port switcher to switch each device to the one HDMI cable going to the projector and the one Optical Audio cable going to the Bose. The Harmony software knew of this switcher and I was able to easily incorporate it into my activities. For example, if I'm watching a movie and after the movies is over I decide to switch to watching TV, all I have to do is press the "Watch my TV/TiVo" on screen button. This will automatically switch the Octava box back over to input 1 which has my TiVo on it.
How does it work?
Once I got everything tweaked to exactly how I wanted it (a couple of hours later), the Harmony One worked beautifully. I must admit that it's easier to use than my Sony. The reason for this is that I can customize just about ever aspect of it. For example, with my Sony remote there was no preset button or activity for controlling my lights. So I had to use one of the other functions namely the CD player. Since I don't use a stand alone CD player, I used that button and screen for my lights. Not very intuitive! This is not a problem with the Harmony One. I not only have the exact components I need setup, but I can name the Activities, Devices or even the onscreen buttons to whatever I want. For example, the Lutron Light system uses one predefined light level that is referred to as "Scene1" on the Harmony One. I renamed it "Low Light".
I was also amazed that not only could you setup your Favorite Channels for TV stations, but you could even use custom graphics as the buttons that show up right on the remote!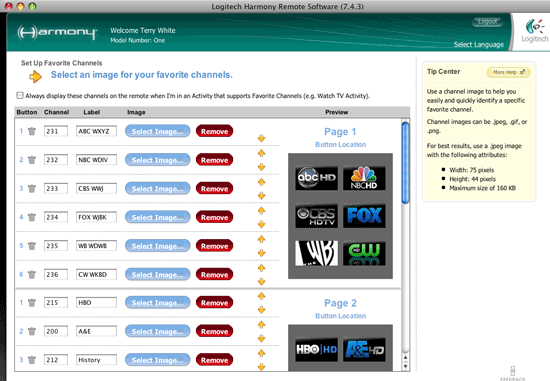 Although the Harmony software lets you use custom graphics for your Favorite Channels, they don't provide the logos. They had a few sample ones from FOX, but that's about it. So I found this site that had all the ones I wanted. Another very cool feature is that this remote has a motion sensor in it. When you pick it up it comes to life and lights up the touch screen and the keys. After a few moments of no activity it goes back to sleep to preserve the battery.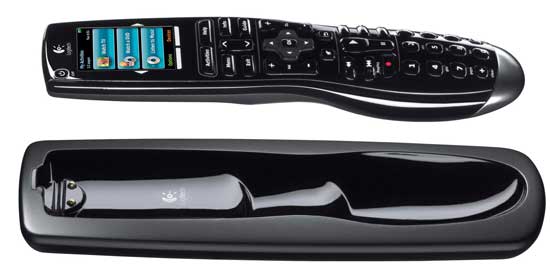 The Bottom Line
I'll have to agree with other reviewers in that the only thing keeping this remote from being perfect is the lack of RF and Bluetooth support. Luckily for me my setup doesn't require this, so this remote is perfect for me. So far I can't really find anything wrong with it. I love the fact that it recharges when it's in its cradle. Once you get it setup the way you want, it just works!
It's pricey at a list price of $249, but Amazon has it for $187.08.